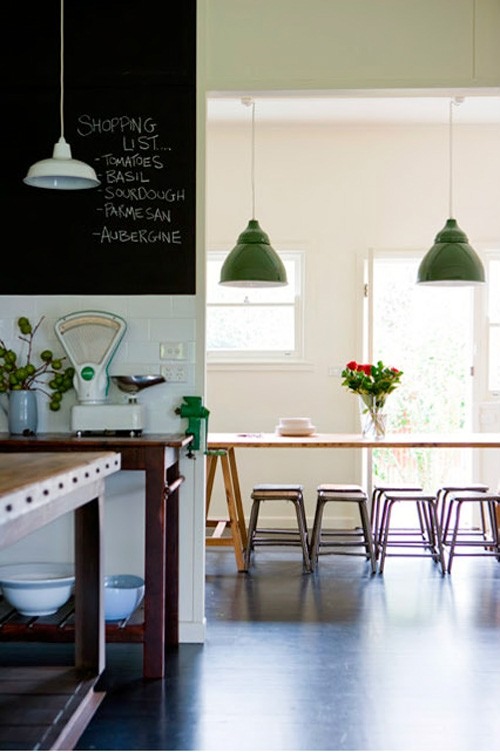 Porcelain Barn Lights Provide Form and Function in Kitchen
Many kitchens tend to be busy, cluttered places what with countertop appliances, cooking utensils, and bowls of fruit lying about. Lighting in this room needs to serve both aesthetic and functional needs without adding to the general noise of this most-used room in the house. Interior designers typically recommend three types of lighting, especially in the kitchen — ambient or general lighting, task lighting such as over a counter, sink or table, and accent lighting which is used to highlight certain features of the room such as artwork.

This beautiful kitchen displays some gorgeous task lighting over the dining table in the form of deep bowl barn lights. These generous sized fixtures, very similar to our Ivanhoe® Wilcox Porcelain Deep Bowl Pendant, satisfy the functional element by providing a wide span of light directly onto the table below. And their classic design is right out of the industrial era of the 1930s. The Wilcox is part of our Ivanhoe® Collection of Pendant Lighting created to bring the beauty and durability of porcelain indoors. Cord-hung pendants are ideal for kitchens and for a true vintage twist, try an authentic cotton twist cord available in a variety of colors. If you like the look of the Wilcox but need a different style of light, check out our Goodrich® gooseneck and Benjamin® stem mount options.
In the foreground here, the white warehouse shade provides a nice accent on the side table and against the black chalkboard wall. To get this look, try our Ivanhoe® Union 14″ Warehouse Porcelain Pendant. The Union pendant is available in both traditional and more modern finishes and all feature the trademark enamel coating that provides years of hassle-free service. These American made barn lights are not only hand spun but receive a hand-applied, baked-on porcelain enamel coating. All it takes is a simple soap-and-water cleanup to keep your light looking like new.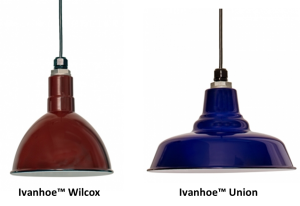 Top photo courtesy The Style Files