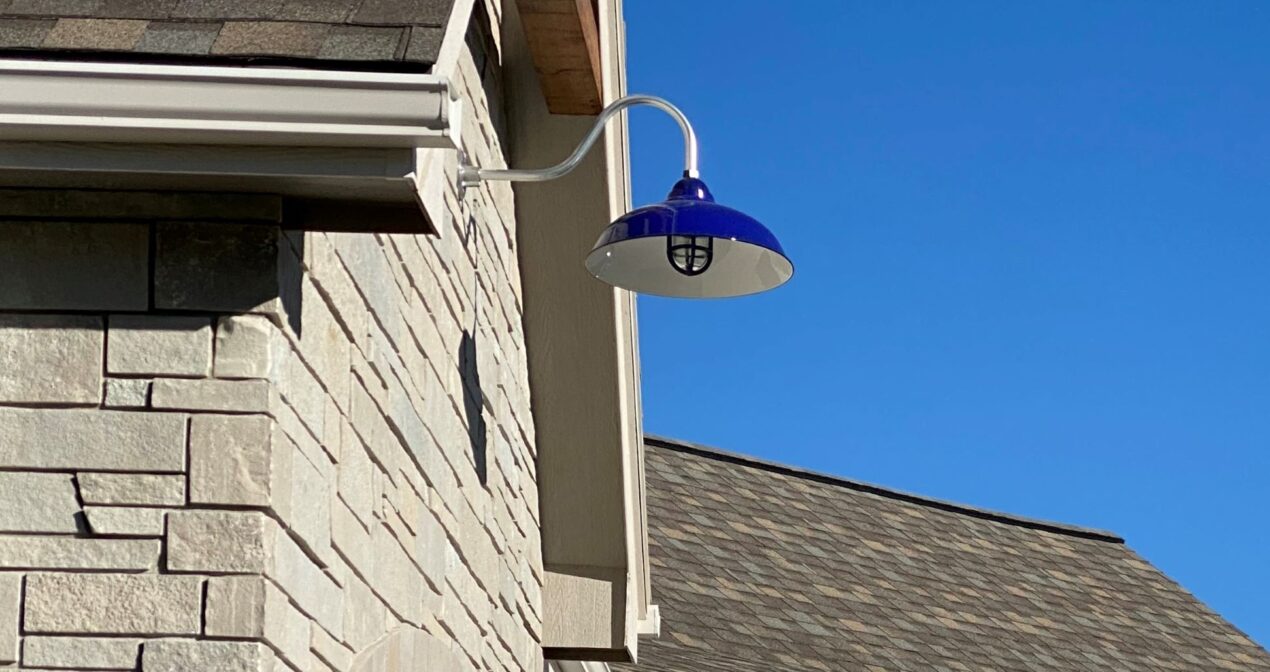 Outdoor Lighting Brings Brilliant Color & LED Efficiency to New Home
When Rick started working on the plans for his new modern farmhouse back in late 2019, he had no idea the curveballs that 2020 would throw. Like so many others who built or renovated during the pandemic, Rick faced delays and shortages in both materials and labor.
"With covid, everything took forever," Rick says. Luckily, his lighting selections were one of the easier pieces of the new build in Blair, Nebraska. After seeing some gooseneck lights on a neighbor's home, Rick searched and found Barn Light Electric where he and his wife discovered the beauty of porcelain enamel lighting.
"We wanted something really nice for our new home, and we fell in love with the porcelain," he explains. Covering almost 4,000 square feet over two levels, Rick's new home features stacked stone and rustic wood accents on the exterior along with two dormers.
"Our neighbors next door have a red metal roof," Rick notes. "We wanted to add some color so we used blue on the dormers." The couple ordered color samples from Barn Light and found that the Cobalt Blue porcelain finish matched their dormers nicely.
For the garage, Rick chose the Chicago LED Vintage Industrial Gooseneck Light. He customized these handcrafted fixtures with 20″ shades, the Cobalt Blue finish, and G22 gooseneck arms in Brushed Aluminum. He also chose a Cobalt Blue cast guard and ribbed glass.
"These gooseneck lights give us plenty of size," Rick says. "And we like the look of the aluminum arm as a contrast to the blue."
To highlight the sidewalk at night, the couple chose the Wilcox Nautical LED Triple Post Mount Light. The three 16″ shades are customized with the Cobalt Blue and a heavy-duty cast guard in the same finish color. The 10-foot, fluted direct burial pole offers plenty of height for the fixture while the 3000K neutral white LED offers energy-saving illumination.
"My wife really likes the deep-bowl style of this fixture," Rick notes, "and I was ready to give LED a shot." The integrated LED module on these exterior lights will provide about 50,000 hours of service while the high-gloss porcelain finish is easy to maintain with a simple soap-and-water cleanup.
The back patio also received a splash of color from a Streamline LED Industrial Guard Sconce. This wall-hugging light boasts a flared shade, heavy-duty cast guard, ribbed glass, and the same brilliant Cobalt Blue finish.
Rick also wanted to add a pop of industrial style on the interior. The downstairs bar features a center island with grey countertops and two Brisbane Pendant Lights. These American-made pendants are customized with 12″ shades, a Graphite finish, contrasting Cherry Red guards, and black cloth cords.
"The finish color matches our countertops and the red guards add some color," he explains. "The other fixtures and hardware are black so it all came together nicely.
"I get a lot of compliments on the lighting," Rick adds, "especially on the goosenecks on the garage. The quality is what we were looking for and being able to customize the lights for each space makes these fixtures perfect for our home."
Photos courtesy of the homeowner