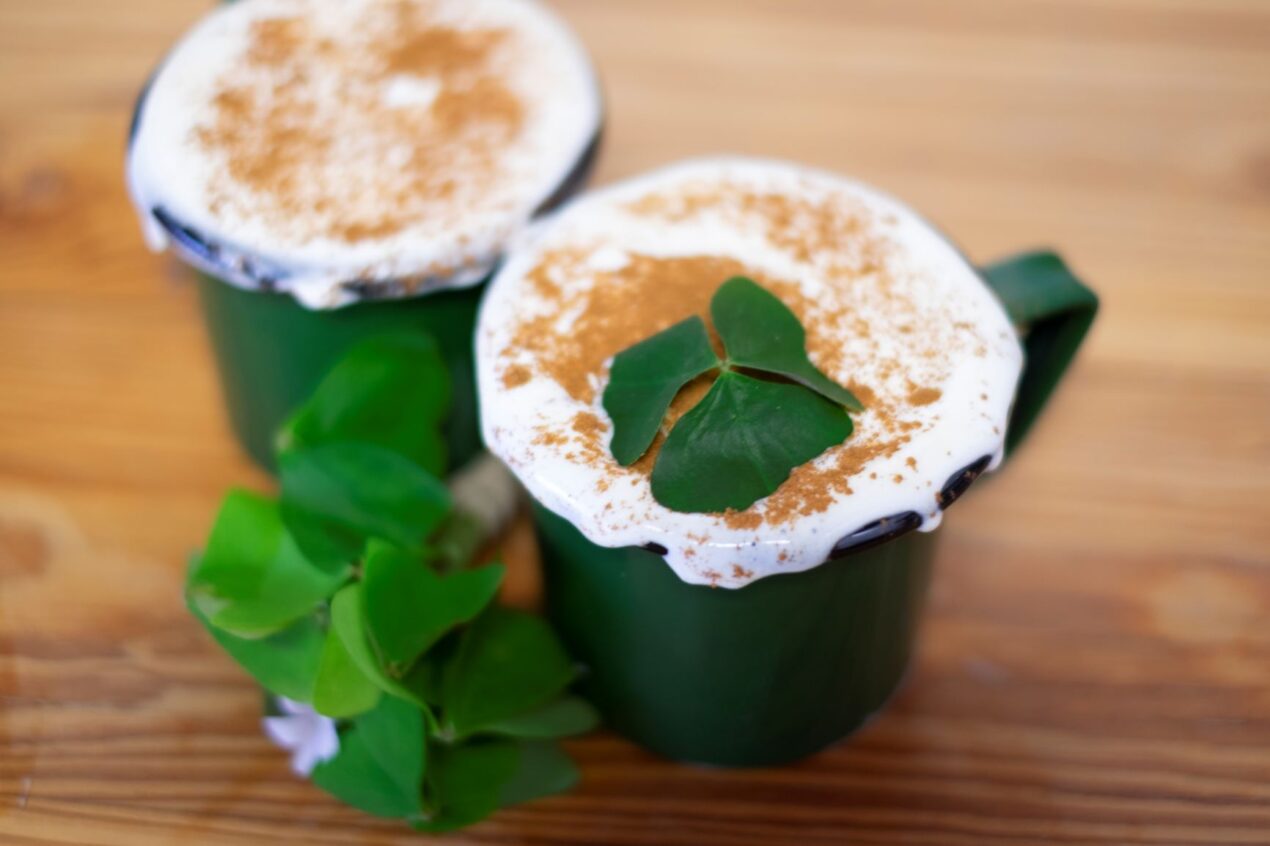 Sláinte! Cheers to Irish Coffee on St. Patrick's Day
The Chicago River runs green, corned beef flies off the shelf, and everyone's lifting a pint of green beer. Once a year, we all turn a wee bit Irish, but if green beer isn't your thing to celebrate St. Patrick's Day, we're offering a hot and tasty alternative — Irish Coffee served up in an Enamelware Coffee Mug!
Part of our growing collection of Porcelain Enamelware, these eight-ounce cups feature classic styling and nostalgic design. Crafted by hand from solid steel just like our porcelain enamel lighting, each cup is coated with multiple layers of porcelain enamel glass in the customer's finish color of choice.
Fourteen porcelain finishes are available including eight solid colors and six graniteware patterns which feature black or white speckles on a solid enamelware color. Thanks to our hands-on attention to detail, no two cups will be exactly alike!
Irish Coffee
The most important part of this recipe is the coffee. Start with your favorite fresh, flavorful brew. This cocktail is decadent, but not cloying. The cool Irish Cream-infused topping complements the bold coffee and warm spicy notes of the whiskey. For a sweeter treat, include brown sugar. The molasses in brown sugar adds a certain depth to the flavor of the whiskey.
Ingredients
1 c. brewed coffee
2 oz. Irish whiskey (such as Jameson)
2 oz. Irish Cream liqueur (such as Five Farms or Bailey's)
1/2 c. heavy cream for topping
2 tsp. light or dark brown sugar (optional)
cinnamon or shaved chocolate for garnish

Directions
Add 1 tsp. light brown sugar, if desired, to each mug. Pour hot coffee over the sugar and stir to dissolve sugar, then pour in whiskey. In a separate bowl, with an electric mixer or by hand, whisk cream and Irish Cream liqueur until soft peaks form. Cream should be thick but still pourable. Top coffee with cream by gently pouring over the back of a warm spoon to form a thick layer on top of coffee. Garnish with chocolate shavings or cinnamon. Enjoy!