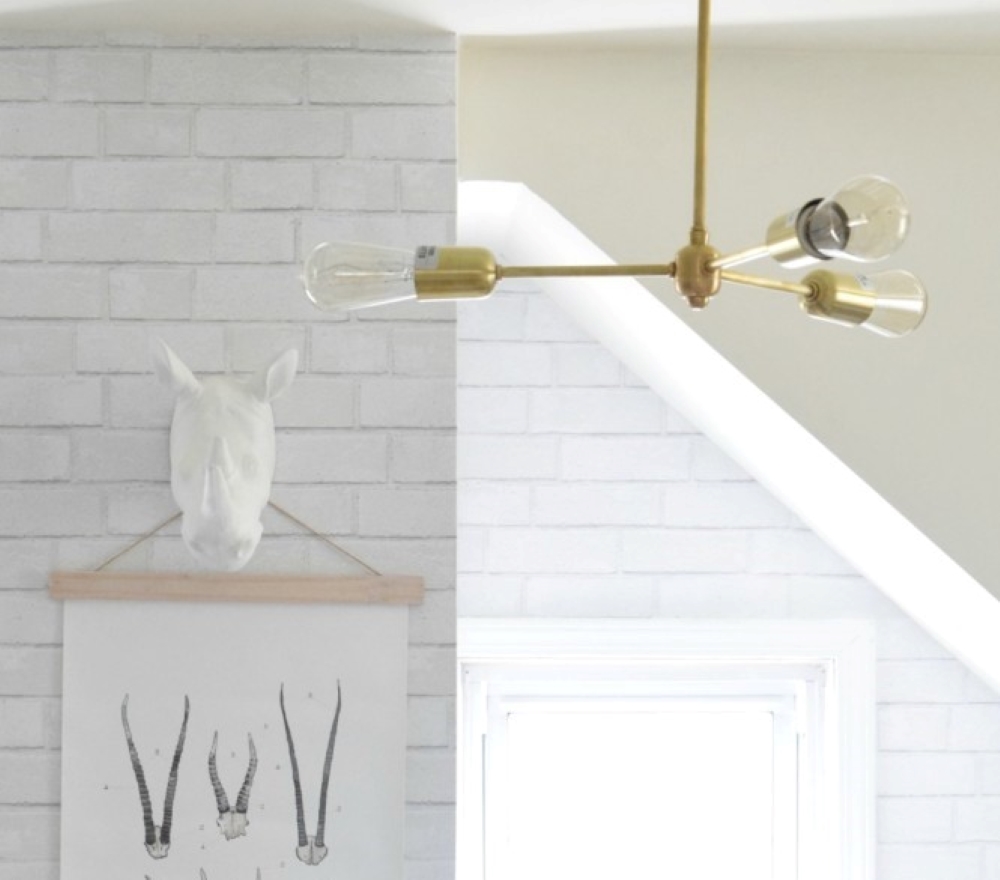 Natural Finishes Elevate Interiors, Complement Array of Colors
One of the things customers love most about shopping the Barn Light Electric website is the wide array of finish colors offered throughout our collection of handcrafted lighting. If your kitchen won't be complete without a pink ceiling pendant, we've got you covered!
And while we offer dozens of hues from traditional Black and Vintage Green to more modern shades of Teal, Magenta, and Sunflower, many customers opt for natural finishes. Barn Light offers a number of natural finishes including Galvanized, Oil Rubbed Bronze, and Bronze along with lighting crafted from solid copper and brass. Our Galvanized finish is one of our most popular as it embodies the look of classic barn lighting. People often choose Galvanized because it complements so many different colors. The two photos above show the Industrial Guard Sconce installed against a moody black garage and also on a much lighter timber frame structure.
Here, an Original™ Warehouse Pendant Light, featuring a 12″ shade, adds an industrial pop to this covered porch. It blends well with both the wooden structure and the dark grey façade of the building.
For a more elevated style, both Bronze and Oil Rubbed Bronze finishes offer a rich look. Randy liked the rugged, industrial feel of this Marathon SoHo Sconce for his barn. But his wife chose the Oil Rubbed Bronze finish to add a touch of class.
For this barn, Nate considered three different fixtures but ultimately chose the Brisbane Gooseneck Light. The Bronze finish on this 16″ shade and G22 gooseneck arm pops beautifully against the light gray wall while the contrasting cast guard picks up on the red barn doors and trim.
One of the biggest trends from 2017 that shows no sign of waning is the resurgence of copper and brass lighting. These warm metals brighten any room and complement styles ranging from traditional to modern. This mid-century home, featured in this blog post, features a clean, minimalist  style. The Original™ Vented Pendant over the dining room table adds warmth and character to the space with its Raw Copper finish.
Copper and brass lights are excellent choices for exterior lighting too. When left to Mother Nature's touch, both metals will patina over time. Or, if you prefer the shiny new look, you can maintain the finish with regular cleaning. This commercial building in Edmonton, Alberta, Canada features Original™ Stem Mount Pendants with a Raw Copper finish and Black stems. The designer chose natural materials for this seed company's building utilizing stone, steel, alder, Douglas fir, and the timeless beauty of copper.
When our friend Brooke, who writes the blog Nesting with Grace, transformed her large master bedroom into a guest room and play room for her kids, she chose a neutral palette. But she added a touch of bling to the space with a Downtown Minimalist 3-Light Chandelier with a Raw Brass finish. Brooke was drawn to the simplicity of this fixture; it's dramatic yet not oversized.
"I wanted to add some contrast to all the gray and neutral tones," Brooke says. "I love using brass to add some warmth to a room. When I look at lighting, I always look for timeless qualities. And I love it when I find a light that I can customize to fit a space."