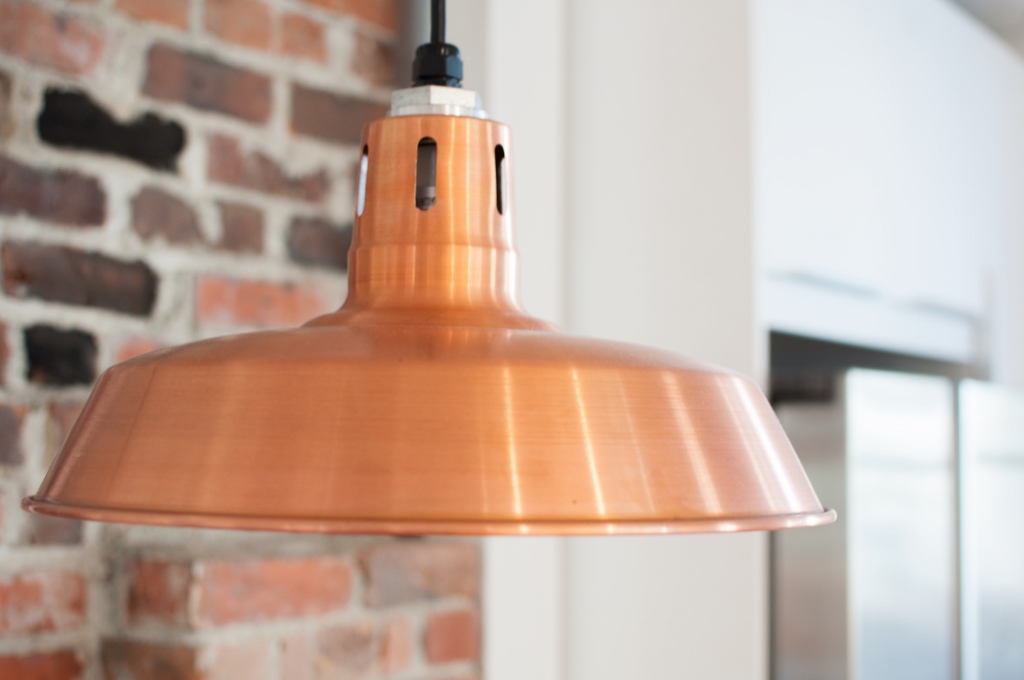 Clean, Modern Copper Pendant for Mid-Century, Cape Cod-Style Home
When Halli and her husband Irvin started a much-needed, full-gut kitchen remodel, they figured, within a couple of months, they would be hosting a party to celebrate the finished space. But, like most remodeling projects, it took a bit longer than expected.
"It took us from the first hammer swing in mid-August to the final nail or touch of paint or, more realistically, the 'that's it, no more' moment in early December," Halli wrote on her blog Thrill of Living. "We were done just in time for family visits around Christmas."
Living in western Canada, the couple wanted a warm, inviting kitchen yet with a clean and minimalist look. They chose white cabinetry and stainless appliances then added warmth by exposing a brick chimney and refinishing the original hardwood floors. They also added the Original™ Vented Pendant Light over the dining room table for a final touch of character.
"It's a mashup of new and old but, for us, it really works," Halli says. She notes that it can be pricey for Candians to buy American-made products, but when they found the Barn Light Electric website via Pinterest, they were hooked.
"The hardest part was not finding one fixture we liked, but choosing what we liked most out of the many, many options!" she says. "We were attracted to the Original™ Copper Pendant because it has character, warmth, and compatibility."
Like white, copper works with any color so even if they install new curtains or buy new dishes, the pendant will still complement the space. The couple customized this handspun copper pendant with a 16″ shade, Raw Copper finish, and narrow slot vents.
"This pendant has a utilitarian, no-nonsense aesthetic that appeals to our minimalistic nature. Yet the quality of workmanship and copper finish add the intimacy and elegance we wanted in our kitchen," Halli explains. "We chose the narrow slots for this pendant because we wanted some light to shine through; we thought the circle vents would be a little too cute."
With their handcrafted wooden dining table set against the backdrop of the brick chimney and highlighted by the copper pendant, Halli and Irvin couldn't be happier with how their monumental efforts turned out.
"I love the warm light it gives off and it makes every meal we eat in our new kitchen feel like a romantic candlelit dinner," Halli says. "It's rustic yet luxurious and it makes me smile every time I see it."
Photos courtesy of the homeowner