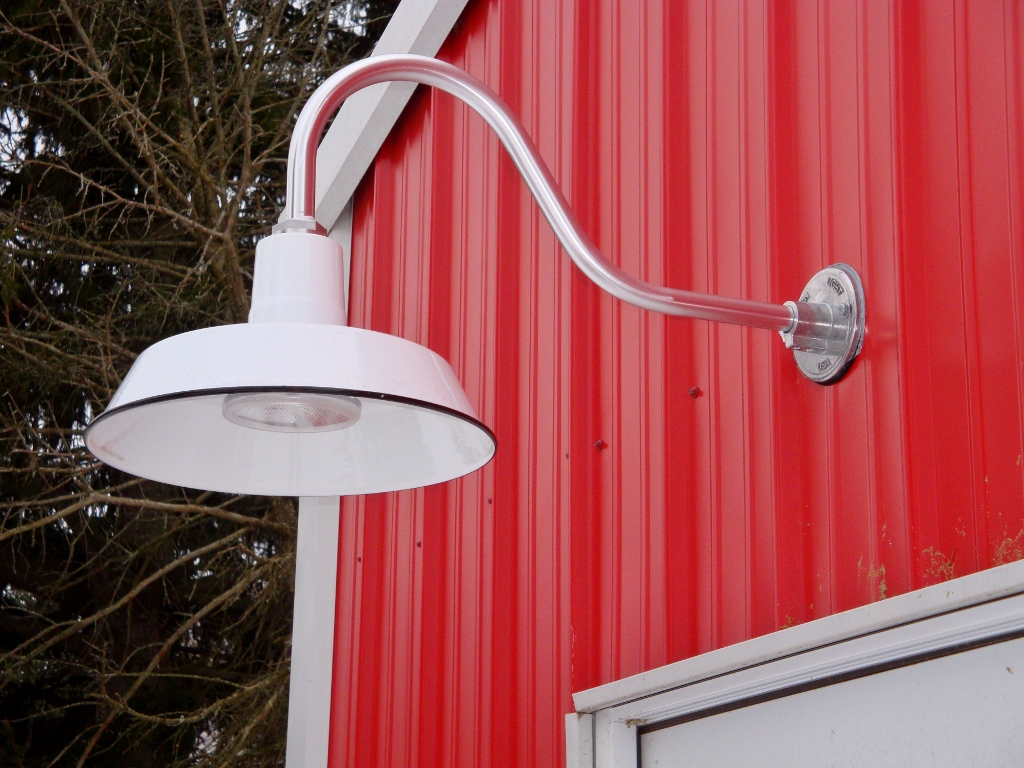 Porcelain Gooseneck Light Pops Vintage Style on New Barn
Like many consumers, finding American-made lighting was important to Beth as she completed the building of a new barn at her home in Coopersville, Michigan.
"It was also important that I could choose all the colors and options that I wanted," she adds. "Actually, Barn Light Electric had so many choices that I really had to think it through before placing my order."
Although her brilliant red barn is brand new, Beth wanted the building to fit in with the other barns on the property, some of which are more than 100 years old.
"We needed the building to be functional and to serve as a place to store tractors and equipment," she explains. "It is also a place for my husband to work on projects and perform maintenance on equipment. But we wanted it to fit in with the other barns too."
Beth chose porcelain enamel lighting for her new barn not only because it's handcrafted right here on Florida's Space Coast, but because it reminds her of what would have been on the older buildings when they were first built.
She chose the Original™ Gooseneck Light and customized this classic warehouse shade with a 14″ shade and a durable White porcelain finish. The Brushed Aluminum G22 gooseneck arm brings the light up and away from the façade to completely illuminate the doorway and ground below.
"I chose the white finish to go with the white trim and roof on the building," Beth says. "And the G22 arm fits perfectly above the door."
The porcelain enamel finish on Beth's new gooseneck light will withstand Michigan's harsh winters and will never fade in the summer sun. And the high-gloss surface is easy to maintain with a simple soap-and-water cleanup.
"I like everything about the light," Beth says. "It makes the barn look more nostalgic, and I just like the antique look of it."
Photos courtesy of the homeowner