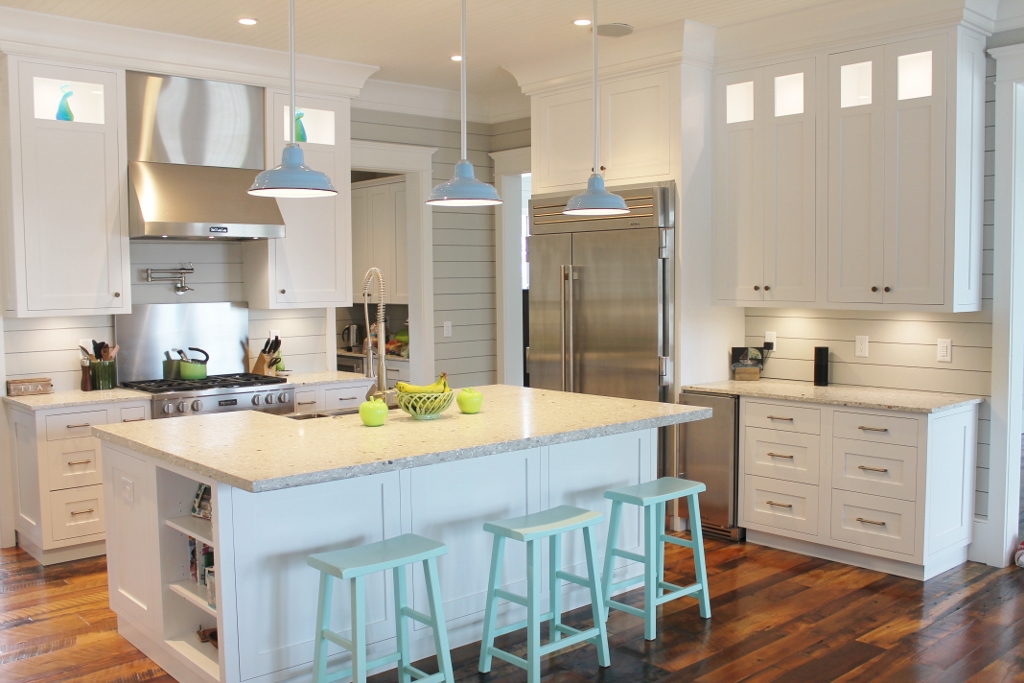 Porcelain LED Lighting Outshines the Competition
Building a new home brings on a host of decisions once the bones are in place. What type of floors, countertops, cabinetry, and yes, what type of lighting will go in each space? When Aaron set about building his dream home in the community of Wild Dunes Resort on the Isle of Palms in South Carolina, he had plenty of lighting decisions to make.
"Having American made, locally sourced lighting with LED were all important aspects to this build," Aaron says. "The ability to customize colors, castings, and illumination were highly appreciated too!" Aaron works for Realty Holding Group who provided extensive design build services for his new 5,610-square-foot home. 
Aaron and the team envisioned a coastal casual feel to the home. They sourced authentic materials such as reclaimed oak flooring, quartz counter surfaces using locally crushed oyster shells, and recycled glass showcased in a highly efficient, eco-friendly home.
Aaron relied on Houzz and online recommendations when it came to choosing Barn Light Electric over other sources.
"There are competitors but Barn Light Electric offered the superior product for this classic beach home where nothing but the best was enough!"
In the kitchen, Aaron chose three Bomber LED Stem Mount Lights. He customized these beautiful yet rugged ceiling lights with 13″ shades, 36″ stems, an 850 lumen LED, and domed lens. The finish color is Delphite Blue although Aaron, a graduate of the University of North Carolina, warmly refers to the color as Carolina Blue.
In the nearby dining room, he selected the complementary Dino 3-Light Stem Mount Pendant. This multi-light pendant features 12″ shades, a 36″ stem and a heavy duty ceiling canopy.
"This fixture was preferred as it provided even light across the extended farm style table," Aaron explains. "And the blue color provides a classic southern color punch with the white bead board ceilings and shiplap walls."
For the bathroom spaces, Aaron chose a wide variety of fixtures to blend with the casual elegance he created in adjoining rooms.
This bath features a pair of playful dolphins accented by the Double Market LED Industrial Guard Sconce…
…while this sunburst mirror is highlighted by the Austin Gooseneck Double Vanity Light. The 10″ White classic barn shades feature a durable powder coat finish.
A Seaside LED Gooseneck Light offers a fun vibe in this bath. Finished with White porcelain enamel, this fixture has a 16″ shade, a G26 gooseneck arm, and a 1250 lumen LED.
Prepping in this elegant bathroom (bathrooms can be elegant, right?!) makes one want to linger every morning instead of rushing out the door! This beautiful soaking tub is not only blessed with plenty of natural light but also a Chicago LED Vintage Industrial Stem Mount Pendant. The 16″ White shade features a contrasting Galvanized heavy duty cast guard with frosted glass.
In the same space, an Original™ Dual Arm Sign Light brings plenty of illumination to the vanity top with its 14″ White shades.
Aaron chose another classic barn light — the Esso Gooseneck Light — for this bath. The compact 10″ shade is affixed to a Brushed Aluminum G11 gooseneck arm for just the right projection over the single vanity. See what I mean about lots of lighting decisions?
The last bath fixture is a departure from the other white finishes Aaron chose. This 12″ Aero Gooseneck Light features a Galvanized finish on a G1 straight arm. All of Aaron's new bathroom fixtures have LED bulbs or integrated LED modules for the most energy-efficient lighting.
Outside, Aaron chose a classic barn light to highlight the garage doors and parking area. Five Bomber LED Gooseneck Lights provide plenty of downward focused illumination via their 15″ shades. These dark-sky friendly fixtures sport a Bronze finish and G14 straight arms. The heavy duty cast guard will stand up to the South Carolina weather and the ribbed glass offers a slightly diffused light.
"We like the substantive quality, the exceptional craftsmanship, and the visual distinction across the many lights," Aaron says. "These lights are integrated into a whole house Control4 home automation system which allows full spectrum dimming of the barn lights centrally and remotely. A superior product!"
Photos courtesy of the homeowner