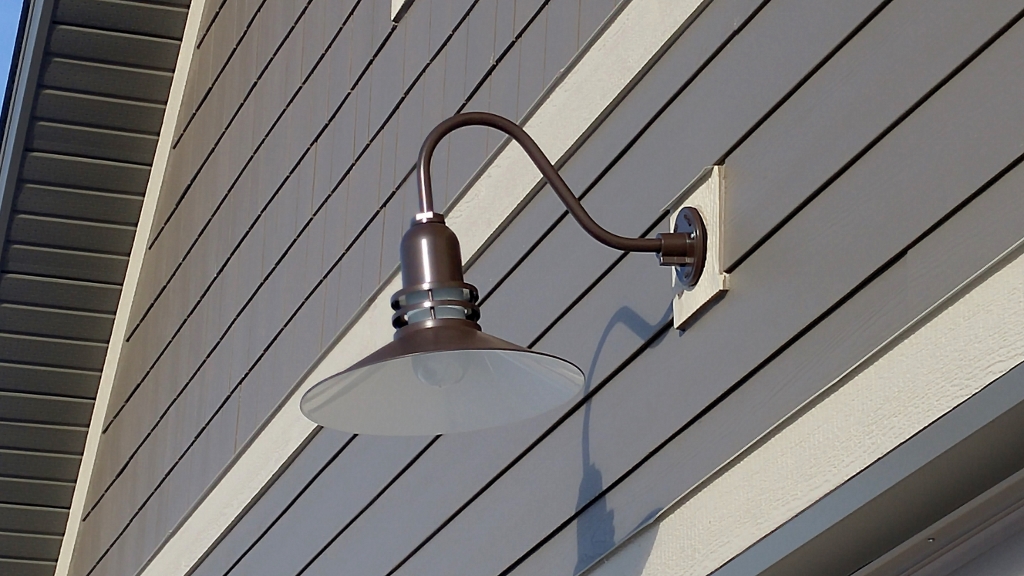 Gooseneck Barn Lights Blend Vintage and Modern for New Garage
Everyone has a dream space. For Joe in Winnipeg, Manitoba, Canada, the dream was his very own shop/garage where he would have the space to comfortably work on restoring his small truck collection and tinker on other various projects.
Joe's dream finally came true thanks in large part, he says, to a very supportive and understanding wife.
"I don't think she initially grasped the size of the shop until it was too late," Joe says. The garage boasts 1,800 square feet of floor space and an almost 800-square-foot loft for storage. Joe wanted to create a building that wasn't like every other garage but a place that fit in with his home design plus had style and character. Barn lighting was a must from the beginning.
"I wanted to match the decor on the outside of our house but wanted to add a little vintage/rustic look to give it some extra character," he explains. "I felt that barn-style lighting would give the garage that special feature and not look like other garages." Joe chose the Cherokee Uplight Gooseneck Light to highlight the three garage doors.
He customized these American-made gooseneck lights with 16″ shades, a Chocolate powder coat finish, G11 gooseneck arms, and frosted glass.
"I really like how the Cherokee Uplight blends the vintage look of an old barn light while still feeling modern," he notes. "The Chocolate finish helps blend the lights with the exterior of the garage. The arm style was the hardest option to select, but I felt that it ultimately was the most classic design."
Joe's garage is now the ultimate man cave complete with his collection of old dealership memorabilia, tin signs, and various other wall art. Family and friends also enjoy the space which includes a television most often tuned to car-related programming.
"Everyone that sees my garage for the first time always comments on the barn lights and how good they look," Joe says. "Oh yeah, and sometimes work actually gets done in the garage."
Photos courtesy of the homeowner