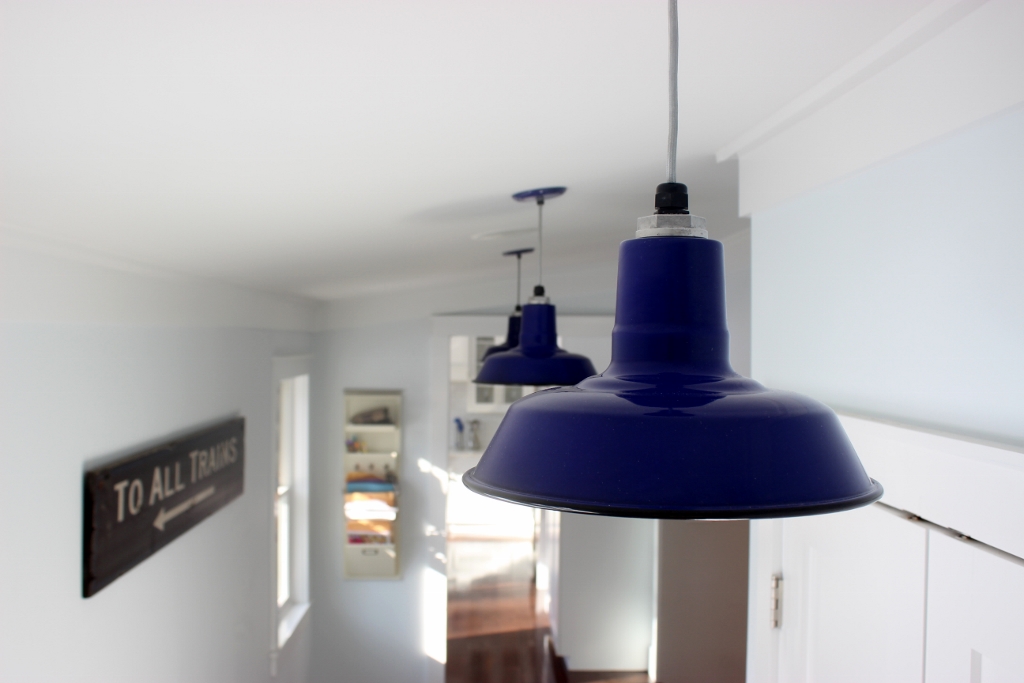 Porcelain Pendants Lend Old-Time Feel to New Addition
Sometimes, the best ideas come when we least expect it. For Sean, who was in the midst of a mud room/bath addition in his Long Island home, the inspiration came in the middle of the night. Part of his décor for the new space included a sign reading To All Trains which is a nod to a train that infrequently rumbles by their backyard.
Although Sean planned to install recessed lighting in the vaulted ceiling of the mud room, he had an unexpected brainstorm.
"I woke up in the middle of the night with the idea of three pendants lined up just like in a train station," Sean says. He started his search and landed on the Barn Light Porcelain Enamel Collection where he found exactly what he was envisioning.
"We needed a specific shade of blue and I wanted the pendants to look like what you would see in an old-time train station," he explains. "I was able to create these thanks to Barn Light's customizing options." Sean chose the Original™ Warehouse Pendant Light for the narrow space. He customized these ceiling lights with 12″ shades, a porcelain enamel Cobalt Blue finish, and grey cotton cords to add to the vintage look.
The 12″ shades are a perfect fit in the long, narrow space and the blue is an extension of the color palette from the nearby kitchen. Sean notes that the Cobalt Blue finish also complements the Benjamin Moore Lily White paint color in the mudroom.
The Original™ pendants are hand spun from commercial-grade steel and coated with multiple layers of porcelain enamel glass. The shades are fired in a special oven that seals the glass to the shade for a superior, high-gloss finish that will never fade. Barn Light is the only company in America manufacturing porcelain enamel lighting just like it was back in the early 20th century.
"The porcelain makes it look and feel like a pendant in an old train station," Sean says. "We love our home and the mudroom is one of our favorite rooms because of how the pendants give it the exact look and feel we tried to portray."
Photos courtesy of the homeowner