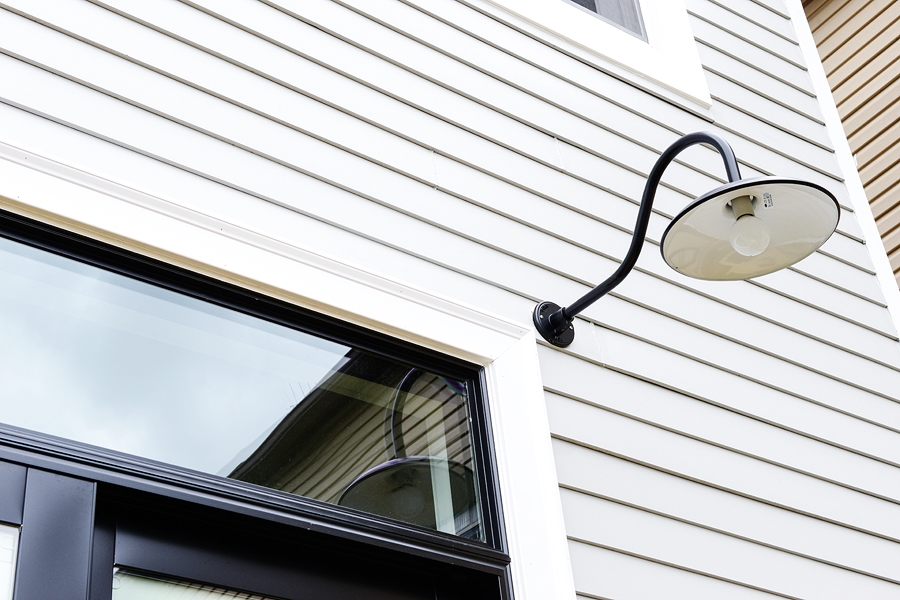 Outdoor Gooseneck Light Feels Ever-So-Slightly Modern
Homeowners spend an abundance of time and money sprucing up their landscaping, outdoor lighting, paint, and furniture — all on the front side of the house. But how much time and effort do we spend on the back side?
Kim and Scott have been renovating their home for the last three years and the back side of their house demanded a complete overhaul. They have blogged about their ongoing efforts on Yellow Brick Home.
"Last year, we replaced a plain, metal back door with a large, six-foot French door slider," Kim says. "This summer, we tore down a rickety back deck and, because that transformation was so huge, we wanted to highlight our new door with a simple, classic light." Kim and Scott chose the Sinclair Gooseneck Light to handle the job.
"Our goal was to create an inviting space for our friends and neighbors to hang out together," Kim notes. "We love that the gooseneck light feels traditional and sleek all at once. And in the evenings, it provides light for Scott when he's manning the grill." The couple plans to continue the backyard renovation with plantings, red brick pavers, and an outdoor fireplace.
The Sinclair is based on 1930s industrial lighting designs and is appealing with its timeless simplicity. This shallow bowl gooseneck light can handle a 200 watt bulb and is rated for indoor or outdoor use. Kim and Scott customized their American-made light with a 14″ shade, Black powder coat finish, and a G22 gooseneck arm.
"Barn style lighting has been a favorite of ours for years and the 14″ shallow bowl on the Sinclair feels ever-so-slightly modern. It fills the deck landing with light and we've always loved mixing black with white and grey," Kim says. "Those three colors lay such a beautiful groundwork for any other colors we might want to incorporate — whether it's vibrant flowers or navy throw pillows on wicker chairs."
Having a well-made fixture along with plenty of customizing options sold the couple on Barn Light Electric. They discussed all of the options available for their new gooseneck light over dinner and placed the order the same night.
"With the deck torn down, a simple deck built, and all new siding on our home, the Sinclair can finally say, 'Look at me!'" Kim says. "She's so pretty without shouting which is the style we enjoy inside our home too. The light is one piece of our larger back yard puzzle, and we can't wait to piece it all together over the course of the summer."
Photos courtesy of the homeowner