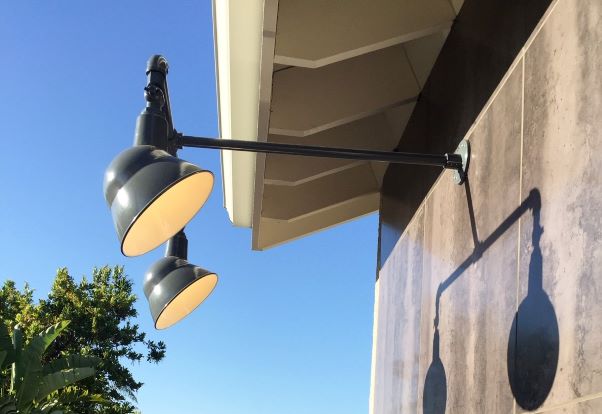 Outdoor Sign Lighting for New BBQ Deck
Most people think of sign lighting as something used in restaurants, hotels, and retail businesses. But when Glenn, of Thousand Oaks, California, was looking for some interesting outdoor lighting for his new BBQ deck, sign lights offered exactly what he needed.
"I wanted an easy-to-maintain BBQ deck so I chose a 32″ square porcelain tile that would make a clear deck with no grout line and be easy to maintain," Glenn explains. "I wanted lights to complement the tile color and provide enough light for the 42″ BBQ grill."
Glenn chose the Dual Arm Emblem Sign Light with 10″ shades. He customized these American-made exterior lights with a Marine Grade Industrial Grey finish and installed 100 watt dimmable bulbs.
"I like the rounded shade of the sign light and it works well with the rounded surfaces of the BBQ," he notes. "We get a lot of early morning coastal fog so I chose the Marine Grade finish which I figured would be more durable than the powder coated finishes. And the Industrial Grey complemented the porcelain tile."
Glenn found Barn Light Electric while searching online for exterior lighting that was American made and offered the aesthetics and functionality he needed for this oft-used space.
"Your web site was amazing and made it very easy to look at various options before I made my final choice," Glenn says. "I have an appreciation for manufacturing and the Barn Light Electric video I watched on your site was terrific. That's what so impressed me about your company."
Barn Light Electric employees handcraft hundreds of styles of lighting, for both interior and exterior applications. This process includes spinning shades on a lathe, hand-applied finishes and assembly.
"We are delighted with our new lighting and especially the fact that Barn Light Electric let us customize the length of the support arm for the product. Very few companies allow that," Glenn says. "We really appreciate the work this company has done to produce a great product."
Photos courtesy of the homeowner