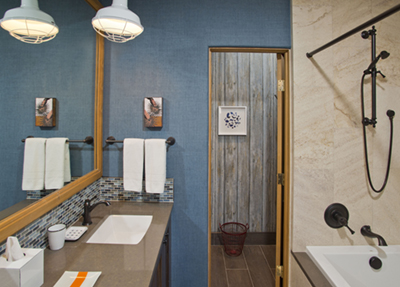 Bathroom Lighting Adds Bold Touch to Vail Remodel
We love revisiting with pros who have used our lighting in the past, and today, we catch up with Elizabeth Basso of Basso Interiors out in Colorado. We featured Elizabeth back in 2012 in this blog post where she chose a bold barn pendant for bathroom lighting.
"I love designing bathrooms," Elizabeth says. "I like thinking of them from start to finish and making them user friendly and on budget!"
A recent remodeling job in Vail Village gave Elizabeth another bathroom to tackle. Starting with a neutral palette, she introduced some bold colors to keep the space youthful and fresh. Elizabeth picked the Barn Light Mini Artesia Wall Sconce and customized it with the G33 mini straight arm and a paint-to-match porcelain Cobalt Blue finish color.
"The client loves blue and the Mini Artesia sconce worked best in scale with the space," she explains. "And I love being able to select the gooseneck arm style."
In another bathroom remodel, this one in the Beaver Creek mountain resort area, Elizabeth turned her talented eye to a kid's bathroom.
"This was for the kids' bunk room and I could be more playful and whimsical with the bath design," she says. "I loved being able to use wallpaper and have that strong contrast of the white lights and sink. They really pop!"
Elizabeth chose the Dino Gooseneck Light for the space and customized these American-made lights with 12″ shades, White finish color, and G35 gooseneck arms also in the durable White powder coat finish color. For a hint of vintage style, she added wire cages to the bathroom lighting which protect the bulbs — useful in a kid's space!
The Drake is one of our classic RLM-inspired gooseneck barn lights that can be customized in a number of ways with finish color, gooseneck arm style, and other add-ons like a cast guard and glass or dusk-to-dawn feature for outdoor use.
"I do love designing bathrooms," Elizabeth says, "and I love adding the quirky bold touch of Barn Light Electric lighting!"
Photos courtesy of Basso Interiors