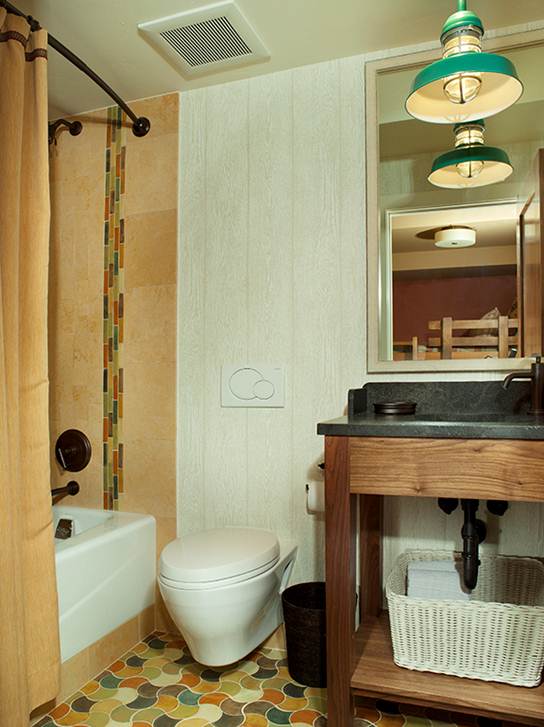 Professional's Corner | Barn Pendant Adds Color to Funky Kids' Bathroom
Sometimes one element will just take charge and lead the way in a room design. Perhaps you found the perfect wall sconce and you just couldn't pass it up, so you redesigned your front entryway around that one element. In this bathroom, located in Vail, Colorado, Interior Designer Elizabeth Basso had wavy, colorful floor tiles setting the tone for her work.

"Those floor tiles have a Moroccan feeling and are fun, bright, and colorful," Elizabeth says. The bath was adjacent to a kids' bunk room so the fun and funky feeling was key.
For lighting, Elizabeth was looking for something just as fun that could stretch from the wall far enough to light the majority of the bath. She chose Barn Light Electric's Outback Pendant with a stem mount option. The American made Outback is an extremely popular fixture thanks to its traditional RLM warehouse shade design and its variety of finish options. Five shade sizes are available — from 12″ to a very generous 20″ — and 19 beautiful powdercoat finish colors offer both traditional and modern style plus durability.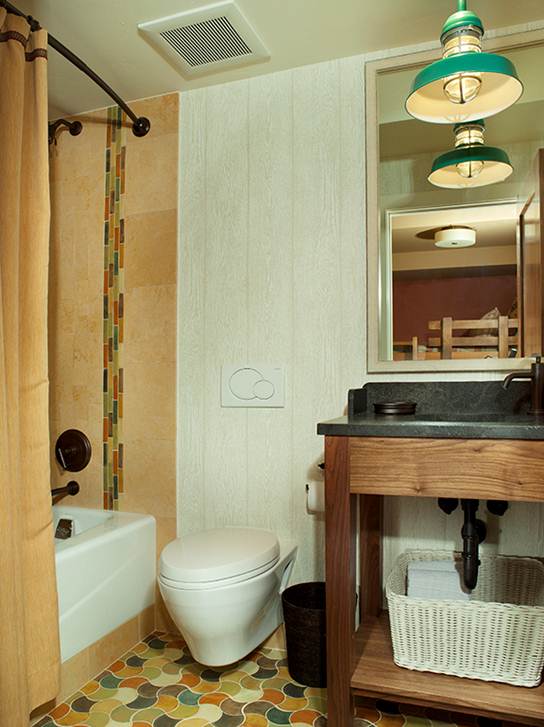 If you choose the cast guard and glass option, the glass comes in several colors and textures, and the guard that covers the glass can match your shade or you can choose a contrasting color as a complement. If you want a vintage look, consider adding a wire cage instead of the cast guard and glass. The Outback can be cord hung or stem mounted like this one and is rated for damp locations. This pendant obviously looks terrific in the bath but would also be well suited for screened porches, dining room, kitchens, and workshops, anywhere a wide span of directed light is needed.
"We love the Outback's amazing color and the inspired fun that it brings," Elizabeth says.
Top photo courtesy of Basso Interiors, Inc. and Photographer Ric Stovall