Featured Customer | Graniteware Pendants Star in A&E Flipping Boston Series
The two stars of A&E's Flipping Boston series keep viewers entertained each week in their efforts to flip homes for a profit in the tough New England market. One viewer commented that Peter Souhleris and Dave Seymour "bicker like an old married couple" yet their combined talents always seem to pull the team together in the end to make a profit. In last Saturday night's episode, a pizza shop owned by Pete, aptly called Pete's-A-Place was nearly destroyed in a fire and the Flipping Boston team turned their design know-how on the renovation. The project, which took place over a short, seven-day time span, featured some new porcelain pendant lighting from Barn Light Electric.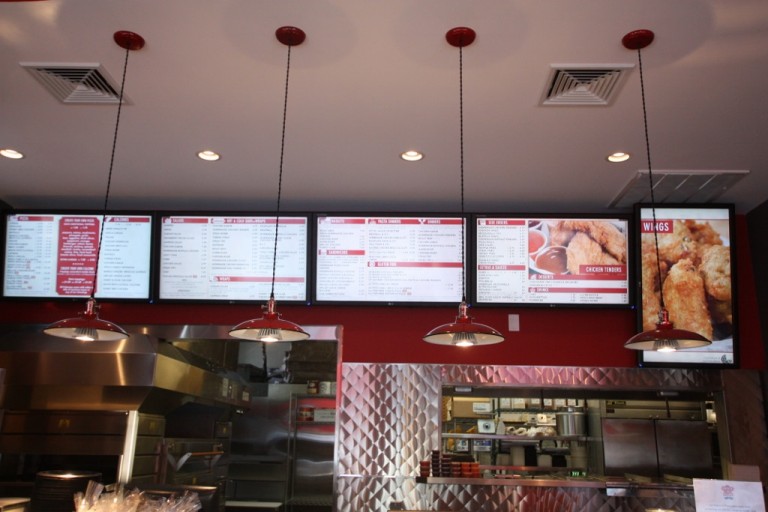 The brick oven pizzaria, located in Danvers, Massachusetts, features a bright red, black, and white color scheme with gleaming stainless accents. The designers chose our Ivanhoe® Sinclair Graniteware Porcelain Pendant as the perfect accent over the front counter where customers place and receive their orders. These classic, American made lights add just the right touch of vintage charm to the space and feature a Red with Black graniteware finish. This finish is much like the early examples of graniteware first manufactured in this country in the late 1800s. The designers chose to further customize these seven pendants with a polished nickel socket and a Black cotton twist cord for even more visual interest. And with its tough porcelain enamel finish, these fixtures will stand the test of time even in a high-traffic, commercial setting like this one!
The Ivanhoe® Sinclair is offered in four shade sizes and five graniteware finish options. A nostalgic Edison Style Light Bulb, available in a variety of shapes and styles, will also add some vintage appeal to this beautiful fixture. If you missed last Saturday's episode, mark your calendar for the re-airing which happens Saturday, March 16 at 6pm Eastern Standard Time!

Photos courtesy of Flipping Boston