Professional's Corner | Porcelain Warehouse Shade Adds Pop of Color to Chic Nursery
Who says nurseries have to be all pastel pink, blue, or mint green? Certainly not Alykhan Velji, a Calgary designer who created this stunning nursery for a client using a sophisticated palette of grey, white, and yellow. And tying the room full of textures, patterns, and fabrics together is what Alykhan calls a "gorgeous and unique light fixture that really plays a big role." That fixture is none other than a 12″ Benjamin® Dino Porcelain Stem Mount Light, part of Barn Light Electric's collection of Porcelain Enamel Lighting.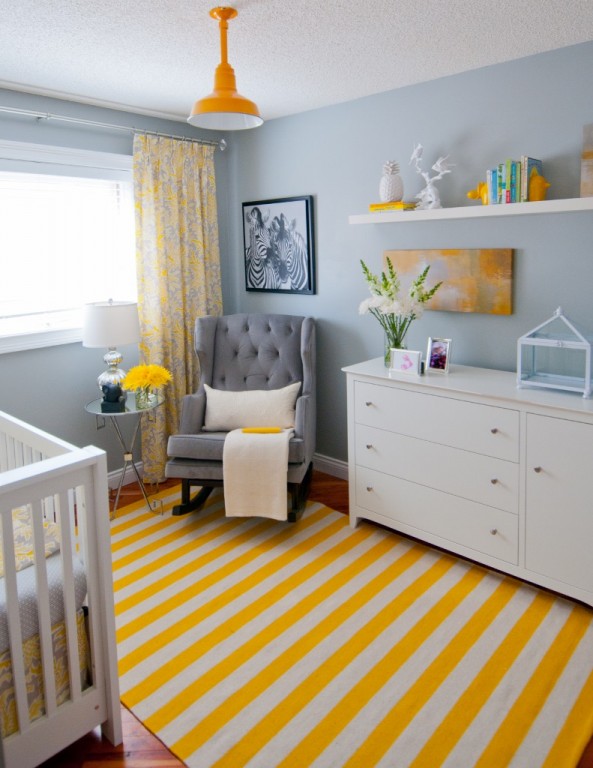 "The goal for this space was to create a chic and modern nursery, but one that could also grow with the child," Alykhan explains. "My client did not want anything too kitschy but something that was sophisticated and still whimsical." The gray and white hues lend a clean, crisp feel to the space while the pops of yellow — from the striped rug to the bookends to the RLM-inspired warehouse shade give a delightful shot of color from top to bottom.
The American made Benjamin® Dino pendant mimics the design style of the larger Sky Chief shade yet in a smaller form. But don't let that smaller size fool you. The bright white interior shade reflects plenty of light and the porcelain enamel exterior will last a lifetime with minimal maintenance. This stem mount pendant can be customized in dozens of ways with finish color, stem sizes, and options like a cast guard and glass or wire cage to add a vintage look.
"I think lighting has to make a statement in any space. I chose this gorgeous yellow fixture because of its industrial style and because of the bold yellow color," Alykhan says. "I also love that it is unexpected; not something you would normally see in a nursery, yet it works so well!" Alykhan found Barn Light Electric through an online search.
"We do a lot of research for our projects," he says. "We came across your website and were instantly in love!"
Photo courtesy of Alykhan Velji and Bookstrucker Photography