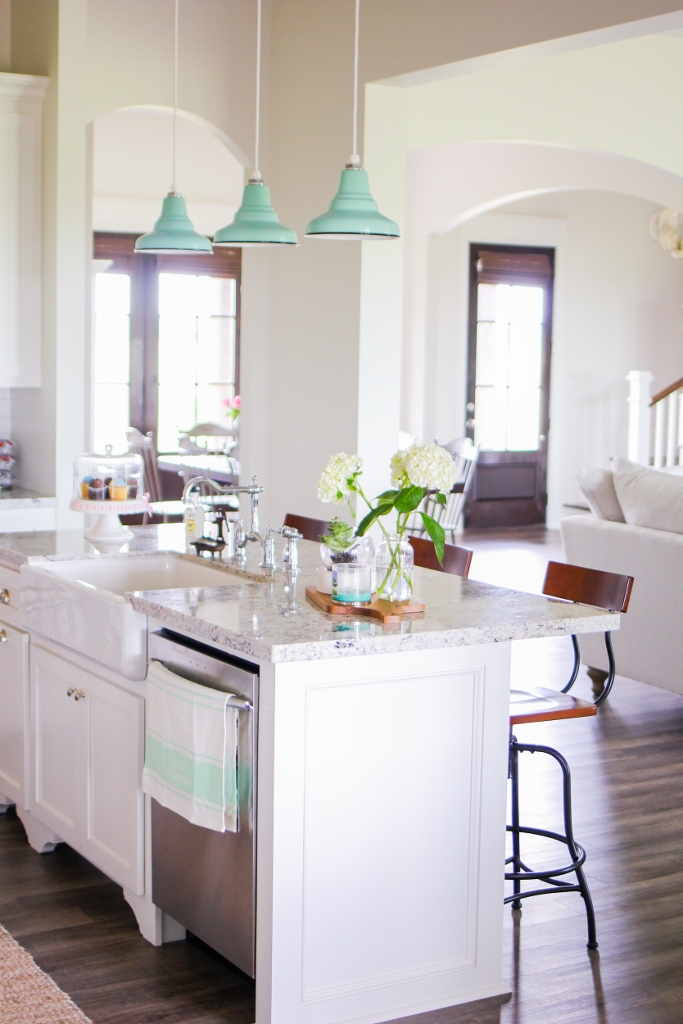 Porcelain Pendants Nail Retro, Farmhouse, Industrial Style
Lauren always dreamed of a bright, white farmhouse kitchen with classic subway tile, a big farmhouse sink, and shaker style cabinets. Her vision also included retro, industrial style lighting as a colorful accent. Lauren's dream became a reality last spring as she and her husband moved into their new home located in a small farming community in southwest Louisiana.
"We met in college nearby and we moved back to my husband's family land about four years ago," Lauren explains. "We've been planning and working towards this home ever since."
Lauren's farmhouse style kitchen includes all the elements she dreamed of including the sink, the tile, and beautiful porcelain pendants over the island.
"I love bright, white, and airy spaces accented with shabby chic touches and pops of pastels, like minty greens and blues, to give it more of that cottage style," she says. "I also love natural wood tones, industrial, and vintage/antique pieces mixed in to bring more of the farmhouse touch. To me, that look is just timeless."
When Lauren found Barn Light Electric on Pinterest, she knew she'd found the source for the style of lighting she wanted in her new home. She chose classic Union Pendant Lights to accent her island. She customized these American-made ceiling lights with a 10″ shade, Jadite porcelain enamel finish and canopy, and a standard White cord.
"I wanted them to add a pop of color to our white kitchen and have a cord length that was long enough to hang from our 11-foot ceilings above the island," she explains. "I loved that I could customize these down to the color of the cord so that they were the perfect look I was going for. I also love supporting a product that is made here in the USA."
Lauren loves the shape of the Union with its stacked neck design and the soft Jadite finish. An added bonus was the option of a 10″ shade which meant that three fit perfectly over the island.
"I started collecting Jadite pieces recently and have always loved the color," she says. "When I came across these porcelain pendants, I instantly fell in love with the idea that these lights would add that perfect accent color and bring in the retro feel I wanted, yet still keep it soft and light."
Our porcelain pendant lighting offers a variety of shade styles, finish colors, and other options to lend a timeless look to any space. The high-gloss porcelain enamel finish on these fixtures will never fade, is easy to maintain, and will provide years of use.
"The lights are the centerpiece of our kitchen," Lauren says. "The color is gorgeous and an eye catcher when you enter the space. They are my favorite part about the room because they bring in the perfect touch to complete the look I always dreamed of."
Photos courtesy of the homeowner, author of Lately Loves