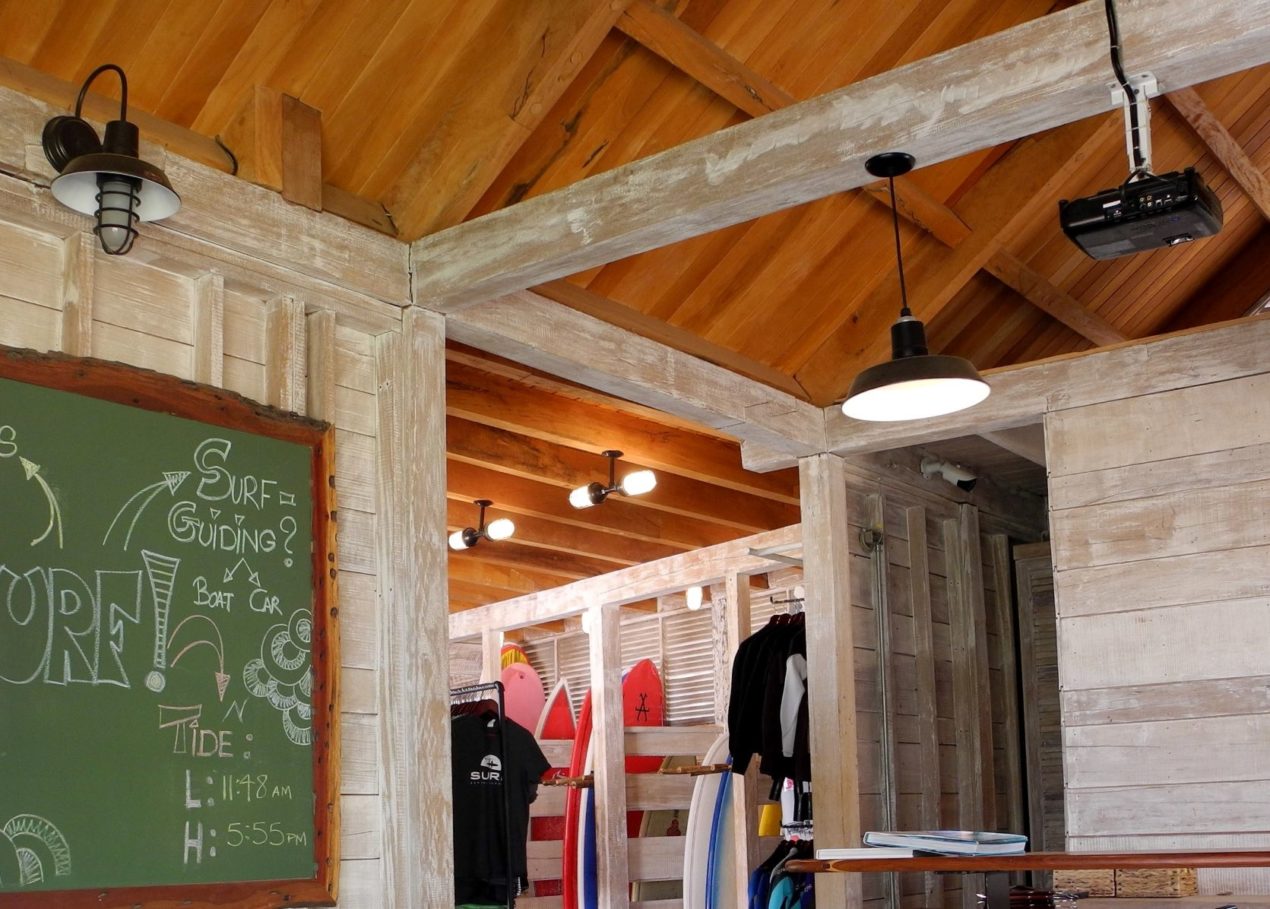 Rustic Industrial Lighting for Central American Beach Resort
The words "rustic industrial" can be scary to some customers. They imagine big, bulky, factory lights that seem out of place in a home or retail setting. We're here to show you that rustic industrial lighting can be absolutely gorgeous! Look no further than Rancho Santana, a five-star resort located on the Pacific coast of Nicaragua. Rancho Santana recently added a surf shop to their 2,700-acre community which includes American-made lighting from Barn Light Electric.
The surf shop was designed by architects from Santa Ana Madera in Tola, Rivas, Nicaragua and Rohrer Studio in Baltimore, Maryland.
"We designed this space to resemble a barn," explains Raquel Hernandez, an architect with Santa Ana Madera. "We wanted a rustic industrial feel with the materials, colors, and lighting." The architects chose a variety of pendants and wall sconces from  to complete the look.
On the exterior, a dozen Original™ Wall Sconces light the covered porch with a broad span of downward focused light. They are customized with 12″ shades, Bronze finish, and a rugged cast guard and frosted glass. With an overall projection of just more than 14″ these fixtures offer plenty of light without obstructing the flow of foot traffic.
On the interior, the wood floors and walls boast colorful displays of clothing and surf accessories highlighted by rustic industrial pendants. The Industrial Loft Double Pendant Lights offer twice the light with two bullet-shaped fixtures affixed to a sturdy stem mount. These pendants are customized with a Black finish, wire guard, and frosted glass.
Single Flush Mount Guard Sconces also dot the ceiling and provide a nice complement with their Bronze finish, wire guard, and frosted glass.
The checkout area is well lit by the classic Original™ Warehouse Pendant Light. These hand-spun ceiling lights are crafted from commercial grade aluminum. Fourteen-inch shades sport a durable Black powder coat finish and standard black cording.
"These light fixtures are important elements, if not critical, to the rustic barn feel at the surf shop," Raquel notes. Santa Ana Madera has been serving both commercial and residential clients in Tola, Rivas for more than five years.
Photos courtesy of Santa Ana Madera