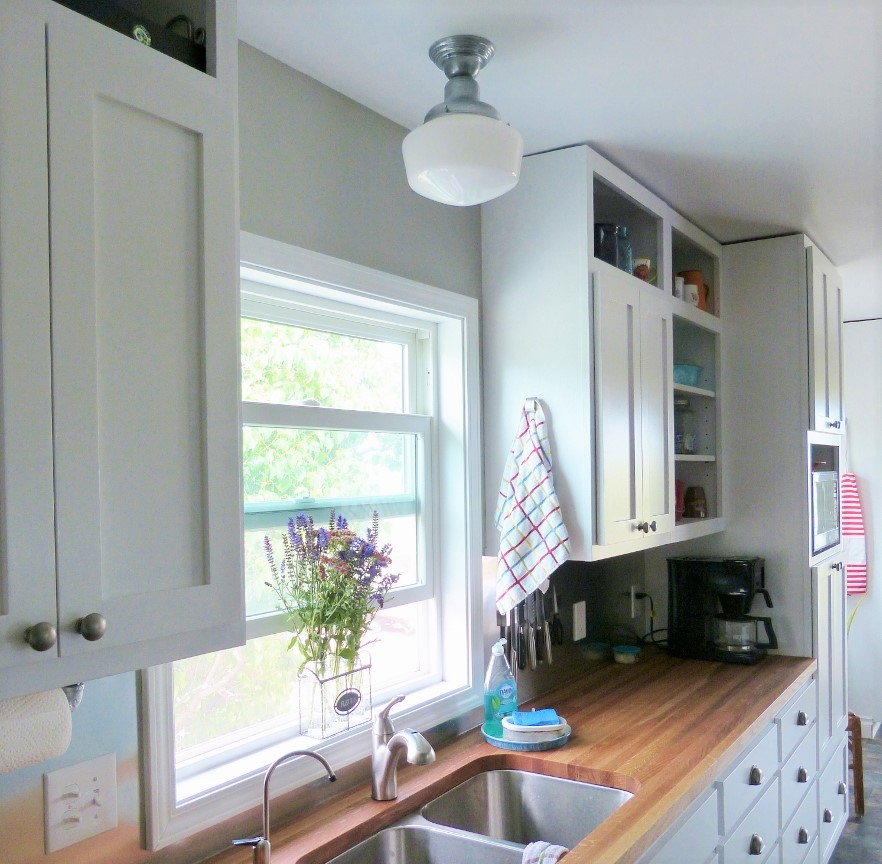 Schoolhouse Lighting Brightens Major Kitchen Remodel
Dawn is a farm girl at heart.
"I grew up around lots of grain bins and working on the farm so I enjoy old tin and anything with a bit of an industrial or rustic feel," she says. It's no surprise that the remodel of her kitchen and dining room features a back splash made from roof flashing, a bar covered in upcycled corrugated tin, and some retro schoolhouse lighting.
Combining the kitchen and dining room meant tearing out a wall in the mid-century home. Dawn rents the home from her parents so she was conscious of the budget as she looked for lighting.
"I am picky about certain shapes so when I was looking, I wanted a bit of an industrial/rustic feel but it had to be the right shape," she explains. "I wanted it to blend with everything else and be practical."
Dawn chose a pair of Primary Schoolhouse Pendant Lights for over the new island. She customized this American-made schoolhouse lighting with small globes and a Galvanized fitter and canopy.
"I think the milk glass softens them and makes them not so fussy," she notes. "I chose plain milk glass and galvanized because they can go with anything. I can change out my accessories and they will still match." Dawn chose the cord hung pendant so that her new lighting would hang straight from the ceiling which, she admits, may not be perfectly level after all the patching, taping, and mudding that happened during the remodel.
Over the kitchen sink, Dawn wanted something similar so she chose the Primary Schoolhouse Semi-Flush Mount Light. She customized this fixture with the same small globe and Galvanized touches.
"The Galvanized touches match all of the other gray and metal components in the space and is neutral," Dawn says. "I didn't want the light to hang in front of the window so flush mount schoolhouse lighting was the perfect choice."
Dawn couldn't be happier with how her new space turned out — on budget and with the farmhouse aesthetic she loves.
"I do love to cook so having a nice and functional kitchen was super important to me," she says. "The kitchen is definitely where people in my family gather and great lighting really makes the space more functional."
Photos courtesy of the homeowner