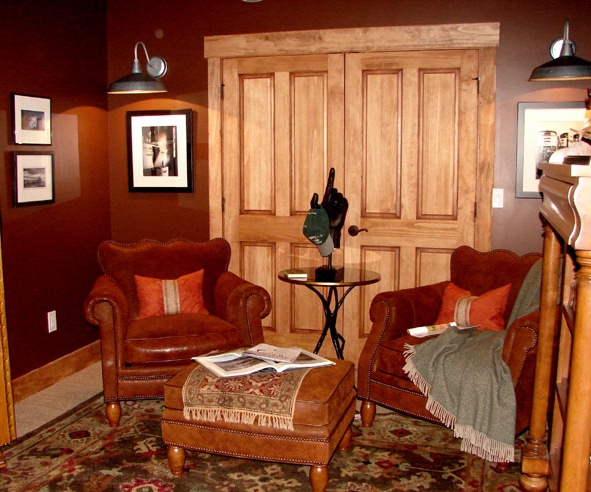 Gooseneck Barn Lights for a Luxurious Gentleman's Retreat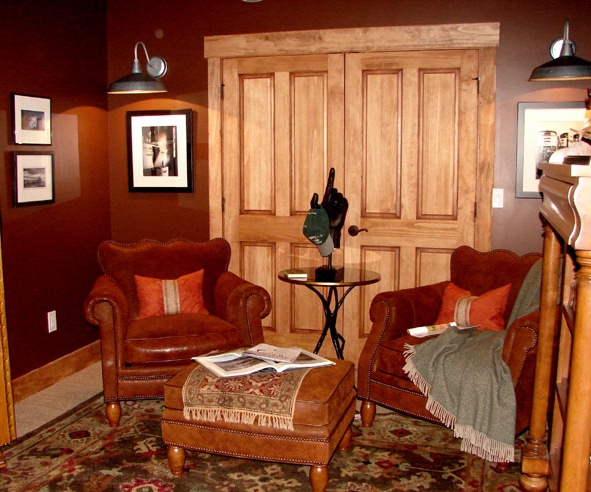 While the words "man cave" conjure up images of neon signs, a 60″ plasma screen tv, and a keg in the corner, a gentleman's retreat sounds much more genteel, elegant, yet still relaxing in a manly sort of way. This beautiful retreat was created by our friends at Cocoon Interior Design in Brevard, North Carolina, and is oozing with warmth, plenty of leather, and yes, gooseneck barn lighting. Really now, what other kind of lighting would be appropriate in this space? A chandelier? Perhaps a vibrant colored wall sconce? We think not.

Once used on farms and in barnyards in the 1930s and 40s, gooseneck lights are now bringing their utilitarian charm to both residential and commercial settings. This style of barn lighting can be found in homes and offices ranging from traditional to mid century to modern styles. These galvanized shades are very much like our Drake Gooseneck Light which takes the traditional RLM warehouse shade and puts it into a compact yet still stylish form. This American-made light is offered in two shade sizes — 12″ and 14″ — and almost two dozen different gooseneck arm styles. Twelve durable powdercoat finish colors are available for the Drake and range from traditional Black to Barn Red, Bronze, and Butter Yellow. The gooseneck arm can match your shade color or pick one of four contrasting colors. If your gentleman's retreat is inspired by a vintage look, consider adding a wire cage or cast guard and glass to your gooseneck light. And a nostalgic Edison Style Light Bulb would provide the perfect soothing glow at the end of a long day.
If you're creating a cohesive commercial lighting plan, don't miss the entire family of Drake fixtures. Available in a cord hung pendant, a stem mount pendant, and a handsome wall sconce, every fixture in the Drake family has the same quality American craftsmanship that will give you years of service!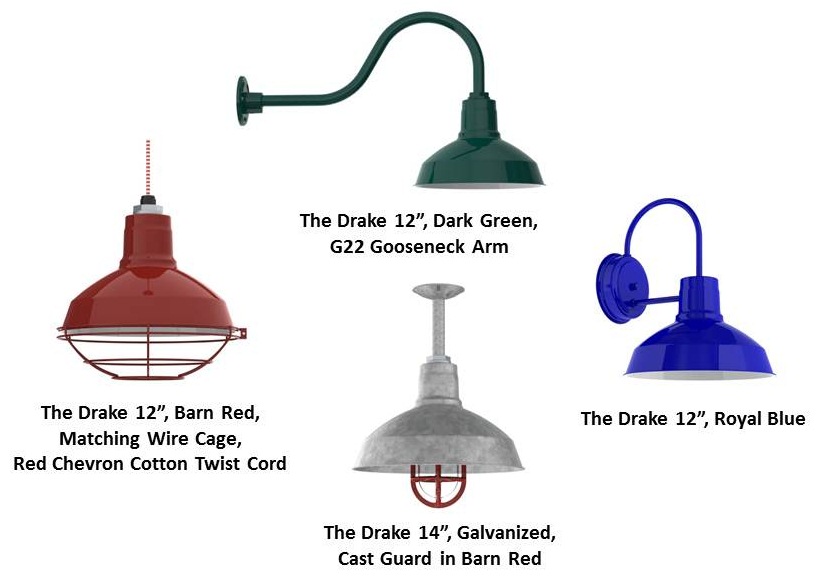 Top photo courtesy of Cocoon Interior Design