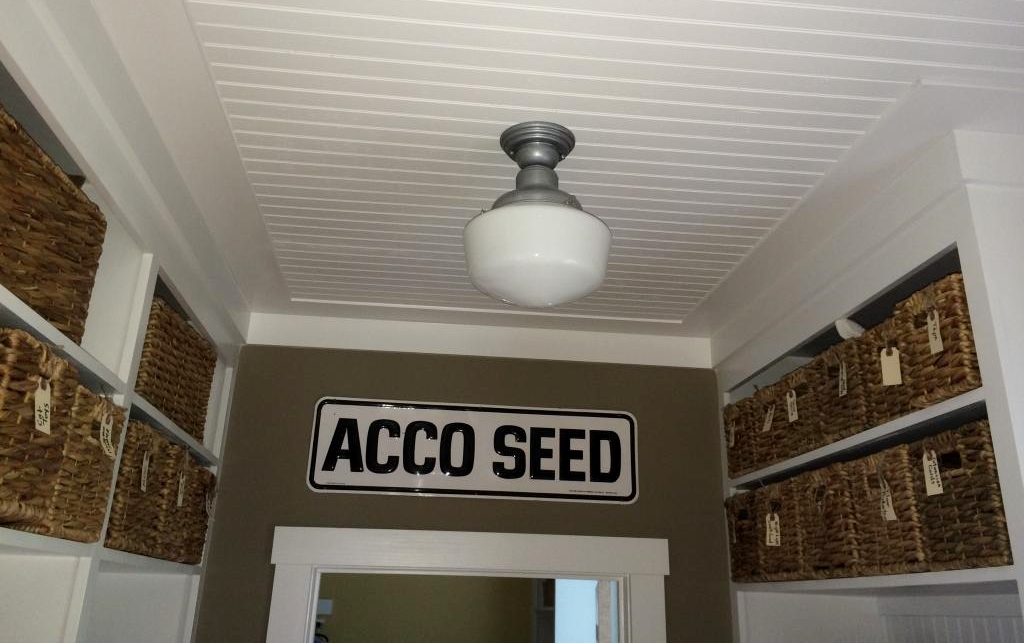 Vintage Lighting, Schoolhouse Lights for NC Craftsman-Style Home
In Monday's blog, we visited with Brian in Wake Forest, North Carolina, where his stunning new Craftsman-style home sits on eight rolling acres of land complete with hay fields, deep woods, and bubbling creeks. For much of the home's exterior, Brian chose classic, American-made gooseneck lighting. Today we take a peek inside to see how Brian and his wife chose to light up the interior of their home.
"We were going for a vintage farmhouse feel with basic Craftsman elements to mimic the simple style of a North Carolina farm house," Brian explains. "One of the best compliments we have received was when our landscape designer came in and said this was was like being in her grandmother's house because so many things reminded her of her childhood." Brian balanced vintage touches like heart pine flooring and board-and-batten wainscoting with more modern conveniences.
In the kitchen, he chose three Rounded Iron Cage Bowl Pendants to bring light to the breakfast bar. Crafted from steel with an antique forged iron finish, these vintage style pendants lend an industrial feel mixed with a hint of nostalgia with the Edison style light bulbs.
"These pendants offer more of a simple industrial look that we also carried over into our office," Brian says. "It helps tie the rooms together with a cohesive look and feel throughout the house."
A splash of color in the nearby breakfast nook comes courtesy of an Original™ Stem Mount Pendant Light in a creamy Jadite finish. This hand-crafted porcelain enamel light sports a generous 20″ shade and a 36″ Galvanized stem. Brian explains that his wife remembers her own grandmother's kitchen having many of the green elements that she wanted to mimic in the kitchen and breakfast nook.
"We found the Jadite light first," Brian says, "then my wife chose paint colors to complement the light. Finding the light first inspired the colors which are used in our master bath and closet."
For the entryway, Brian couldn't pass up a classic schoolhouse light and while we don't sell this exact fixture any longer, it's very similar to the Primary Schoolhouse Stem Mount Light. American made with hand-blown glass, this vintage ceiling light can be customized with shade size, fitter, canopy, and stem options, plus an optional painted band of color on the globe.
The complementary Primary Schoolhouse Semi-Flush Mount Light found a home in the mudroom entry. The 10″ globe sports a galvanized fitter and canopy and its ceiling-hugging profile is perfect for this cozy space.
"We absolutely love the lighting you manufacture and the quality is second to none," Brian says. "It has the look and feel of the originals but is better in many ways thanks to the custom options and mounts."
Photos courtesy of the homeowner