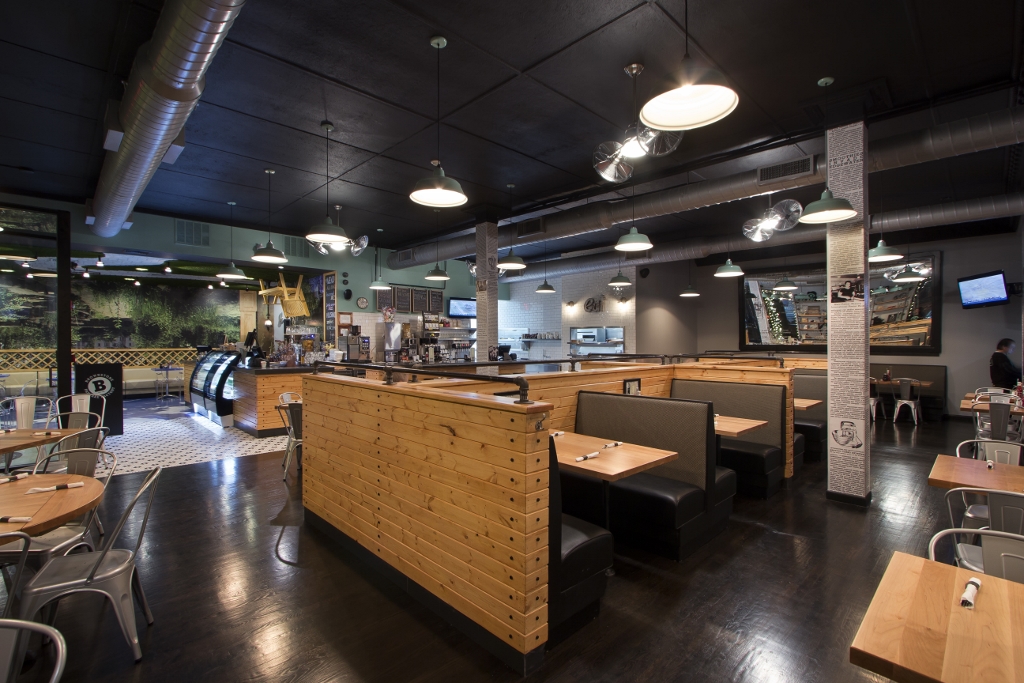 Industrial Lighting Lends Chic Atmosphere to Restaurant
Design professionals are always looking for new inspiration — a fresh color, a different angle, or an innovative twist on an old favorite. This is especially true in commercial settings where clients want their business to stand out.
Designer Vanessa Deleon often finds inspiration from her travels and designs she has seen in other areas. In the case of the Brownstone Pancake Factory in Edgewater, New Jersey, she wanted to create a space that would get people talking.
"My team and I were up one night trying to think of how to turn things upside down and we chose to take that phrase literally," Vanessa says. The result is a bold industrial space that includes an upside down mural, a wandering footpath painted on the ceiling, and a deep blue sky with puffy white clouds on the floor. Vanessa created an industrial chic yet homey atmosphere with classic barn pendant lights to complete the look.
Twenty-two Bomber Pendant Lights are scattered throughout the restaurant offering plenty of light to the eclectic space. These American-made pendants have a bold, classic warehouse shade profile and are a great choice for this high-traffic area.
"The style matched our industrial feel perfectly and the color of the lights is our key accent color in the design," Vanessa explains. She customized the ceiling pendants with a 17″ shade finished in a creamy Jadite which is part of our paint-to-match porcelain palette of colors.
"The Jadite finish is a great complement to the logo," she notes.
Adding to the industrial look are several Streamline Industrial Guard Sconces which feature a black finish and clear glass for maximum light. With roots in the Streamline Moderne style of the early 1930s, this rustic wall sconce is a durable option for busy restaurants and retail spaces that want an industrial vibe.
"The clean and polished look of the lights strike a perfect balance with the raw elements throughout the restaurant," Vanessa says.
Photography by Dan Muro