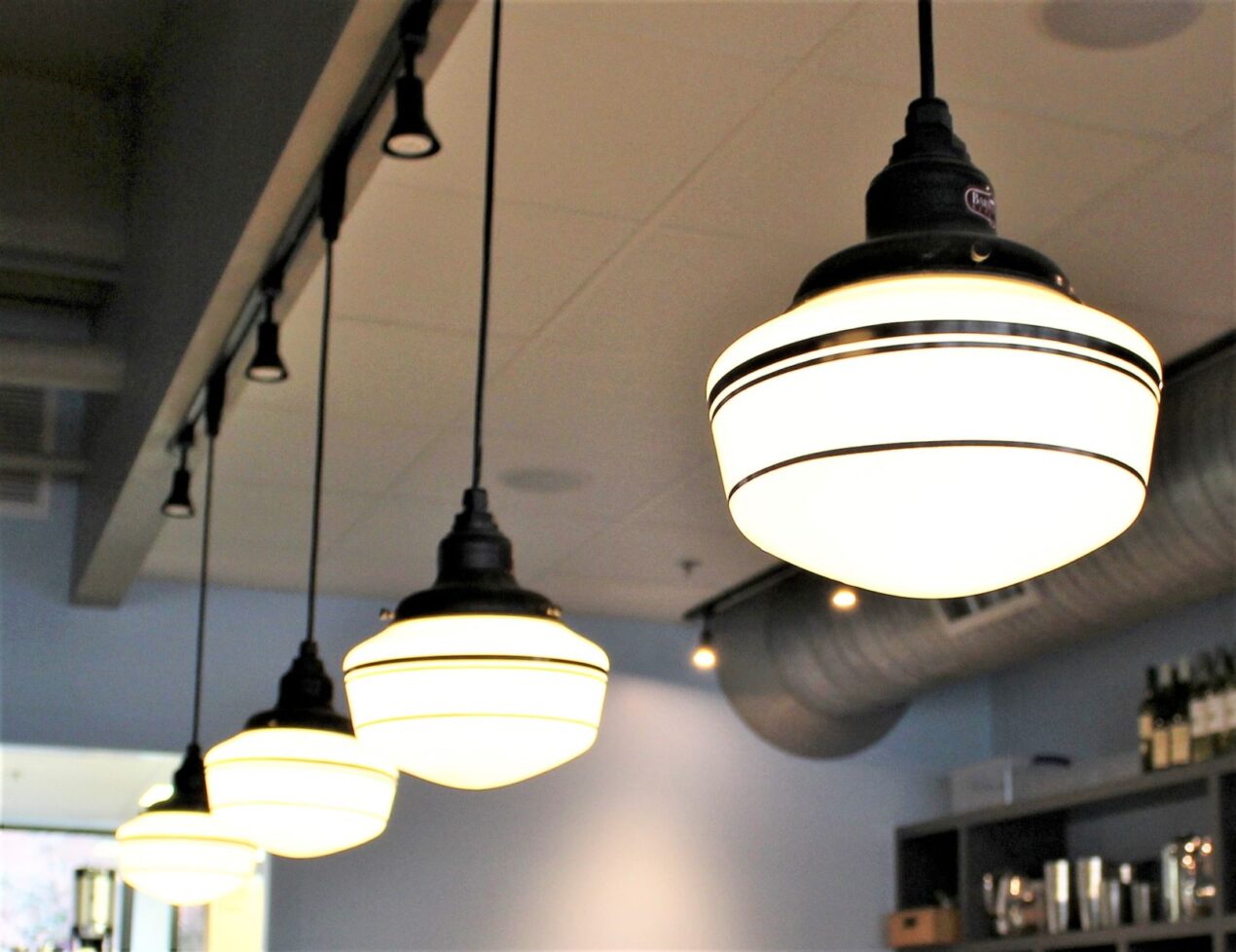 Schoolhouse Lighting a Sweet Look for Chocolate Lounge
Jael's blood runs deep brown. Chocolate brown in fact.
Along with husband Dan, Jael's passion is everything chocolate. As owners of the French Broad Chocolate Lounge in Asheville, North Carolina, the couple have created a dessert restaurant that's not only a local favorite but also a destination for tourists eager to find out why a line forms on the sidewalk outside the door every day. Their success came not without growing pains. After repeated visits from the fire marshal concerned about the crowds packing the lounge, Dan and Jael sought out new space.
And while Jael may know chocolate, choosing the right lighting for the new location was uncharted territory.
"It was my first time really designing a lighting concept," Jael admits. "But I had lots of fun with it!" The new space is actually quite old. Housing a bank since 1909, the Rattigans loved the bones of the old place but redesigned it from the ground up.
"The renovation was a major effort! We were able to use a lot of salvage materials including the original tile floors from 1909," Jael says. "They really set the theme for our aesthetic." The chocolatier-turned-lighting-enthusiast had many names for the style she was curating including warm industrial and rusty bucket which morphed into luxe-y bucket, and finally, imperfect is the new perfect. Lots of handmade elements brought character into the space including the handcrafted Schoolhouse Lights from Barn Light Electric.
A big fan of schoolhouse lighting even before she knew what the style was called, Jael was excited to find that she could customize the globes she loved.
"The striped pendants absolutely define our bar area, and the sconces remind us of old-timey street lamps," she says. "The lighting is such a part of the overall aesthetic."  Jael chose the Primary Schoolhouse Pendant Light for the bar area. She customized these classic, American-made ceiling pendants with a small globe, black canopy and fitter, standard black cord and a triple opaque band of black stripes around the globe.
Scattered throughout the space on the walls and columns are eight Primary Schoolhouse Gooseneck Lights. These wall lights feature a hand-blown glass shade with a black G3 gooseneck arm. All of the Barn Light Electric Schoolhouse Lights are easy to customize and are available as wall sconces, vanity lights, chandeliers, flush mount, and stem mount lights.
"I feel that the schoolhouse pendants at the bar are the centerpiece of the whole space," Jael says. "They're fun, unique, and don't take themselves too seriously. I love them."
Photos courtesy of French Broad Chocolate Lounge