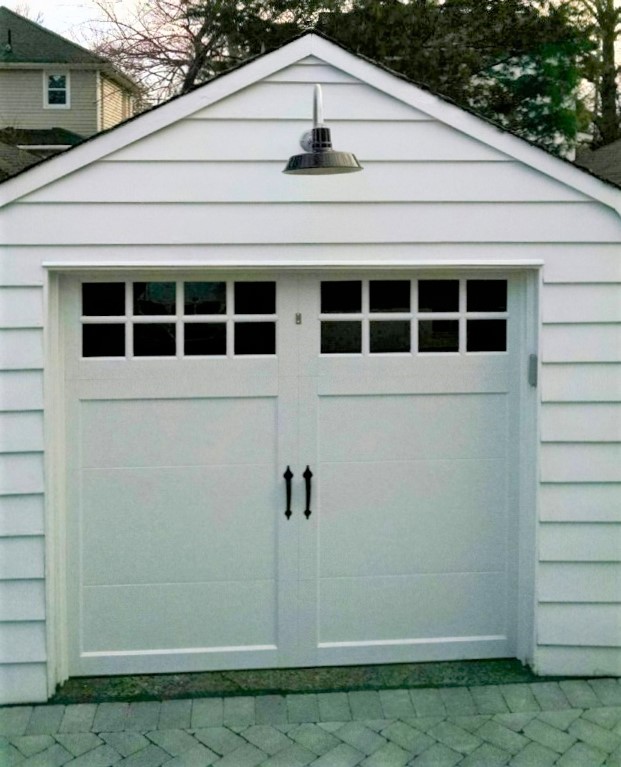 Porcelain Enamel Gooseneck Light Offers Rugged Beauty to Garage
Some people actually park their car in the garage. Not in my garage, of course, which currently holds countless storage bins, five bikes, two kayaks, assorted sports equipment, and 1,000 board feet of red oak that's drying out.
Today's Featured Customer, who has chosen to remain anonymous in this post, has a garage that actually houses cars. As an empty nester in northern New Jersey whose kids flew the coop more than 10 years ago, he decided to install pavers in the driveway and remove the old basketball backboard attached to the front of the garage. He also took the opportunity to add electricity to the space and added a garage door opener. The finishing touch is a Original™ Warehouse Gooseneck Light.
"I had seen similar lamps in Vermont and New Jersey in a country setting and, as part of the makeover, we felt this type of lamp lent itself to the look I was hoping for," he says. "When turned on in the evening, the light accentuates the pavers and door of the garage casting a warm glow."
This rugged gooseneck light was customized with a 14″ shade and a high-gloss, Black porcelain enamel finish. The G22 gooseneck arm is finished in Brushed Aluminum. He chose the black finish color to match the shutters on the home and as a contrast to the white cedar siding on the garage.
"I felt the arm style captured the essence of the lamp and that it was a perfect match for the fixture," he adds. Like many customers, he found Barn Light Electric during an online search, but he called in to speak with one of our friendly and knowledgeable sales reps to get questions answered.
"The staff were most helpful and having a product American made as stamped on the gooseneck arm was a plus," he says. "My electrician was also impressed by the quality of the product." Barn Light Electric is the only manufacturer of porcelain enamel lighting in the country and each shade is hand spun from commercial grade steel. The shades receive three coats of porcelain enamel glass which is baked on to a hard-as-nails, high-gloss finish that will never fade and is simple to maintain.
"I was initially looking at another finish for the lamp but the folks at Barn Light Electric suggested the porcelain enamel finish would be more durable, would stand up to seasonal weather conditions, and be maintenance free," he says. "I love how it provides security lighting while making the pavers and garage door stand out. And I just love how it looks at night."
Photos courtesy of the homeowner