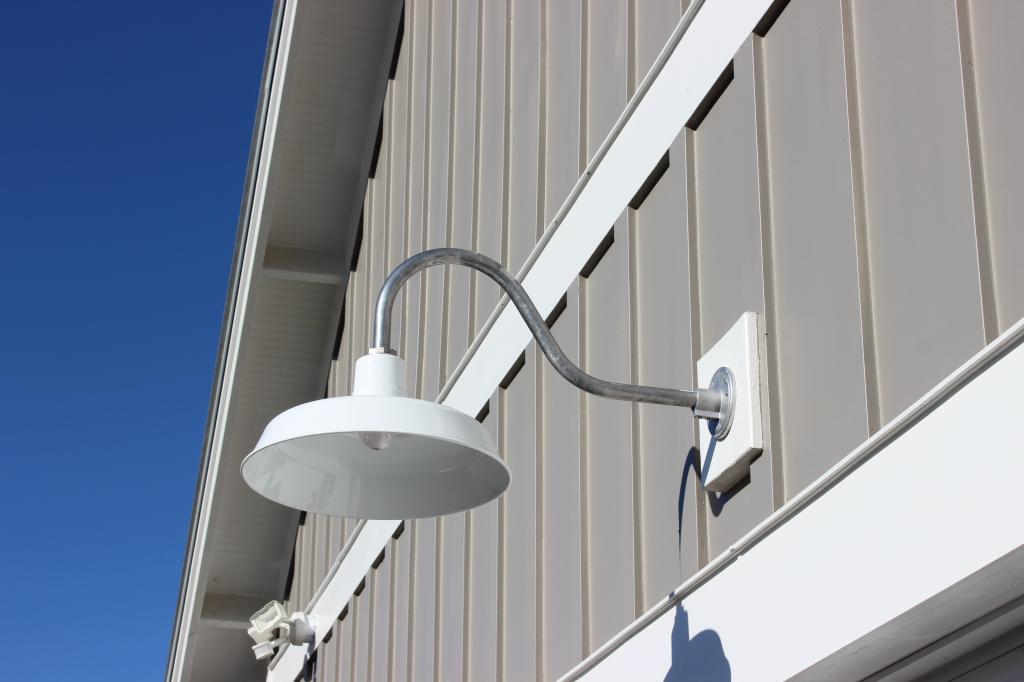 Gooseneck Barn Lights Bring Old-Style Charm to NC Farmhouse
When Brian's dad built a home back in the late 1970s, he incorporated many reclaimed materials such as stained glass windows from an English church, porcelain gas station lights for the garage, and a Texaco Sky chief gas pump from the 1920s.
"There was no manufacturer of reproduction lights in those days so he had to use original lighting and craft his own goosenecks using galvanized plumbing pipe," Brian says. When Brian started building his own home in Wake Forest, North Carolina last year, he followed his father's lead to include reclaimed materials to give the home the feel of an original farmhouse but with modern conveniences.
"Finding this land and building this home is a dream come true," he says. Brian and his wife created a 4,200-square-foot craftsman/farmhouse style home perfect for entertaining and enjoying the surrounding countryside. The home includes many vintage touches including antique doors, an oak ice box turned into a liquor cabinet, and factory carts refurbished as coffee tables.
Researching period lighting on Houzz and Pinterest led Brian to Barn Light Electric. His father's style inspired him to utilize barn-style lighting for the new home.
"I could not pass up the quality Barn Light Electric offered along with the true vintage style," he notes. "The products offered the look we wanted while offering the flexibility with options for customization."
For the garage, Brian chose two 16″ Original™ Warehouse Gooseneck Lights in a White finish and a G22 galvanized gooseneck arm. These lights were reminiscent of the garage lights his father crafted. Handcrafted from commercial-grade materials, these American-made gooseneck lights will withstand years of use.
On the rear porch, Brian went with a Galvanized finish on the 12″ All Weather Gooseneck Warehouse Shades and customized these wall lights with a G16 straight arm.
"These gooseneck lights really tie the metal roofing into the back porch," he explains. "These were measured and ordered with the custom neck length to ensure they did not protrude too far."
For the rear mudroom entrance, Brian chose a more industrial look with the Industrial Guard Sconce. He customized this American-made wall light with a Galvanized finish, standard cast guard, and ribbed glass.
"This vapor light offered me the flexibility to use a shorter neck which keeps it out of the roof drip line while offering a simple industrial look that ties with our use of reclaimed restored pulleys and industrial carts," Brian says. "We love the durability and how they complete the space in terms of style, color and functionality."
Be sure to check back on Wednesday when we take a peek at the vintage style lighting Brian chose for the interior of his new home!
Photos courtesy of the homeowner