Flush Mount Lights Create a Streamlined Look in Hall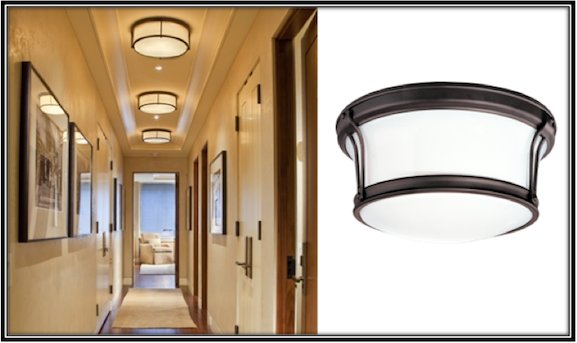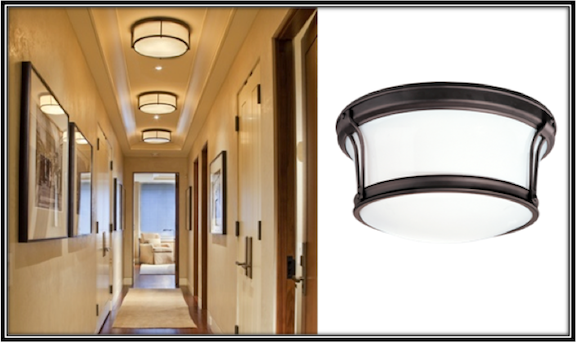 Hall lighting, just like the hallways they light up, come in all shapes, sizes and designs. Some were built with lower ceilings that don't allow room for a pendant light to hang down, and some have a narrow walkway, not allowing enough space for extending wall sconces. Some just prefer the all round, out-of-the-way value of the flush mount ceiling lights. The hallway above made creative use of its narrow yet tall ceilings by mounting flush mount pendants down the length of the hall.

Flush mount lights , also known as surface mounts, can provide both a modern/ streamlined look or a classic and traditional look. If you happen to be in the market for a similar ceiling light, check out our Flush Mount category online. There, the selection of lighting ranges from Mid Century all the way to country and contemporary. The majority of these lights also have coordinating sconces or pendants in order for you to achieve a contoured look throughout your home.
Similar to the surface mount lights in the hall featured today is the Barnes Flush Mount Ceiling Light. The frosted glass of the Barnes Flush Mount will wash any room with a soft glow, as opposed to the harsh brightness of fluorescent lights. Also available in four finish options, these classic tones will flawlessly coordinate with any atmosphere. The price tag is also minimal for such a beautiful fixture, allowing for multiple lights to be mounted down a hallway. Lighting like this is sure to be considered as an element of décor, serving much more than just a functional purpose. With that being said, there is no reason to slack and resort to ordinary track/ recessed lighting when you have the broad selection of surface mount lights from Barn Light Electric!
Top Left Photo Courtesy of Forum Phi Architecture