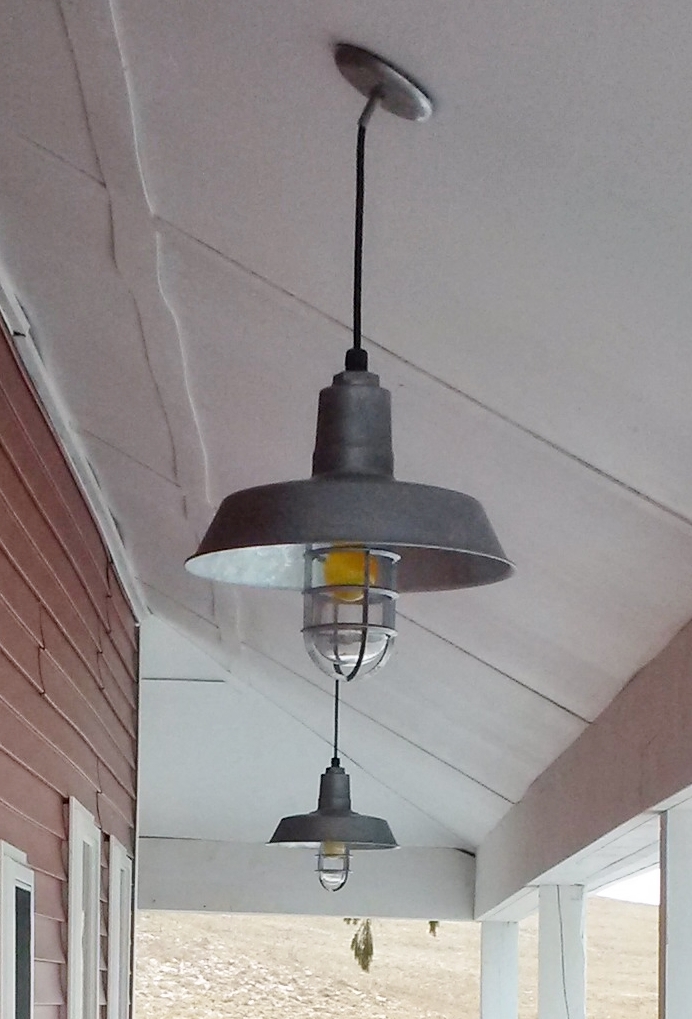 Barn Lights Capture Working Farm's Humble Roots
When you're on the hunt for vintage-inspired lighting, antique stores are one place to look. But as Marcel, of central New York, found out rather quickly, old lights can be difficult to work with.
"We realized that being able to scale those lights within the home or to other structures, such as barns, would be quite difficult," he says. Marcel purchased a farm that had been dormant for a number of years and a top priority was to preserve the history of the place. Focusing on the old homestead, Marcel searched for period-appropriate lighting that he could customize with ease.
"We were looking for a traditional barn light," he notes, adding that an internet search led him to Barn Light Electric. He chose the Original™ Warehouse Pendant Light for the porch and customized these American-made ceiling lights with 14″ shades, a Galvanized finish, and optional cast guard and glass.
"The old barns had very similar lights, also in galvanized steel," Marcel says. "These were a fresh interpretation of an old style. Having a guard for the bulb was a look that we liked, and we can rest assured a few things will be tossed around that porch in the years to come. The guard offers a bit of protection versus an open bulb for those kid-fun moments."
Next to the front door, Marcel chose the complementary Industrial Guard Sconce, also in a Galvanized finish, to complete the look. This rugged wall light features a standard cast guard and clear glass for plenty of illumination.
"It completed the look with the porch," he notes. "There is now a continuity of lights across the old home. Getting matching lights for the entrance was a plus." Marcel feels that the lights fit the expansive, yet humble property very well.
"The farming we do remains incredibly simple even though the technology is increasingly complex," he says. "It is ultimately a lot of hard work, and a farm house should mirror her surroundings. The lights do a nice job of capturing a previous period of time."
Photos courtesy of the homeowner