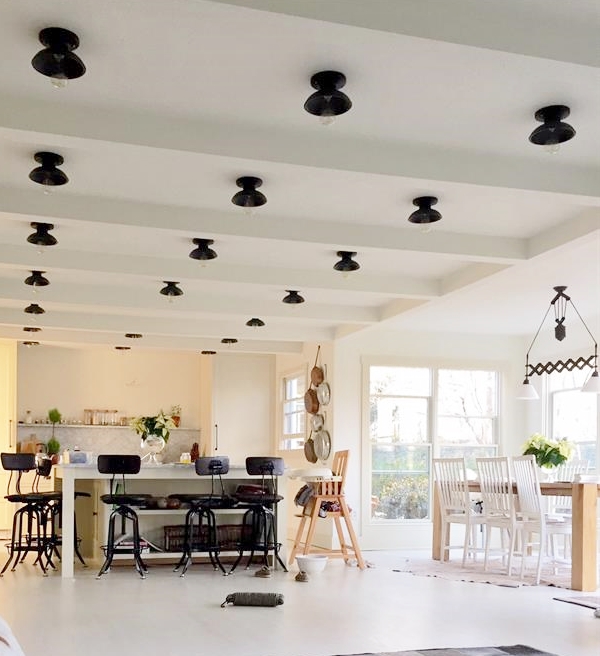 Flush Mount Ceiling Lights Collection Continues to Expand
If you've ever searched for lighting, you no doubt discovered an endless array of pendant lights. With all those shades, sturdy stem mounts, and wildly colorful cording options, there's something for every space whether it's farmhouse, mid century, or uber modern.
Some spaces, however, demand a more compact fixture which are a bit harder to find. Here at Barn Light Electric, we offer a wide variety of shade styles, finish colors, and customizing options that help you create a stylish alternative to traditional ceiling lights.
Flush mount lighting — those fixtures that hug tightly to walls and ceilings — may not be as popular as cord or stem mount lighting, but these versatile fixtures can be the perfect solution for some spaces. You don't have to settle for a basic fluorescent fixture, as we hand craft a variety of flush mount lights that are suitable for low ceilings or in areas where dangling fixtures simply would not work. This entryway, for example, boasts a 14″ Sydney Flush Mount Pendant Light.
Many of our flush mount lights have roots in our popular RLM-inspired warehouse shades. The Wallaby Flush Mount Pendant Light above, for example, has a hint of industrial style and has been updated with a flared shade and rugged cast guard and glass. You can customize this ceiling light with shade size, finish color, plus guard and glass options.
For a throwback look with a touch of elegance, consider the Primary Schoolhouse Semi Flush Mount Light. American made with hand-blown glass, this beautiful ceiling light is easy to customize with glass size, your choice of copper finish, and an optional painted band of opaque color.
One of our newest offerings is the Kao Flush Mount Light. This solid porcelain ceramic fixture will never stain or rust making it a great choice for busy kitchens. Lauren Liess, one of our favorite designers, used these compact ceiling lights to tie together her combination kitchen/living space making a dramatic visual statement.
Our most compact light of all just might be the Amidships Bulkhead Wall Mount Light which borrows its style from the wall lights often found aboard ships. The frosted ribbed lens and protective guard give this flush mount light a rugged look and is perfect for both wall and ceiling applications. Easy to customize with shade size and finish color, this wet-rated light can handle both indoor and outdoor installations.