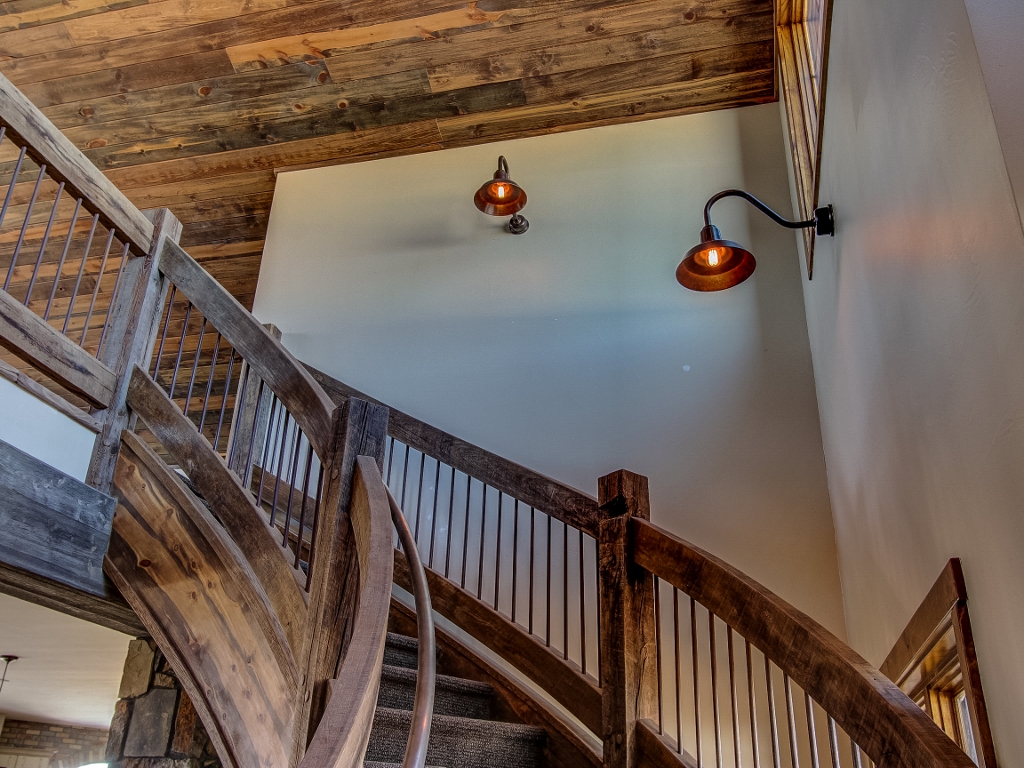 Copper Lighting Brings Elegant Touch to Colorado Ranch Home
What do firefighters do in their spare time? If you're Scott Kier, you build custom homes. Scott is currently putting the finishing touches on his own custom home which offers expansive views, gorgeous barn lighting, and 12 acres to ride dirt bikes with his sons. It has taken more than two years, but Scott, and his wife Sabina, are finally settling into their new home in Sedalia, Colorado, just south of Denver.
"Scott is a slow and meticulous builder," says Sabina, who is a realtor in the area. "He and his cousin Chad, who is also a firefighter, would come to the building site after their shift and do a lot of the interior framing, exterior siding including the metal work, and all of the plumbing, electrical, and painting. They installed all of the cabinets and tile and even installed the tile roof on our detached garage."
The ranch style home features 4,200 square feet on the main level plus an equal-size unfinished basement and a loft upstairs for the boys' play space. When it came to lighting, Sabina wanted high quality lighting that didn't look or feel cheap.
"We wanted lights with a rustic style and were reasonably priced," she adds. Sabina was familiar with Barn Light Electric from a previous purchase and she was happy to support an American manufacturer.
On the exterior of both the home and garage, Sabina chose the Original™ Warehouse Gooseneck Light in a Galvanized finish. Eight of these barn lights feature 18″ shades while three of them have the larger 20″ shades. All sport a G15 gooseneck arm.
"These are great on the exterior and having the different size options was very helpful," Sabina says. "We have huge pillars on the front of the house and we had a smaller light that just disappeared. We were able to order the Original™ Gooseneck in a large size that can hold its own in the shadow of our huge pillars. The galvanized finish matches our old-fashioned, rounded steel gutters perfectly!"
Inside, Sabina stayed with the classic RLM warehouse shade but opted for an elegant copper finish on her Original™ Gooseneck Lights. One 16″ gooseneck takes center stage over the windows while smaller 12″ copper lights flank the larger shade and are also installed on the stairwell. These handcrafted wall lights were customized with the G15 copper gooseneck arm and an Oil-Rubbed Copper finish.
"I love the neck. It's just the right amount of curve and extends from the wall of our great room perfectly," Sabina notes. "The copper is gorgeous! It looks and feels high quality and the soft copper color is classy and calming. They are perfect in the great room where everyone gathers."
A compact Bowie Wall Sconce also adds a subtle touch of light to this stone pillar. The six-inch shade and Oil-Rubbed Copper finish are handcrafted, just like all of Sabina's new lights, in our Florida manufacturing facility.
Heading down the stairs to the basement, Scott installed a 14″ Original™ Gooseneck, this one featuring an Oil-Rubbed Bronze finish. Sabina notes that the finish complements the copper lighting, but since this light is in a less prominent space, they saved a little money with the bronze finish.
"If we had an unlimited budget, we would have stuck with the copper," she says. "All of the lights are very classy, interesting, and complement the rustic, barn wood theme of our home."
Photos courtesy of the homeowner