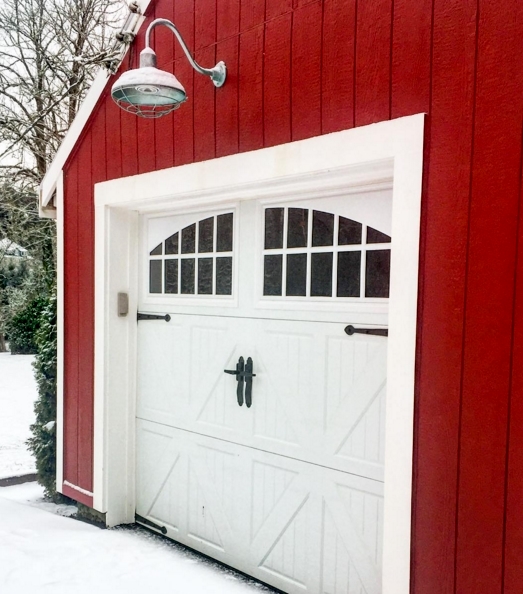 American-Made Barn Lighting at Home in the Country
Nothing begs for an American-made, galvanized, gooseneck barn light more than a big old barn. When Andi and her husband John bought an 85-year-old country farmhouse nearly four years ago, they began working on the home, the barn, and other outbuildings as time and money would allow.
"We live south of Portland, Oregon, surrounded by Christmas tree farms, berry fields, apple and hazelnut orchards, and wineries," Andi says. "It's all really lovely!" Andi has chronicled her life at Crooked Creek Cottage on Instagram and she recently posted this beautiful photo of her barn in the snow.
We reposted Andi's photo on our own social media and the response was immediate. There's just something about a red barn with a gooseneck light that captures people's attention.
Andi and John started the renovations of the space with a fresh coat of paint, new roof, and new doors. The finishing touch were American-made Original™ Warehouse Gooseneck Lights.
"I first found Barn Light Electric on The Lettered Cottage," Andi explains. "I saw the minty green barn pendant that Layla bought from Barn Light Electric and I was completely smitten."
For her barn, Andi chose to customize her new gooseneck lighting with 14″  shades, a Galvanized finish, G11 gooseneck arms, and wire cages for a vintage touch.
"Our decision to choose Barn Light Electric was simple — hand made in America!" Andi says. "We chose this particular gooseneck for its shape and because it will hold up in our rainy weather. And we love the Galvanized finish."
While the barn is currently used for storage, the couple has plans to continue renovating the space with an eye towards creating a small event venue.
"Our lights are fantastic and work really well for us," she notes. "There are so few lights on our road so when they are lit at night, the lights really show up especially against the red doors. We have had so many neighbors stop by and say how much they love them too."
Photos courtesy of Crooked Creek Cottage