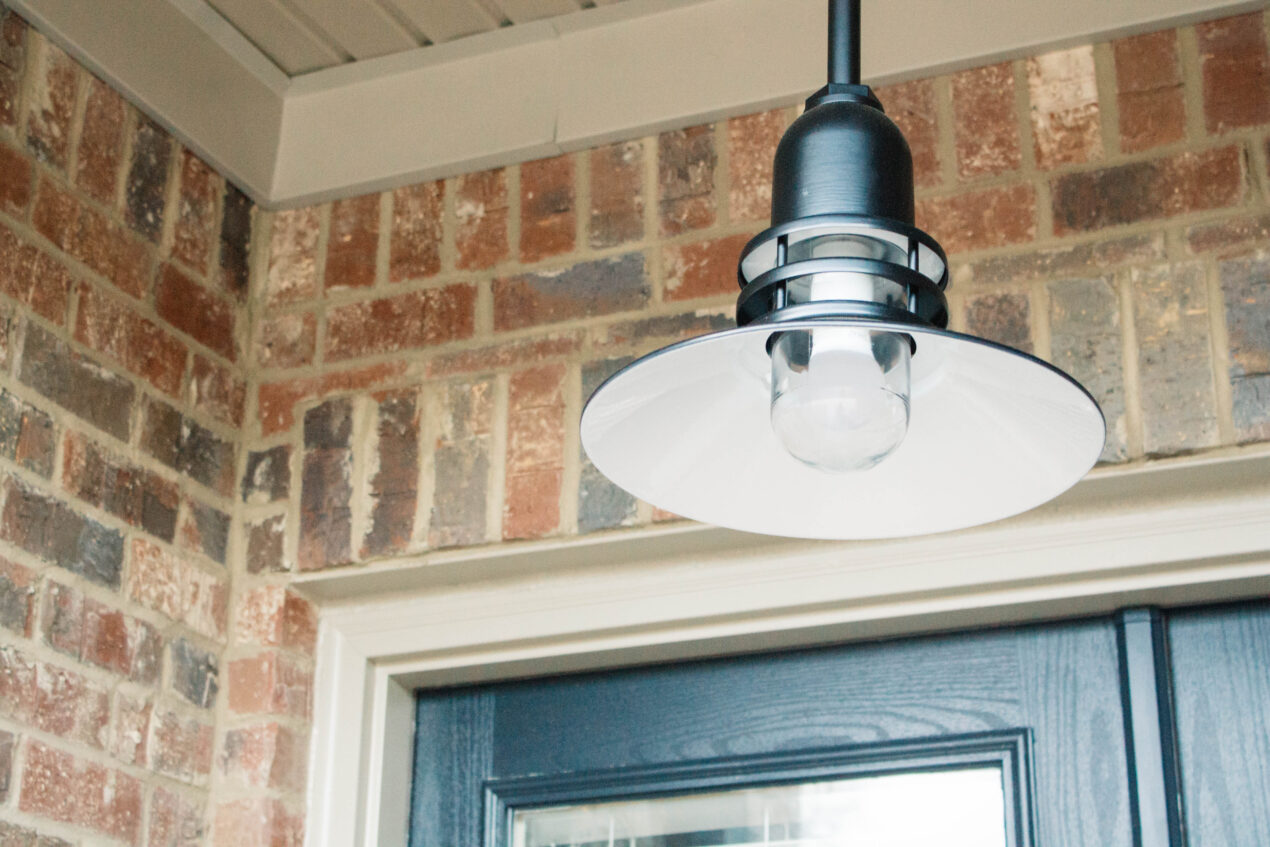 Gentle Uplighting Offers Soft Light to Brick Façade
Welcome to "Mississippi's Front Porch" — a hidden gem just outside the metropolitan madness of Memphis, Tennessee. The small town of Hernando, with proximity to both Memphis and Oxford, felt like home immediately to Emily when she and her husband moved to the area.
"Hernando is quiet and quaint with excellent public schools and a beautiful downtown historic district," says Emily, mother of two and creator of the blog Everything Emily. "It's a great little town to raise a family." After searching for a lot to build on, Emily and her husband instead chose a house already under construction to make their own. Although the exterior was already framed and planned, Emily eagerly searched for lighting that would give her new home a distinctive look.
"Everything is brick here in the South and we really love the color of the brick that was planned for our home," she notes. "I'm a big fan of the modern farmhouse look so I wanted to incorporate barn lighting to make the brick really pop."
Making a grand statement at the front door is the Cherokee Uplight Stem Mount Pendant. This rugged ceiling light is customized with a 12″ shade, Black finish, 24″ stem, and clear glass.
"The Cherokee Uplight Pendant is the perfect mix of modern-meets-vintage which is the style throughout our house," Emily explains. "To me, old-meets-new is the perfect combo and this light is definitely that!"
Emily chose the Black finish color for this American-made barn pendant to pull out the darker tones in the brick and level out the reddish tones. The clear glass offers plenty of light under the flared shade while the vents above the shade provide gentle uplighting.
For the garage, Emily chose two complementary Cherokee Uplight Gooseneck Lights. These handcrafted wall lights also feature 12″ shades with a Black finish. The G22 gooseneck arm brings the fixture up and away from the brick façade to provide plenty of downlighting along with a soft splash of uplighting.
"We chose the same fixture in the gooseneck mount to keep the lights cohesive," Emily says. "Keeping the lights the same really made the feel of the exterior flow. When you drive down the street and see the gooseneck fixtures from the side, they look very unique!" She adds that the lights have been a real conversation piece with the neighbors as they cast a perfect glow at night.
"These lights are incredibly well made and the install was simple," Emily says. "They set the house apart from others and bring that Southern farmhouse feel to it which is just what we wanted. They truly give the house that homey feel!"
Photos courtesy of Everything Emily