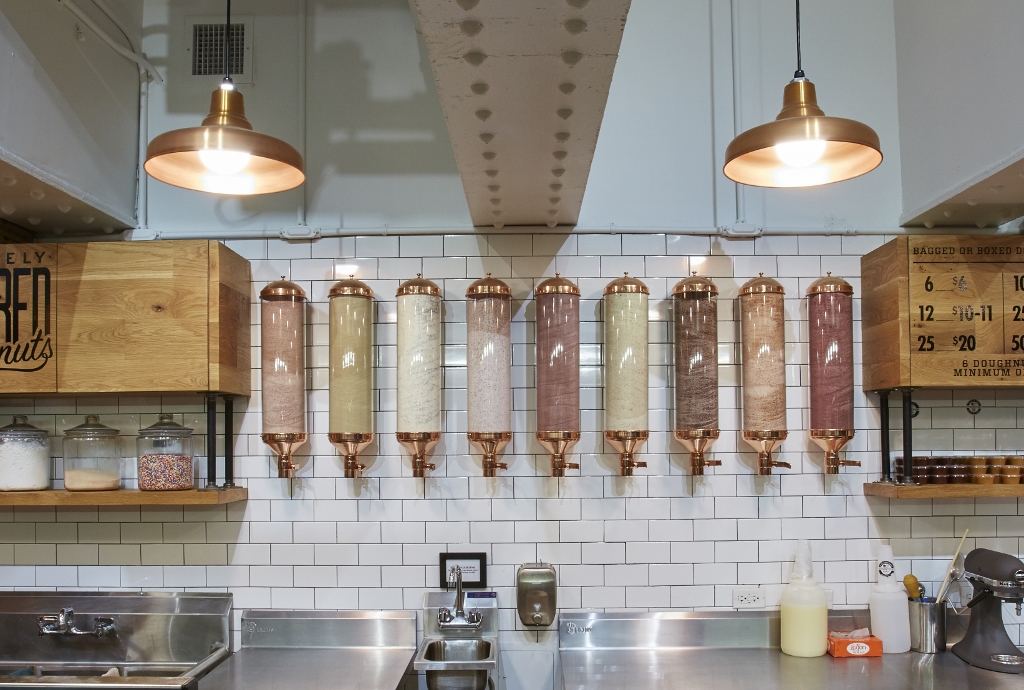 Copper Pendants Up the Ante for Established Commercial Brand
Brand identity is critical to any business success. Not just a logo, color, or design, but the sum of these that help convey your business's personality, stability, and credibility to consumers. Knowing when to tinker with a successful branding scheme takes a keen eye.
Evan Feldman, owner of Doughnuttery, a popular store located in Chelsea Market in New York City, recently expanded his business to a new location in the Columbus Avenue subway station. He tapped the creative team at VMG Creative to carefully tweak the branding to create a warmer, more upscale feel.
"The first Doughnuttery in Chelsea Market has an industrial feel and we wanted to warm it up a little with the use of wood," Evan says. "We also decided to pull in some copper lighting and finishes to give it a more refined, higher-end vibe."
Evan worked with Luke Raymond, executive creative director at VMG Creative, to make the subtle, but important changes, to the Doughnuttery look.
"While industrial is at the heart of the previous design aesthetic, we thought it important to evolve the brand story at the store level," Luke explains. "We wanted to bring in warm tones and give it a sense of artisanal quality. We juxtaposed warm oak against the Union Pendant Lights to create a warm and inviting feel. And we made the Doughnuttery sign out of tiles to mimic the subway signage that surrounds the store."
The ceiling lights are customized with 16″ shades, a Raw Copper finish, and standard black cord.
"The space is small so we didn't have the luxury of using too many fixtures," Evan says. "The lights need to work as well as look good. And we wanted them to really illuminate the action on the counter — our doughnut making."
The Union Pendants are hand-spun from solid copper and come in four shade sizes and three finish options. Evan chose the 16″ shade as it fit perfectly between the columns where the pendants are installed.
"These copper lights maintain the industrial feel of our established brand, but the materials take it to another level," Evan says. "We get a lot of compliments on them and we're very pleased we decided to incorporate copper into our style guide."
Photos courtesy of Doughnuttery and VMG Creative