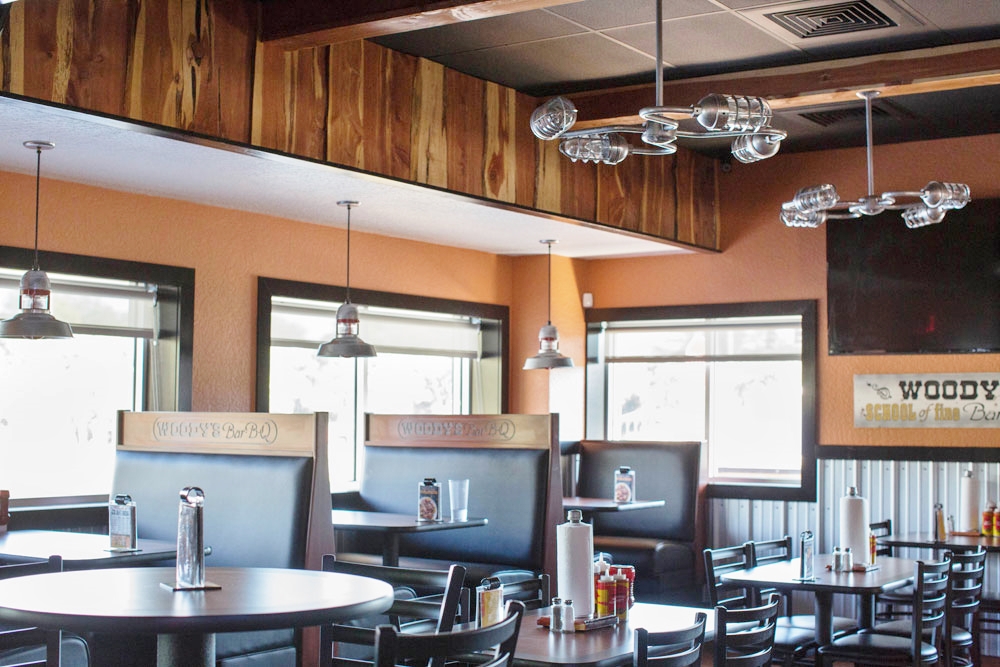 Rustic Lighting Gives Down-Home Touch to BBQ Restaurant
What's better than digging into a plate full of sticky BBQ ribs, crispy fries, and tangy coleslaw? Digging in at Woody's Bar-B-Q under the warm glow of rustic industrial lighting! Woody's Cocoa location opened last November and has been serving up amazing pulled pork, beef brisket, and even some mesquite grilled chicken to a steady stream of devoted customers. Fred and Samantha Gumieny, the husband-and-wife team behind this local favorite, wanted to create an atmosphere as inviting as the food they create.
"When people think barbecue, they generally think rustic and industrial décor so that's exactly the look we shot for when we were designing the restaurant," Samantha says. "We wanted our interior décor to be a little more intimate than your traditional barbeque restaurant because our menu expands far beyond traditional barbeque plates."
The couple chose the Sydney Pendant Light because of its unique blend of nautical-style guard and glass with a classic warehouse shade. These American-made ceiling lights are customized with a 12″ shade, Galvanized finish, Barn Red guard, and ribbed glass.
"We love the classic and timeless look that the galvanized steel and barn red industrial cages give these fixtures," Samantha notes. "The industrial pendants hang above each booth and bring an intimate amount of focused light to each space. They're so unique!"
Over the bar area, two Orbiter 4-Light Chandeliers add a playful sense of motion to the space. These rugged industrial chandeliers feature a Galvanized finish, 18″ stem, standard cast guard, and clear glass.
"Oftentimes when people are sitting in a restaurant, they are critiquing their surroundings," Samantha explains. "Our lighting complements the other galvanized and red components in our restaurant and the industrial chandeliers tie the look together and are an instant conversation piece."
In the hallway, Samantha and Fred stayed with the industrial look and chose seven Streamline Industrial Guard Sconces to hug the wall and provide a soft glow through ribbed glass. These were customized to match the pendants with a Galvanized finish and red cast guard.
Outside, nine 16″ Sydney Gooseneck Lights provide plenty of downlighting on the facade and doorways. These traditional gooseneck wall lights also feature the Galvanized finish and red cast guard along with a G22 gooseneck arm to provide a graceful arch and more than 21″ of projection away from the wall.
"These galvanized industrial lights did the trick for us," Samantha says. "We went with Barn Light Electric because the lights are American made and the highest quality lights we could buy. You know the minute you pull the fixture out of the box that you're holding something special. And it will last a lifetime, even in our busy commercial space!"
Photos courtesy of Woody's Bar-B-Q