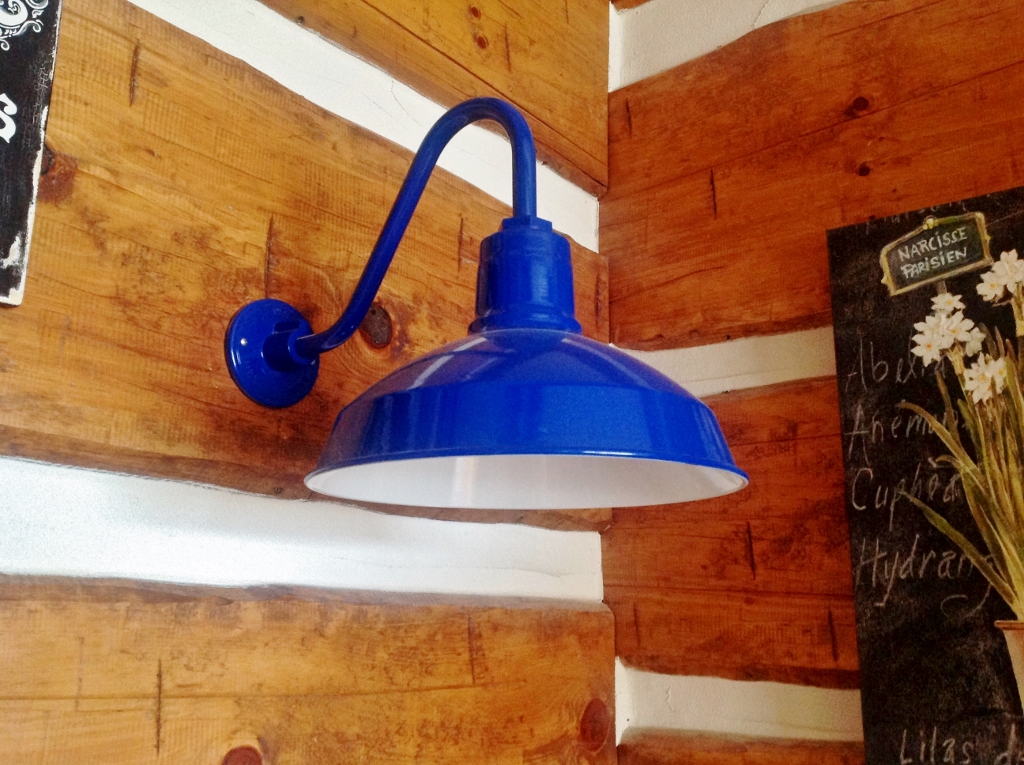 Gooseneck Barn Lights for Busy Craft Room
Like many hobbyists, Susanne started out working in the garage on her floral designs and stained glass creations. But she quickly grew tired of the cramped space and mess. The solution was an addition to her vacation home nestled in the mountains of western North Carolina. 
"I wanted a space that was functional, bright, and a little bit creative to suit my personality," Susanne says. "I wanted a sort of industrial, warm, fun space for me to design floral arrangements, perfect my stained glass techniques, and work on the myriad other crafts I enjoying toying around with."
While the space is blessed with abundant natural light, Susanne's crafts include detail work that requires task lighting. She searched not only for American-made lighting but also focused on finding a company that offered a wide selection of customizing options including finish colors and gooseneck arm lengths.
"Barn Light Electric made it easy for me," she notes. "I selected the Dino Gooseneck Light as it was the perfect combination of style and color. It is very well made." On the back wall over her stone farmhouse sink, Susanne installed two Dinos with 14″ shades, a Royal Blue finish, and G26 gooseneck arms.
"I chose that finish for the space to give it a little bit of color," she explains. "They look great!" Along the adjacent wall, she chose the 12″ Dino Gooseneck Light in a Galvanized finish.
"I chose the Galvanized finish over my floral design area to complement the natural materials I use in that area," she says. The Dino mirrors a traditional RLM warehouse shade but offers a more compact, yet still stylish, form. Available in two shade sizes and multiple finish options including copper and brass, the Dino is a beautiful and utilitarian option for both interior and exterior locations.
"I love how they each perfectly fit the space," Susanne says. "I went from a cluttered mess in the garage to one of my favorite rooms!"
Photos courtesy of the homeowner