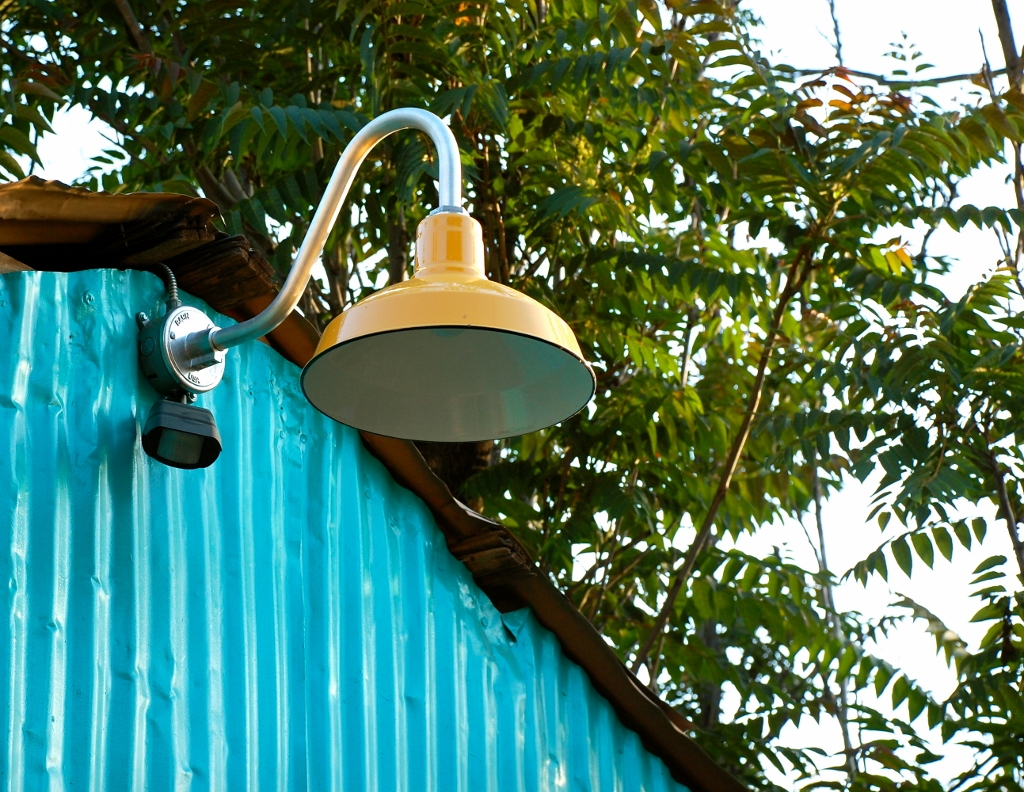 Exterior Lighting Beckons Visitors to Arizona Casita
You may remember our post late last fall about an adorable guest cottage in the funky town of Patagonia, Arizona. Claire and her husband Ken had just finished renovating the little casita which has since become a popular spot for tourists looking to enjoy the history and culture of this beautiful area.
After Claire finished sprucing up the cottage with new furnishings, she turned her attention outside where she needed outdoor lighting.

"There are no street lights on the road here, and since a lot of our guests arrive after dark, I needed plenty of light for them to unload suitcases and get in safely," Claire says. " For the garage, Claire was looking specifically for porcelain enamel lighting and she chose our Dino Gooseneck Light with a happy yellow finish.
"The previous owner must have gotten 100 gallons of what we call Forest Service Brown paint on clearance because everything on this entire property — fences, walls, stucco and trim — was painted brown," Claire explains. "I wanted to happify the garage with a nice Mexican turquoise (Ace Hardware's Santorini Seascape) and the yellow color of the light was the perfect vibrant pairing."
The 14″ yellow gooseneck light is on a motion sensor with a high-wattage LED bulb so it's perfect for odd-hour arrivals by folks in unfamiliar surroundings. The porcelain enamel finish on this American-made wall light will stand up to the desert environment for years to come with minimal maintenance.
Claire also picked out a Seaside Industrial Guard Post Mount Light, also with a 14″ shade, for the fence.
"The radial wave is perfect as a post light as it illuminates both sides of the fence," Claire notes. "I needed to light the gate entrance, the street number, and also the inside of the casita courtyard. I wanted a fixture that had a fun, funky, whimsical tone to it without being overly obvious about it."
Claire customized this exterior light with a Galvanized finish, a nod to the area's Route 66 aesthetic and Old West vibe.
"With gritty Mexican 'rustico' elements everywhere, galvanized was a no-brainer. And I love that it's a true galvanized finish, not just a faux attempt," she says. "The galvanized finish references the abundant corrugated tin roofing, siding, and fencing elsewhere on the property and throughout the village."
Claire's new lights provide not only a welcoming beacon to her visitors, but play a colorful role in the bigger design.
"I love that the lights show the extra love and attention that was poured into the design choice, and the choice to go for high quality rather than mass production," Claire says. "The lights bring up the level of the whole design scheme bringing attention to themselves as special touches. Most importantly, they transform the funkier, edgier, and, er, shall we be honest and say junkier parts of the property into higher art when taken as a whole."
To learn more about Casita Encanta, be sure to check out Claire's blog that describes the cottage, the surrounding area, and local events.
Photos courtesy of the homeowner