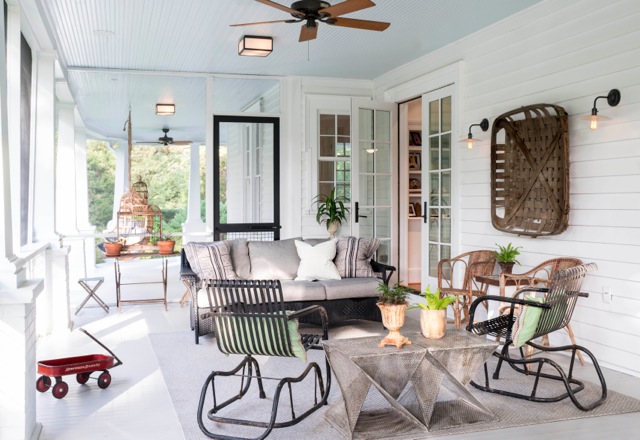 Vintage Wall Sconces Offer Rustic Modern Vibe to Porch
It's summertime here in the States and that means living spaces are expanding. Whether you have a porch, patio, veranda, or a lanai, these multi-functional, outdoor living areas get a workout with parties, dinners, lounging, and even sleeping.
Summertime also brings bugs, especially in the South where interior designer Alys Protzman lives. Alys wanted to expand her family's living space in her Pittsboro, North Carolina, home where the moderate climate means a porch can be used at least half the year and often even longer. Alys worked with BuildSense, a full-service architecture and construction firm in nearby Durham to create her dream space. We talked with her about this project.

Q: Why did you decide to add a screened porch to your home?
A: We live outside from April through September. We really wanted a living space where we could dine and lounge on comfortable furniture without being eaten alive by mosquitos. It's a necessity in the south.
Q: How did you want your porch to complement your home? What feel were you going for with the décor and lighting choices?
A: We've definitely got the modern farmhouse vibe going. We kept the architecture pretty true to the period of the 1870s home, but added modern conveniences and more windows and French doors to really bring the outside in and to open the house to the amazing back yard. We've got painted beadboard ceilings, painted wood floors, ceiling fans, and awesome Barn Light Electric wall sconces. They flank our tobacco drying basket perfectly!
Q: Why did you choose the Magnolia Sconces to accent that beautiful wall hanging? Were you looking specifically for a vintage style wall light?
A: We did fluorescent bulbs behind opaque glass on the ceiling, so we chose the warmth and organic quality of the Edison bulbs for the wall sconces. (Alys used the Nostalgic Edison Style 1910 Era 60 Watt Bulb in her sconces.) I love the prismatic glass shades. They're casual, functional, visually interesting, and have that rustic modern vibe we love.
Q: Why did you choose the Old Bronze finish for these wall lights?
A: The hardware throughout the home is oil rubbed bronze. I love the contrast of the bronze with the white!
Q: What do you like best about these sconces?
A: We have them on dimmers and they give such an awesome glow when we turn them very low. I just love the warm ambient glow they give off.
Q: Were you happy with how everything came together in your new space?
A: It is definitely the best room in the house! It has such an inviting and southern vibe. The kids sit on the floor and do puzzles and we go outside at night to listen to our resident owl. We use it night and day!
Q: How long have you been in the interior design business?
A: I've worked in interior design for 10 years and started Alys Design four years ago. I do both residential and commercial projects with half of my work being in North Carolina and the rest in other states.
Photos courtesy of Alys Design