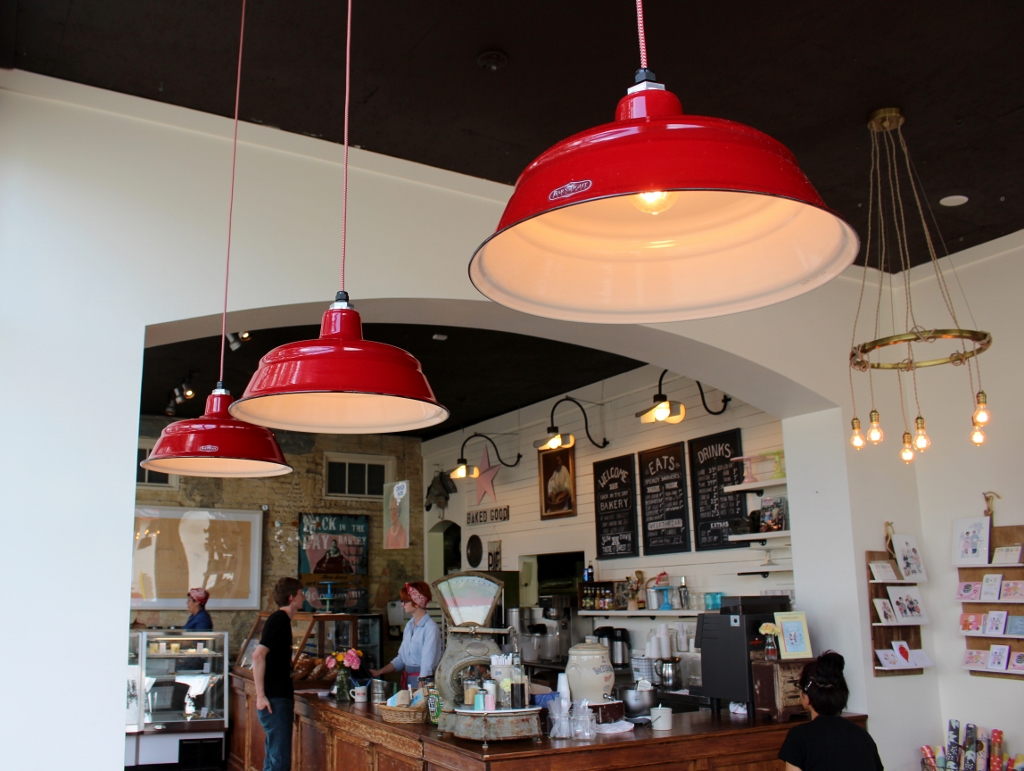 Pendant Lights Recall Simpler Times at Savannah Bakery
When you think of southern cities that boast amazing restaurants, offer loads of history, and ooze southern charm, Charleston immediately comes to mind. But my favorite spot in Dixie is just down the coast in Savannah, Georgia. This quintessential southern city maintains its small-town charm and has so many hidden treasures, I find something new every time I visit.
Last weekend, on a swing through town, I dropped into Back in the Day Bakery owned by Griff and Cheryl Day. This couple has created what has been dubbed the "best little bakery in the south" and after having lunch there and swooning over their delightful space, I completely agree! Last summer, the couple started a redesign of the bakery where they have been serving up artisan breads, sweets, and sandwiches for the last 14 years.

"This building has been many things," Griff says. "It was built in 1925 and was part of the original Starland Dairy as a grocery store." Patrons enjoy sitting at rustic communal tables next to large picture windows where they watch passersby on the street outside. Highlighting these tables are seven Bomber Pendant Lights.
Grif and Cheryl chose to customize these handcrafted, American-made pendant lights with generous 17″ shades, a Cherry Red finish, and vintage style, red-and-white cloth cords. The rugged porcelain enamel finish on these ceiling lights will never fade and requires minimal maintenance.
"These are classic red pendants with a flair of style and tradition," Griff notes. "Red is part of our color scheme and the cord matches our twine that we use on our bakery boxes." In looking for new lighting for their space, the couple specifically sought out porcelain enamel knowing the quality of the fixtures would stand the test of time.
"Not only are they beautiful lights but they add to the feel of what we wanted in our design," he says. "Our space feels like it's been here from the beginning and gives a sense of tradition and community with touches of modern lines."
Barn Light Electric is the only American manufacturer of porcelain enamel lighting which is well suited for commercial lighting applications such as the bakery. Hand spun from commercial grade steel, each shade is coated with three layers of porcelain enamel glass then fired in an oven to seal the glass to the shade. This hands-on process makes each shade unique and full of the character and charm that epitomizes the Back in the Day Bakery.
"During the day, they add a sense of atmosphere," Griff says, "but in the early morning and at night, they have a gentle glow accenting the bakery space."