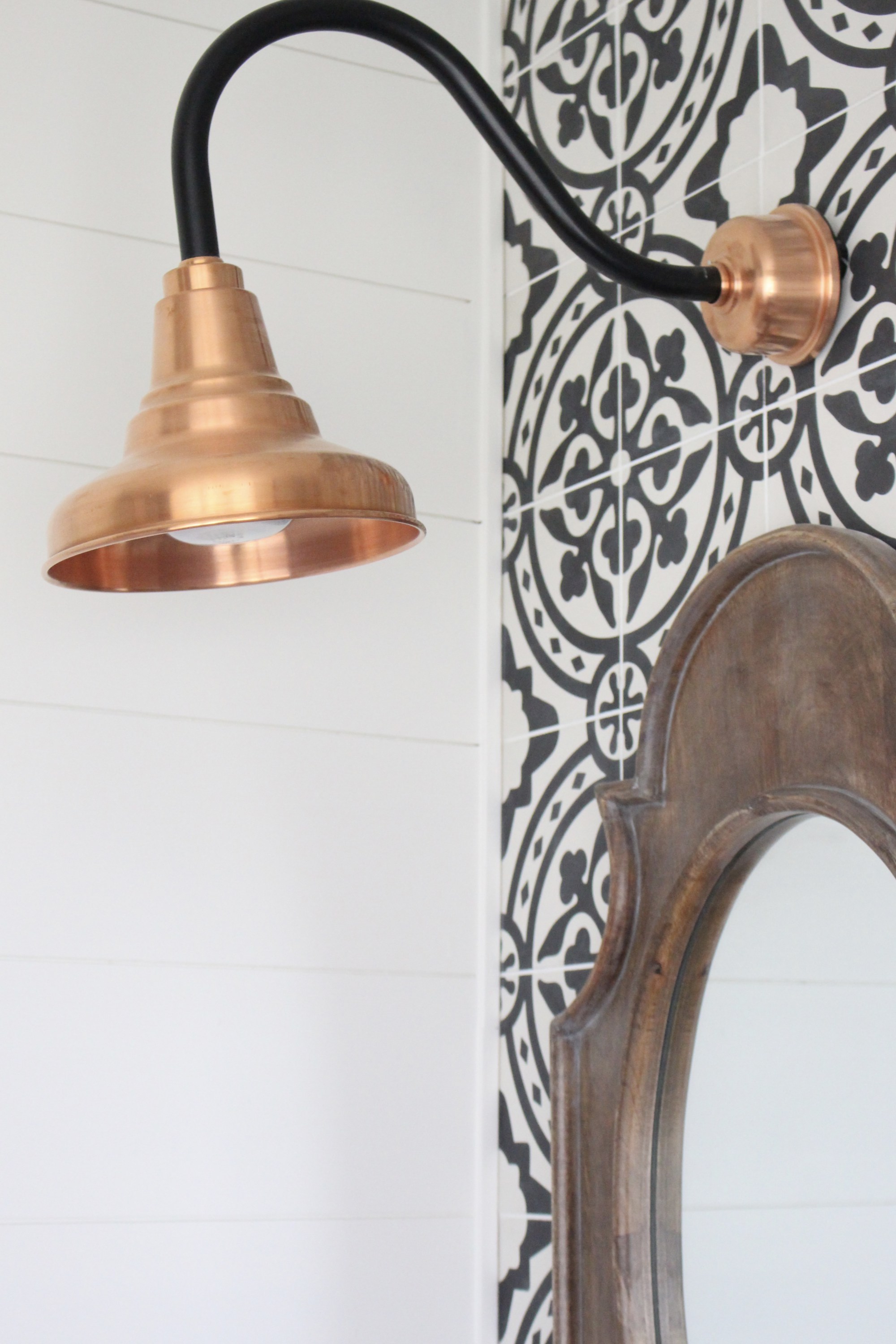 Copper Gooseneck Lights Give Bath Reno a Luxurious Spa Feel
Amy waited patiently for 12 years to renovate the master bathroom in her Ohio home. Well, maybe not so patiently, but after countless other projects jumped the line, Amy's master bath is finally finished. Author of the blog My Life From Home, Amy shared her long-awaited bathroom makeover with her readers this week.
"I wanted my bathroom to have a modern farmhouse feel and I've always loved the classic style of barn lighting," Amy says. "I've been waiting for the perfect space to incorporate this look for some time."
Amy chose our Union Gooseneck Lights as the inspiration for her new bathroom. With a bold patterned black-and-white tile on the vanity wall, she wanted an equally bold light to play along.
"I chose these lights in particular because of the bold design and height of the wall," she explains. "With a strong statement wall, you need an equally strong lighting choice." Amy customized these hand-spun copper lights with 10″ shades, a Raw Copper finish, and G22 gooseneck arms in a contrasting Black finish.
"A smaller fixture might have blended in or gotten lost on the patterned wall," Amy notes. "These contrast beautifully with the rustic wood of the mirror frames and vanity as well as the black-and-white tile."
Amy chose the contrasting arm color in particular because it pulled the black in from the tile and other accents. She also likes how the sweeping arm adds visual interest above the wooden mirrors. Amy completed her new farmhouse bathroom with plenty of basket storage, white shiplap walls, and a rain spa panel in the shower.
"The look of copper is so stylish. It has such a warm and inviting feel where other metals can feel cold," she adds. The Union Gooseneck Lights are American-made and handcrafted from raw copper. The mid-sized shade is also available in a stem mount pendant, cord hung pendant, and in LED.
"These lights are gorgeous and make a bold statement in our room. They give off just the right amount of clear natural light which is perfect for getting ready in the morning," Amy says. "It's a dream bathroom!"
Photos courtesy of My Life From Home