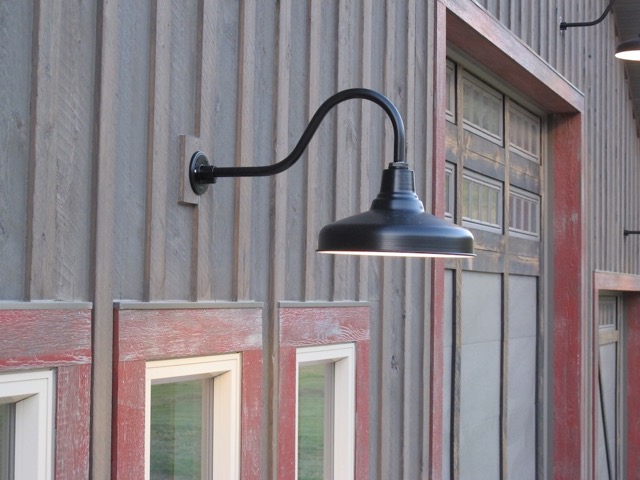 Classic Gooseneck Barn Lights Lend Authenticity to New Build
What's the best thing about an old barn? Definitely the character.
The worst thing? Outdated materials, worn out wiring, and critters that sneak in via every nook and cranny.
When Marti and her husband Steve started planning to build a barn on their property in Buffalo County, Wisconsin, they wanted the character of an old barn but with new barn perks.
"Our barn is newly built, but we tried to use materials and designs so that it would look like a remodel of an older barn," Marti says. "We decided to use real wood on the exterior because we just couldn't find a product that gave an authentic, old barn feel."
The new space has heated cement and is much tighter than an old barn would be, although Marti says they still have wildlife trying to find a way in. For the lighting, the couple wanted an authentic feel but with the dependability of new products, finish choices, and wiring.
"I knew early on that I wanted to have gooseneck lighting outside because I love the look completely," Marti explains. She and Steve looked at three different companies for lighting but chose Barn Light Electric thanks to the no-hassle return policy and the customer service staff who helped throughout the process.
"One of the big box hardware stores had two options that Steve and I jokingly called Cheap and Cheaper," Marti says. "Our local lighting store had more offerings, but there was a three- to four-week wait and a strict, no-return policy."
Marti and Steve ultimately chose the Union Gooseneck Light for the exterior of their new barn. They customized these American-made, classic warehouse shades with 16″ shades, Black finish, and G22 gooseneck arms.
"We thought about the Barn Red finish but it just wasn't right and it got lost with the other red and grey stuff going on," Marti explains. "The black is classic and sets off some of the other details nicely."
For the side porch, two more Union Gooseneck Lights were installed over the doorways, these with the G26 gooseneck arm which has a shorter projection to better fit the space.
Brightening up the porch itself are five Outback Flush Mount Pendants which offer plenty of light spread without hanging too low. Marti customized these pendants with 14″ shades, Black finish, Red cast guard, and frosted glass.
"I love the splash of color with the red guards which sets off the red trim work on the barn," she says. "We ordered clear glass by mistake and the customer service staff graciously swapped these out for frosted glass jars for us which solidified my loyalty!"
While work on the interior continues, Marti and Steve are thrilled with the look of the exterior of their new barn.
"I'm just so glad that the lights 'fit' perfectly in the style and look of the barn, and they don't seem out of place or off in any way," she says. "They are the perfect size and shape and look like they've been there for years and years."
Photos courtesy of the homeowner