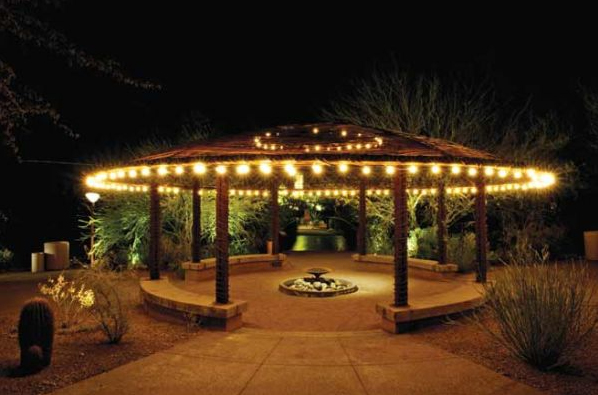 Guest Blogger | Light Your Way to a Beautiful Warm-Weather Yard
It's finally that most perfect of seasons, when the sun starts to shine a little warmer, flowers begin waking from their winter nap, and chirping birds return from their yearly migration. At this time of year, our attention naturally shifts from cozy indoors to front porches and backyards, neglected for months and in desperate want of some TLC. And when the final flower is planted and blade of grass mowed, be sure to show off your hard work – even when the sun goes down – with the perfect exterior lighting.
Define Your Entry
There's nothing more welcoming to nighttime visitors than a warmly lit entry. Use creative lighting to frame your front door with a light above the entrance or a lantern on either side. If you have an exceptionally high porch ceiling, opt for a statement-making pendant or grand outdoor chandelier instead. Tip: Stem mount lighting is not only attractive and durable, but is wet rated for exterior locations and provides stable lighting for areas that experience high winds.
Light the Way
A well-lit pathway leading is not only safe, but also beautifully beckons guests. Try post mount lights where your pathway meets the sidewalk or driveway, and then smaller lights at even intervals along the way. If you have front steps, make sure those are brightly lit as well.
Set Your Porch Aglow
Ensure you can use your porch all night long by lighting it like you would any other room. Start with evenly spaced pendants, sconces, or a large chandelier overhead to provide the main lighting, then incorporate lamps and smaller lighting fixtures to up the coziness factor (or encourage porch reading sessions). Tip: For especially warm summer nights, consider a ceiling fan with an attached light fixture.
Highlight Landscaping
Landscaping is a big investment, both time- and money-wise. Make sure you get the most bang for your buck by using outdoor spotlights and other ground lighting to illuminate your hard work. Uplight especially large, old trees, beautiful shrubbery, flower patches, water features, and rock walls (which cast interesting and attractive shadows).
Illuminate Your Patio
While lighting in the front yard is great for curb appeal and greeting guests, chances are your back yard will see the most action during the warmer months. Track lights work well over an outdoor kitchen and can lights are a great way to provide general lighting to a large covered space. Use chandeliers or pendants over dining and seating areas to bring the feel of indoor lighting outside, and light up exterior walls or columns and posts with sconces.
Don't Forget the Garage
Often overlooked is the garage or shed, yet they're likely where light is needed the most. Avoid fumbling with keys and packages while also adding charm and elegance to your garage with graceful gooseneck lights (I especially love the brass and copper versions) above doors and entryways. Tip: Install motion sensor lights in places where you only need light occasionally, like when you get in and out of your car.
Pump Up the Ambiance
Outdoor lighting is not all that different from indoor lighting. Just like inside, the big lighting fixtures do the heavy lifting, while small touches add ambiance, create zones, and offer task lighting. Use the same approach outside. Place table lamps on small tables near outlets. Hang string lights from umbrellas, trees, gazebos, pergolas, and on fences. Group lanterns of varying sizes on the ground and along small walls. And use candles – real or fake, battery- or solar-powered – to cast a warm glow and invite revelers and relaxers alike to linger long into the night.
Guest blogger Melissa Andersen is a writer, editor, blogger, and social media manager/consultant for clients such as And North, Kaufmann Mercantile, and The Cousins from HGTV.