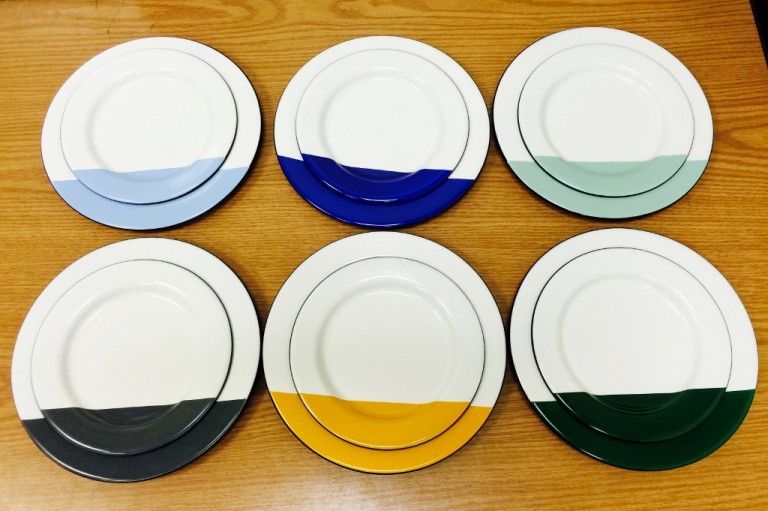 Porcelain Enamel Dinnerware Makes a Splash on the Table
It's been almost four years since Barn Light Electric revived the lost art of manufacturing porcelain enamel lighting. With a cadre of metal spinners and a special oven that we purchased and shipped over from Italy, we re-introduced the rugged, high-gloss beauty of porcelain enamel to a whole new audience.
While porcelain enamel lighting was once a staple of the lighting industry back in the early 20th century, it was used almost exclusively in commercial applications. 
Now, residential customers can also enjoy the long-lasting, never-fade finish that is available for pendants, wall sconces, gooseneck lights, table lamps, and more. And though every gas station in the 1930s sported Vintage Green warehouse shades, today's porcelain palette includes Cherry Red, Cobalt Blue, Graphite, and Jadite to complement today's décors.
The porcelain enamel oven stays hot these days — 1,500 degrees hot exactly — which is the temperature required to seal the porcelain enamel glass to the steel shade. It only takes 200 seconds but the results are stunning.
And it's not just lighting that rolls out the doors when they open. Our Porcelain Enamel Dinnerware Collection has been very popular since we started spinning cups, bowls, and plates, and our offerings continue to expand.
Last fall, we introduced our Set of 5 Graniteware Mixing Bowls and customers were immediately smitten. Carol wrote in recently to tell us…
These bowls far exceeded expectations. The bowls are substantial, perfectly crafted, beautifully colored and designed. They are true works of art. What a joy!
Our Build-Your-Own Enamelware Plate Collection is also a favorite. Choose four plates that are exactly the same color or four different colors to add a festive look to your table. Go really crazy and choose a different color for the top and bottom too!
And coming this summer — a whole new look for our dinnerware! Check out what our talented porcelain crew came up with for our plates and cups.
We're loving this new vibe and can totally see these pieces sprucing up many a table during the summer entertaining season!