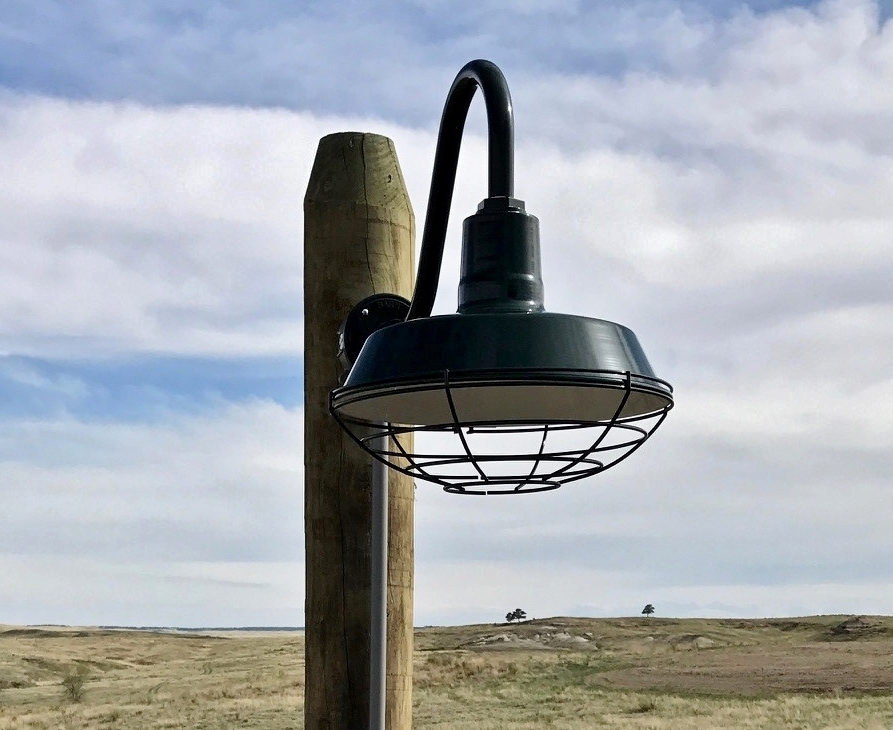 Barn Lights for a High Desert Craftsman Home
A self-proclaimed "lighting junkie" from Colorado, Joseph is wrapping up the finishing touches on his new 1,250-square-foot, craftsman-style home. When searching exterior lighting, the size and shape of the shade was important but so was finding a fixture that could last in the high desert environment. He spotted Barn Light Electric on This Old House and liked what he saw on the company website.
"I go by my eye and I like the classic look of barn lights," he says. "The vintage feel of warehouse shades add to the craftsman fixtures I purchased for the front of the house."
Joseph selected the Original™ Warehouse Gooseneck Light for his new home. He customized three of these American-made wall lights with 14″ shades, a Dark Green finish, and G15 gooseneck arms. Handspun from commercial grade materials, these gooseneck lights complement the historical color palette he chose for his home.
"I met with a Benjamin Moore paint consultant and we both thought the Dark Green was a classic color," he notes. "Gettysburg Gray is color of the facade which has a hint of green to it."
Joseph also selected a slightly larger 16″ shade with the same finish color to serve as a post mount light. He opted for the wire guard option on this light for two reasons.
"I wanted it to look different from the other fixtures," he explains. "But we also have cattle, and you're required to protect cattle if they're anywhere near a light fixture."
On the deck, Joseph chose the matching Original™ Stem Mount Pendant, also with a Dark Green finish to bring light to the outdoor entertaining space. This exterior pendant is wet rated for outdoor use thanks to the sturdy stem which protects the wiring.
Underneath the deck, Joseph went for a different look with the Flush Mount Guard Sconce which features a Dark Green standard cast guard and clear glass.
"I thought it was a good fixture for that space because it's reminiscent of a storage light," he says. "It looks like a fixture you might find in a shop or storage space and it looks good from an aesthetic standpoint as a contrast to the Originals™."
Now that he's settling in to his new home, designed by Stonecreek Engineering and built by Colorado by Design, Joseph is enjoying the view and the ambiance the lighting brings to his exterior spaces.
"The Barn Light Electric fixtures give the house a more modern, edgy feel with the warehouse shades," he says. "I love how everything came together."
Photos courtesy of the homeowner