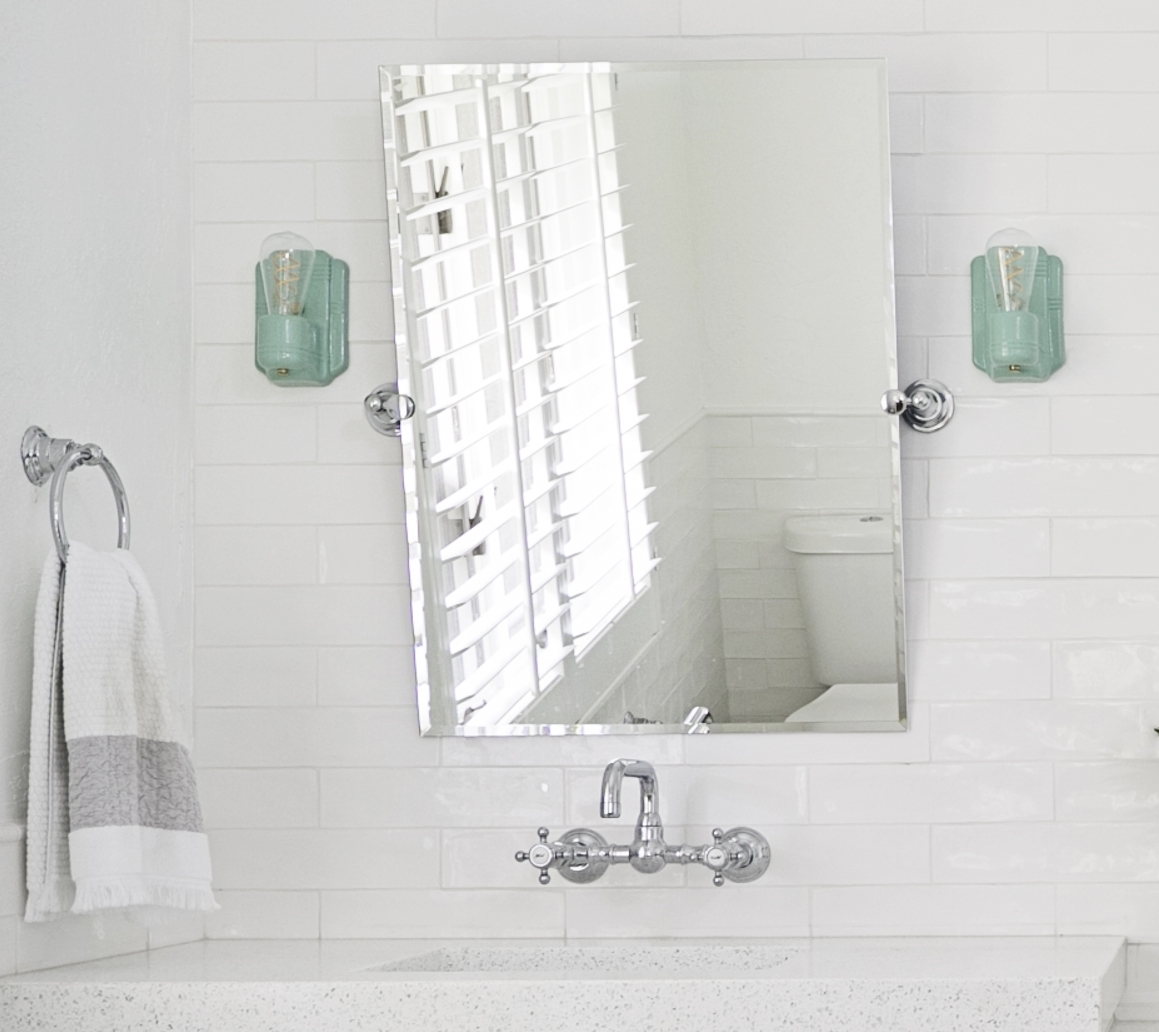 Wall Sconces Set Tone, Become Focal Point in Bathroom Reno
When considering all of the changes you can make in a renovation, how does lighting play into the plan? For Becky Morrison, new lights topped her list when she tackled the redesign of her master bathroom.
"The lights were the first selection I made for this space," Becky says. "They were the inspiration. Our vacation home is a classic ranch built in 1957, and I wanted the bathroom to have a fun, retro feel." 
Located in the historic Old Northeast section of St. Petersburg, Florida, the home serves as a retreat for Becky's family of five who live in Indianapolis. The remodel included transforming a former closed-off, eat-in kitchen (shown above) into a beautiful master suite.
Becky, an interior designer, chose the Kao Wall Sconce as her inspiration for the new bathroom. She customized these compact, vintage-style wall sconces with a creamy Jadite finish.
"I felt the color of the Kao was the perfect fit," she notes. "Everything else we incorporated into this design was chosen to keep the space feeling simple, clean, and bright."
The Kao Wall Sconce is inspired by the lighting fixtures created by Pass & Seymour's Alabax Division. First popular in the 1950s, this wall lighting is made from solid porcelain ceramic and can be customized with one of 28 different finish colors.
"Color selection was important to me," Becky explains. "I wanted the clean lines of a contemporary space but with a connection to the 1950s since this home is in an historic neighborhood. I felt the Jadite color used throughout the home's design helped achieve this."
Becky handles mostly residential design through her firm Lynn & Campbell. The renovations were completed by Popa Construction in St. Pete.
"I often use Barn Light Electric products in my designs because I love sourcing within the U.S.," Becky says. "I love the vintage pop of of color, and the vibrant finish is beautiful!"
Photos courtesy of Lynn & Campbell