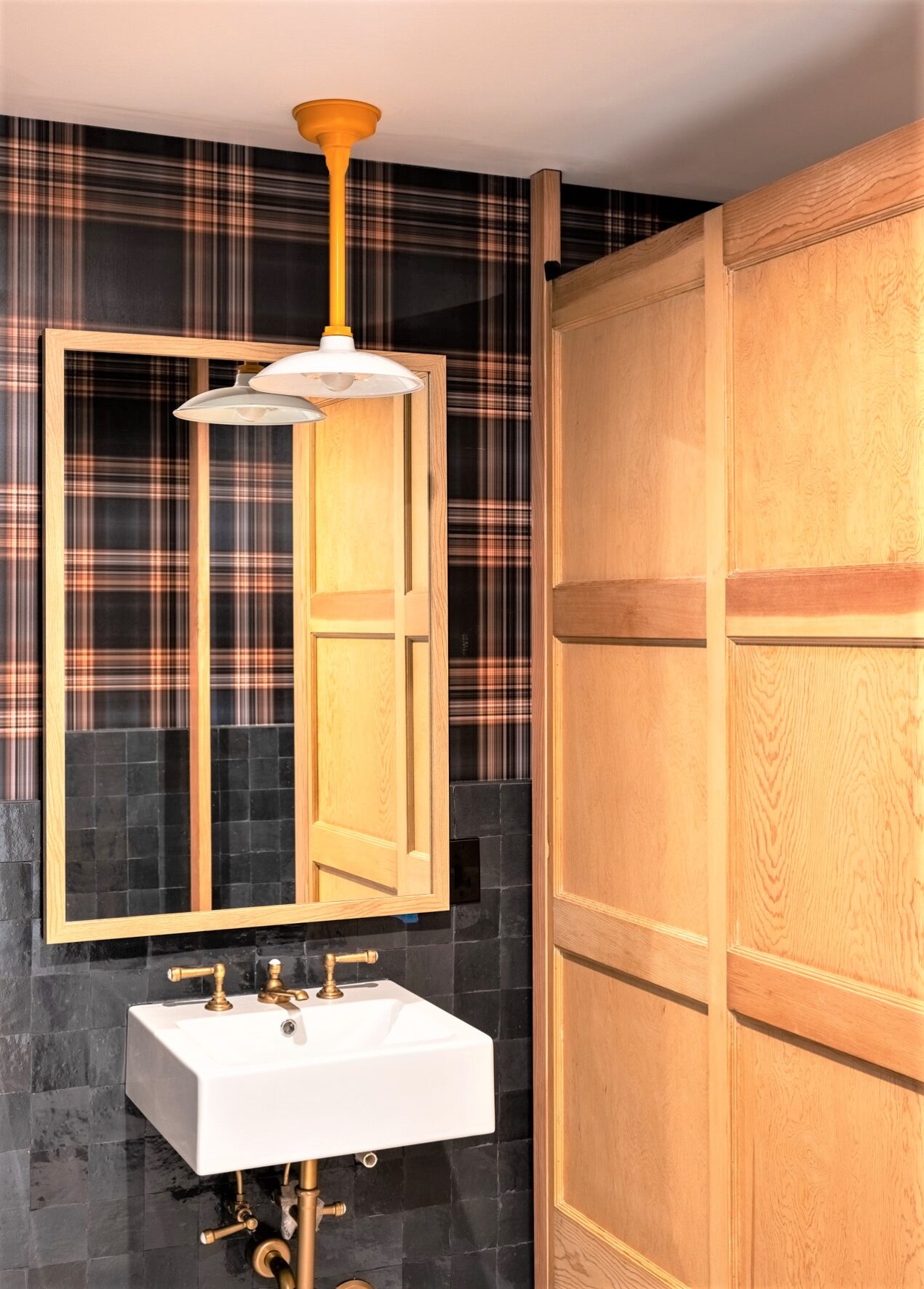 Explore Colors, Patterns & Textures on Wallpaper Wednesday
We're cruising into the middle of the week with plenty of Wallpaper Wednesday inspiration! Wallpaper continues to trend as we see endless varieties of colors, patterns, and textures adding character and personality to bedrooms and living spaces as well as smaller spaces like bathrooms and pantries.
Wallpaper is easy to install and remove, making it an excellent alternative for those who want to experiment with different styles or colors without committing to a long-term design.
Alice opted for a woodsy theme with the wallpaper in her kitchen. The soft gray tones of the paper are complemented by a Wilcox Uplight Wooden Top Pendant. The handcrafted 18″ shade is finished in powder coat Black and features a Walnut wood top and canopy.
Karina Brez, owner of The Jeweled Barn, was profiled recently in this post. Her portable business was designed and built with plenty of rustic details including Esso Gooseneck Lights which highlight the display cases. One end of the barn features an accent wall with attractive plaid wallpaper. These gooseneck lights feature 8″ shades, a powder coat Black finish, and G26 gooseneck arms.
At this wine-and-cheese store in Larkspur, California, owners embraced a sense of history and character with a vintage-style Sinclair Industrial Pendant Light. This American-made pendant, a replica of the original Benjamin® pendants from the 1930s, contrasts nicely against the bucolic wallpaper with its 14″ shade, Dark Green finish, and standard white cord.
Wallpaper easily adds character to smaller spaces such as bathrooms and powder rooms. This inviting space at the Richland Hotel in California features warm woods, textured tile, and rich colors in the plaid wallpaper. Designer Raili Clasen chose a Sinclair LED Stem Mount Pendant with a powder coat White finish and a contrasting Sunflower finish on the stem as the finishing touch to the space.
In this powder room, the flowing pattern of the wallpaper rolls right into the pattern of the granite sink creating a soothing scene. The classic and simple shape of the Bowie Wall Sconce with its powder coat Black finish becomes a focal point above the mirror.
This bright and happy space was designed by our good friend Sara McDaniel as part of a massive renovation project at The Villas in Minden, Louisiana. The colorful wallpaper in this bedroom serves as an eye-catching backdrop to the brass bed, creamy green linens, and Primary 4-Light Straight Arm Schoolhouse Chandelier overhead. This classic chandelier is customized with small opaque glass, a Jadite finish, and 12″ stem. Be sure to check back as we plan to feature more of Sara's renovation of The Villas soon!