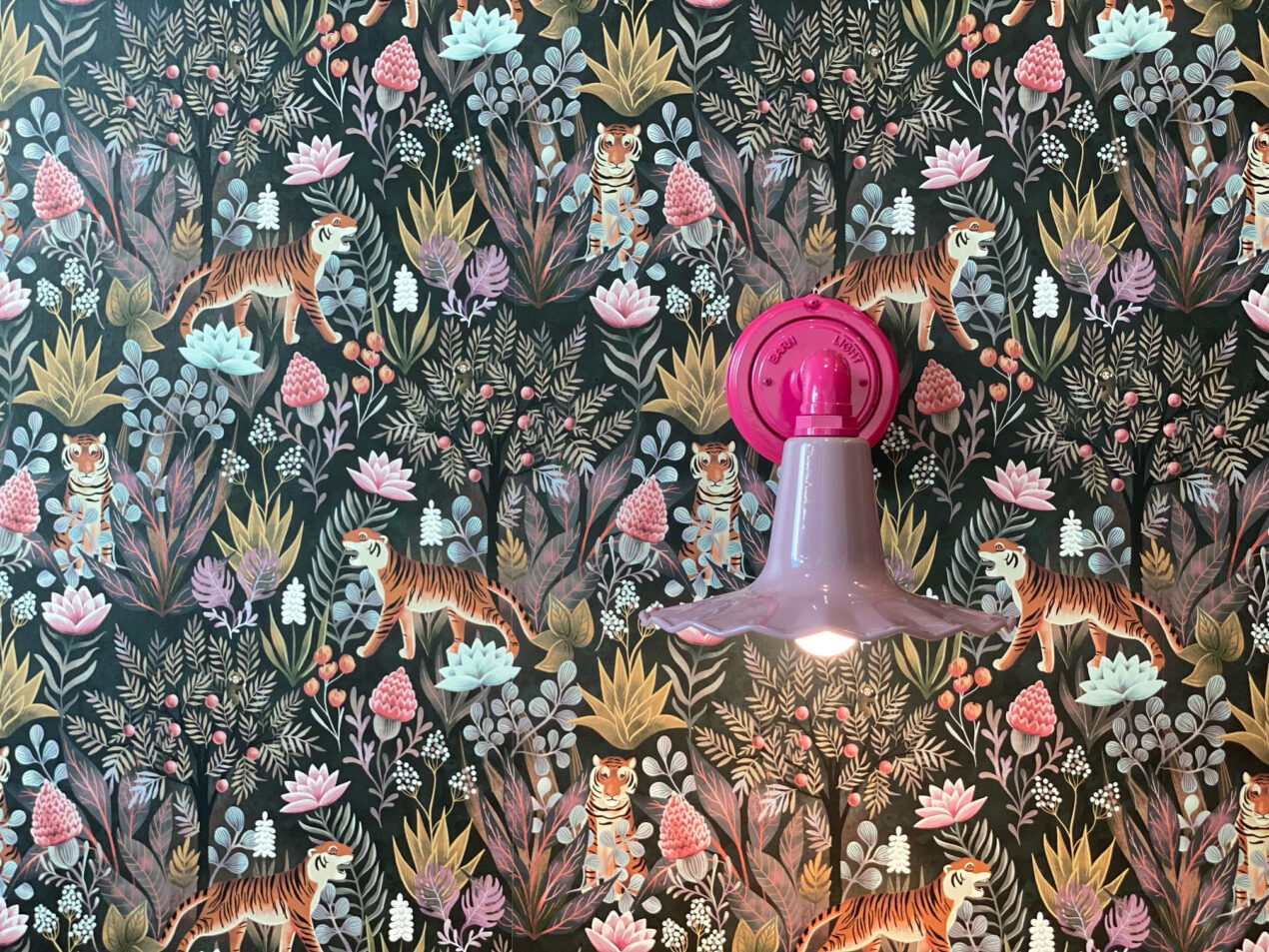 Wallpaper Wednesday Presents Vibrant New Trends for 2023
The new year, as always, brings a host of new trends to ponder. One design trend that shows no signs of waning is the use of wallpaper. New styles of wall coverings are finding favor with designers including large-scale designs, bold patterns, textured papers, and wallpaper that goes right up the wall and onto the ceiling.
Today we're sharing some more of our favorite wallpapered spaces that happen to include some beautiful, handcrafted lighting as well!
Nikki Levy of Nikki Levy Interiors chose the Union Wall Sconce as a functional accent against textured blue wallpaper in this bedroom. She customized these American-made fixtures with 12″ shades and a porcelain enamel Cherry Red finish. Nikki pumped up the personality by adding the plug-in option with a red cloth cord.
"The red really is a fantastic match to the art and accessories in the room. And the red cord is incredible against the blue wallpaper," she explains. "The scale and design really suited the look we were going for." You can see more of this space in this blog post.
Bethany chronicled the build of her family's home in East Tennessee on Instagram. Although one of the smallest rooms in the house, this powder room is packed with style!
"The large floral print of subtle black and gray hues attracted me to this wallpaper and provided the finishing touch to my vintage-inspired powder room," Bethany says. "I wanted a wallpaper that would also complement the gorgeous light fixture and vintage sink." The Primary Schoolhouse Gooseneck Light offers a classic touch to this space. Bethany customized the fixture with large opaque glass, Weathered Brass finish, G15 gooseneck arm, and single painted band of black.
Wendy decided to have a little fun in her beach house powder room. She opted for playful wallpaper, a cast-iron sink, and The Original™ Dual Arm Sign Light. This handcrafted light features 12″ shades finished in Sherbet Orange. Wendy liked the color so much she painted the sink to match!
In some spaces, a dramatic wallpaper takes center stage while lighting and other accents play a more subtle role. This beautiful wallpaper demands attention with its color and detail while the Seaside LED Gooseneck Light gives a wink that cannot be ignored. This handspun 12″ shade is finished in a powder coat Lavender and is mounted on a G13 gooseneck arm finished in contrasting Magenta.
In this space, "wallpaper" becomes ceiling paper under the creative touch of Amy Faulkenberry of ID Studio Interiors. Three Primary Schoolhouse Gooseneck Lights, customized with small, clear globes, are embellished with Jadite stripes adding a fun pop of color to complement the whimsical frog wallpaper above. These American-made gooseneck lights are mounted on Galvanized G1 gooseneck arms.
If you create a space with wallpaper and Barn Light fixtures, be sure to share on Instagram! Use the hashtag #mybarnlight and you may see your photo in the next Wallpaper Wednesday blog post!