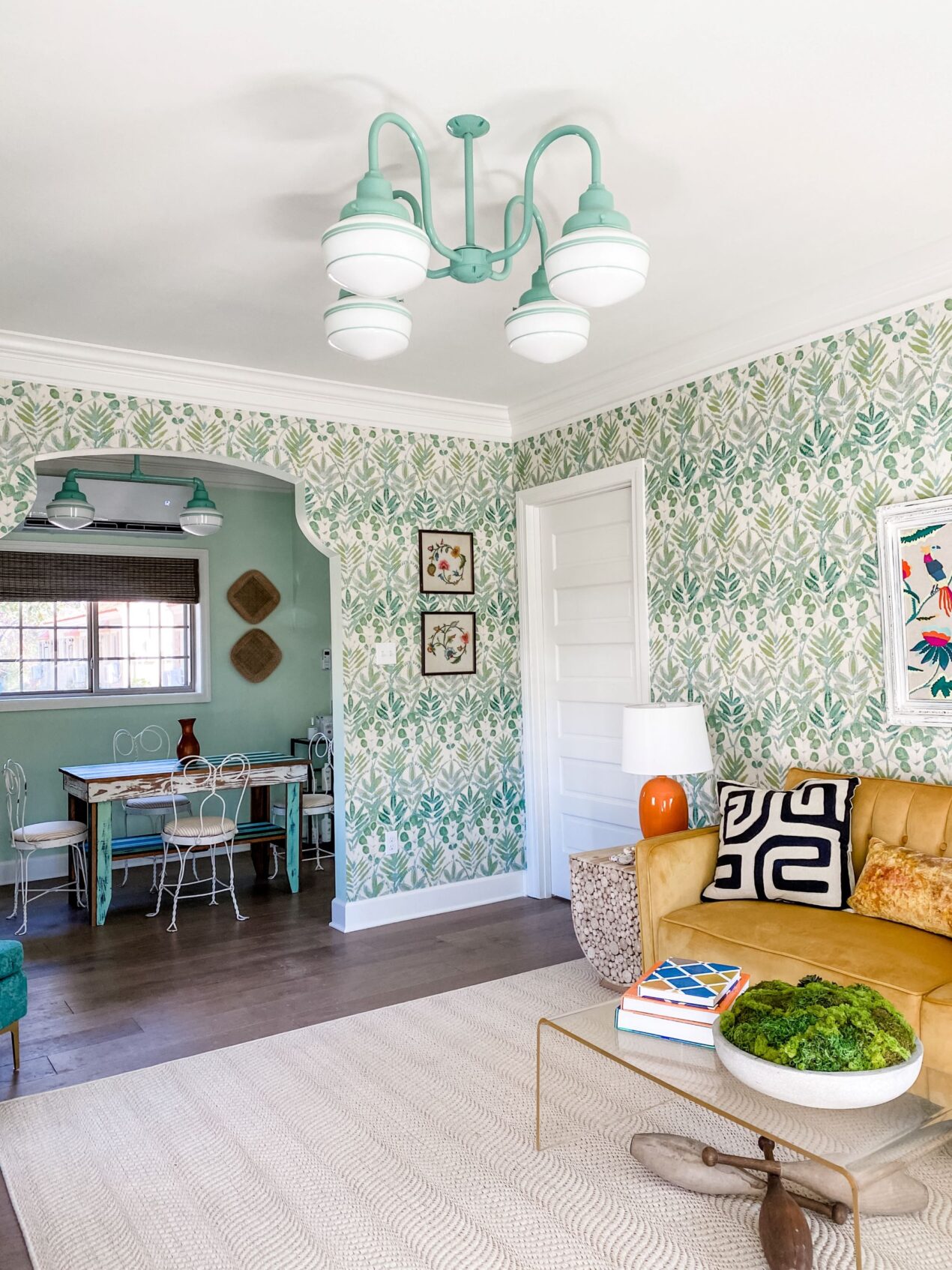 Stunning Transformation Celebrates Rich History of Spanish-Style Cottages
Sara McDaniel has loved old houses for as long as she can remember. And though her career began in education, Sara's path eventually led back to her first love. Returning to her hometown of Minden, Louisiana, in 2016, Sara purchased a 1920s-era home in dire need of renovation. Dubbed Simply Southern Cottage, the project jumpstarted Sara's career as a content creator, entrepreneur, real estate investor, and highly sought-after designer and renovator.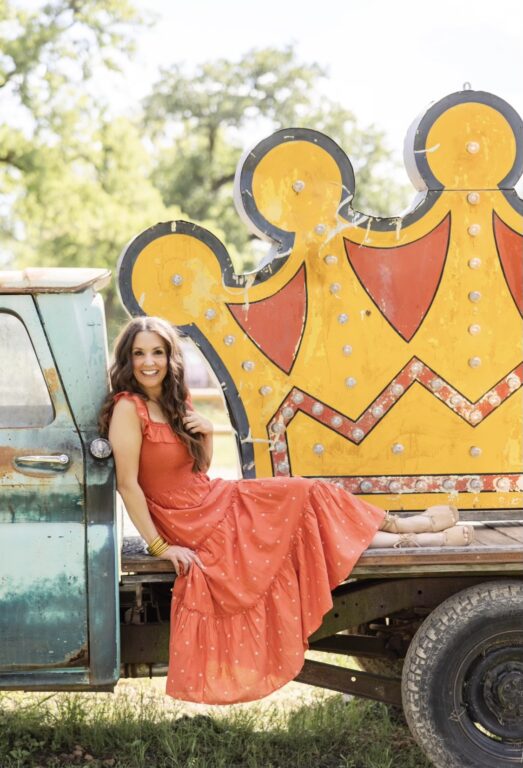 The last few years have been a whirlwind as Sara has been featured on HGTV and in a variety of magazines including Better Homes & Gardens, Cottages and Bungalows, and American Farmhouse Style. In her travels around Minden, Sara noticed a group of villas that had been standing vacant for more than 40 years.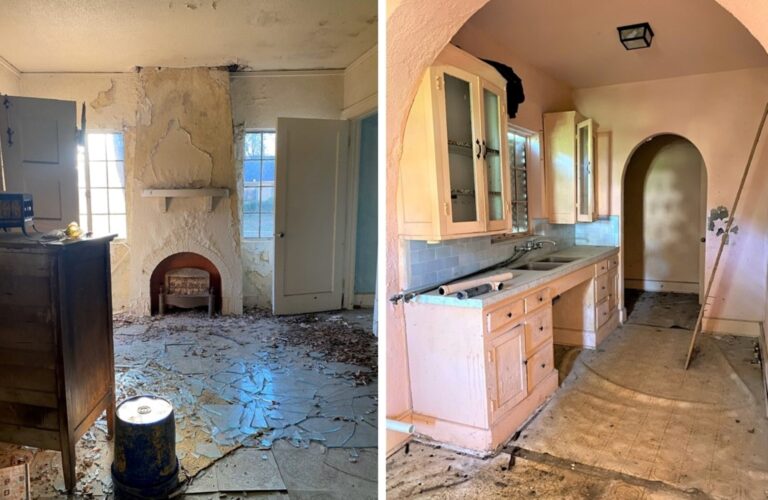 "I would drive by and see them, and I always thought they would be super fun to renovate," Sara says. "They are architecturally significant for this part of northern Louisiana and truly one of a kind."  While some thought the old buildings should be torn down, Sara looked beyond the crumbling façades, broken windows, and rotten flooring and launched a plan to bring the eight historic villas back to life.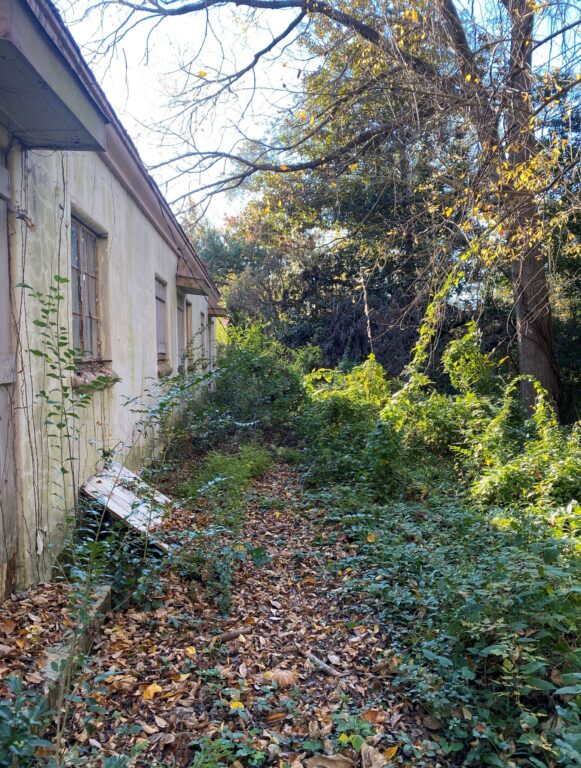 Sara put in countless hours of sweat equity and worked with a variety of sponsors to pull off this massive renovation. When she began her search for new lighting, Sara wanted to find fixtures that reflected the history of the villas.
"I wanted lighting that could have been there in 1931," she explains. "Lighting that is classic and timeless." Sara fell in love with Barn Light Electric's schoolhouse collection and chose several fixtures from this collection for one of the villas that she named Annie.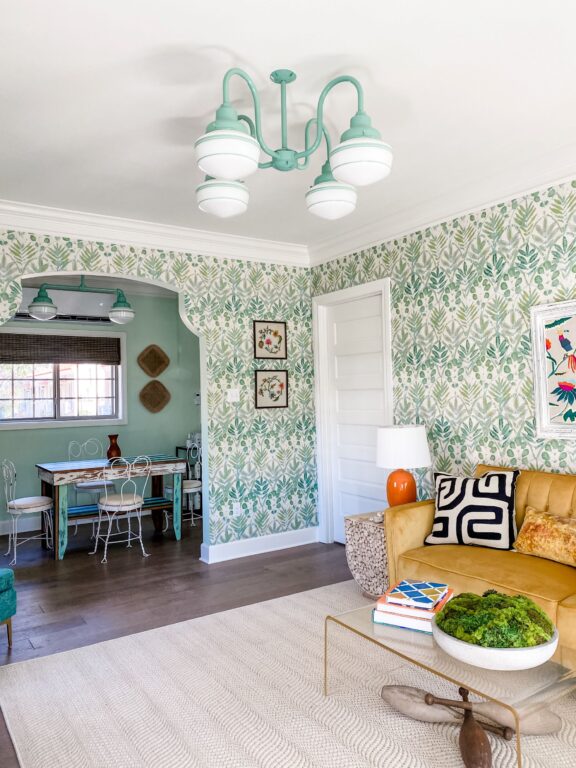 In the cozy living room, Sara selected the Primary 4-Light Schoolhouse Chandelier to highlight the seating area. She customized this fixture with small opaque glass and a 12″ stem. She chose the Jadite finish for the fitter, canopy, and stem then added triple painted bands of Jadite to match.
"In this cottage, there are a lot of greens, so the Jadite matches perfectly," Sara explains. "I love to add patterns, texture, and color to all my designs so the bands were an easy way to add another layer of interest to the space."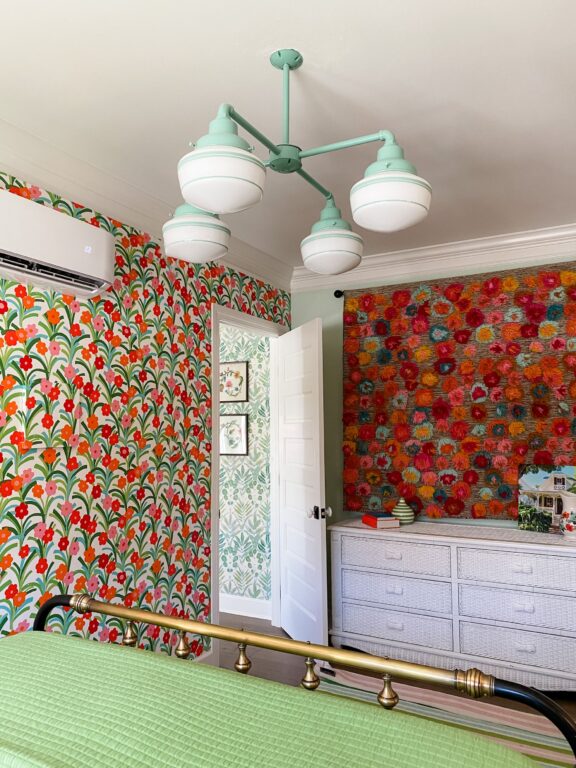 A slightly different version of this schoolhouse chandelier appears in the bedroom. This Primary 4-Light Straight Arm Schoolhouse Chandelier is customized with the same small opaque glass, 12″ stem, Jadite finish, and triple painted bands of Jadite.
"I wanted to differentiate between the living room and the bedroom," Sara notes. "Again, this adds another layer of interest and intrigue by doing something similar but a little bit different."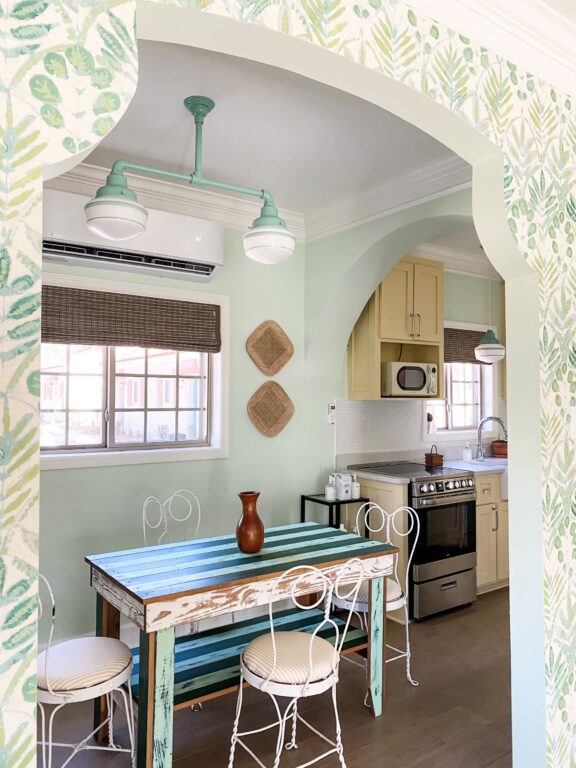 The dining space presented a challenge thanks to its long, narrow footprint. But Sara found the perfect fixture to illuminate the space. The American-made Primary Schoolhouse 2-Light Chandelier features the small opaque glass, Jadite finish, 12″ arms, triple painted bands, and a standard beehive canopy.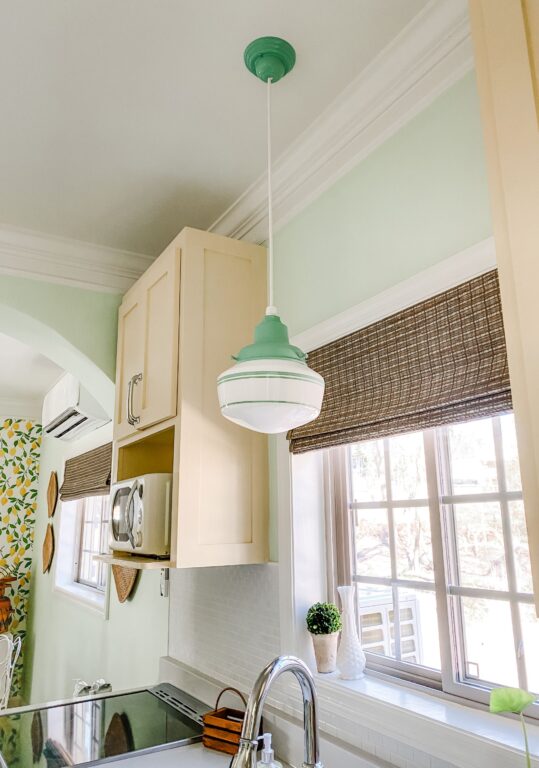 In the nearby kitchen, Sara completed the look with a Primary Schoolhouse Pendant Light. This beautiful pendant features all the same customizing options as the other schoolhouse fixtures throughout the house and is suspended with a standard white cord.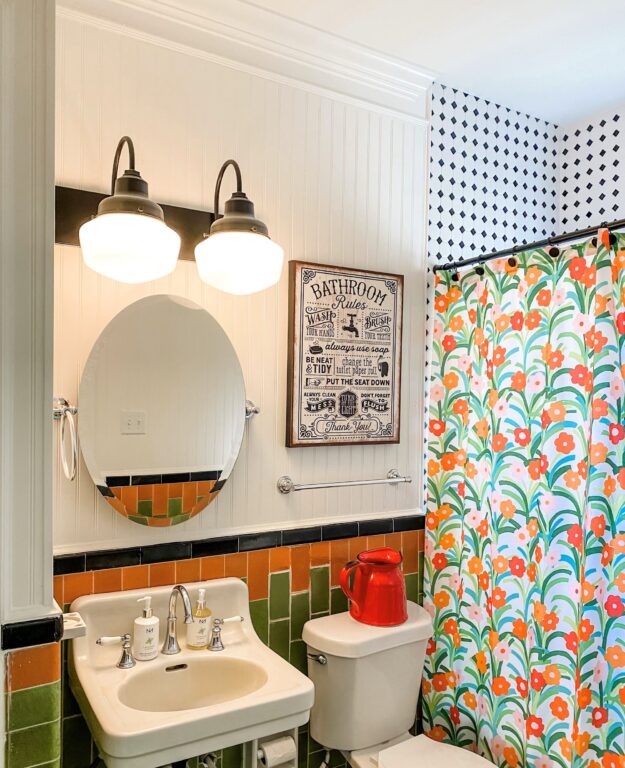 Sara continued with the schoolhouse theme in the bathroom where she chose the Primary 2-Light Schoolhouse Vanity Light. She customized this American-made fixture with small opaque glass and a Black mounting and fitter.
"This light fits the vibe I was going for exactly," Sara says. "We saved the old tile with black accents, so I chose the Black finish color for the light to match that. The opaque globe mimics what I feel would have been here back in the day."
Be sure to join us on Wednesday when we check out another villa that was transformed from disastrous to delightful under the talented hand of Sara and her team. And if you're interested in seeing these gorgeous homes in person, Sara would love to host you in Minden! Check out this link for details!
Photos courtesy of Simply Southern Cottage and Hector Sanchez