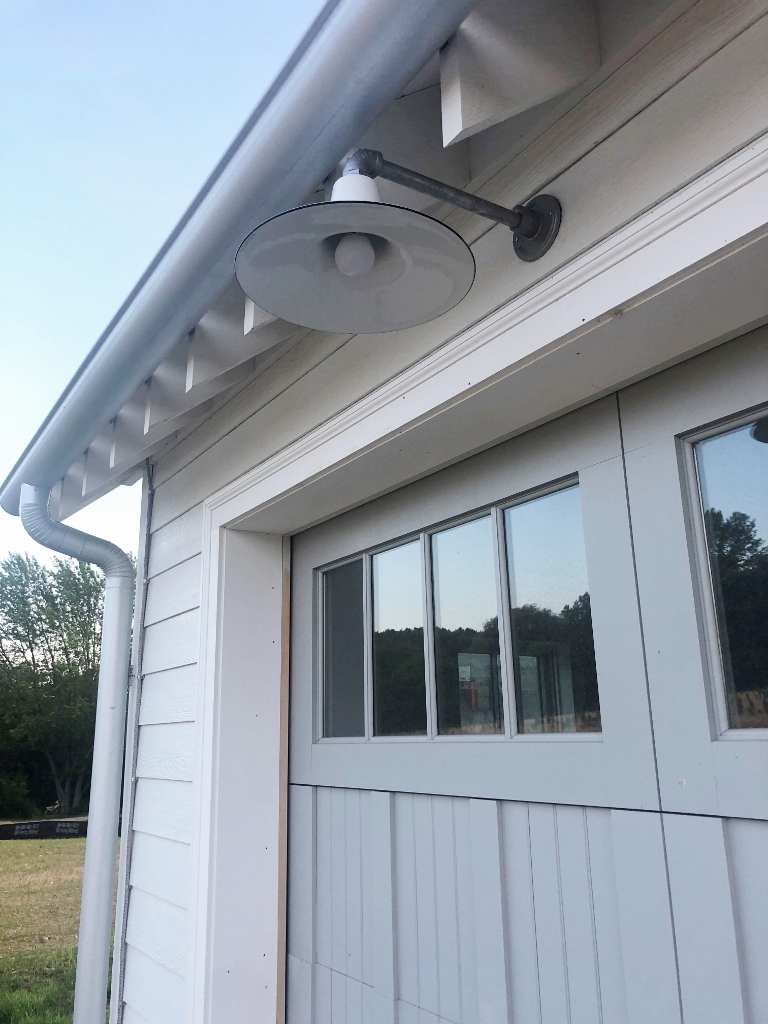 Easy-to-Customize Exterior Lighting Suits Tricky Architectural Details
It seems so easy to just walk into a big box store and grab a light off the shelf for your home.
But what if you have a tight spot where a standard mounting won't fit? What if you want a color other than black? What if you want American-made quality that won't fall apart in six months?
Being able to fully customize lighting is what attracts many customers to Barn Light Electric. Customers like Gabriel Mikol of Artisan Woodworks, Ltd in Trevor, Wisconsin. One of Gabriel's latest projects is a new Cape Cod/farmhouse home with plenty of historical textures and details. Gabriel searched for barn lights that were not only high quality but that he could easily customize.
"I needed a fixture to mount to a small gable above the transom on a doorway," he explains. "It needed a specific extension and drop." Gabriel chose the Sterling Gooseneck Light to fit the space. He customized this gooseneck light with a 12″ shade, porcelain enamel White finish, and a Galvanized G13 gooseneck arm.
"The scale of the fixture fit this small, offset entry," Gabriel notes. "And I like the mix of color with the Galvanized."
Another tricky spot, this one on the garage, called for a different style of gooseneck arm. Luckily, Barn Light Electric offers 30 different sizes and shapes to choose from, and our talented pipe benders can also create custom sizes and shapes.
"These fixtures had to fit between the exposed rafter tails while clearing the gutter above and the garage door opening below," Gabriel says. He chose the same Sterling Gooseneck Light but with a slightly larger 14″ shade and a G14 straight gooseneck arm.
Like all of our porcelain enamel lighting, these exterior lights are handspun from commercial grade steel then coated with multiple layers of porcelain enamel glass. The shades are baked in a special, high-temperature oven where the extreme heat seals the glass to the shade producing a high-gloss finish that will never fade.
High-quality, American-made lighting that's easy to customize — easy to find at Barn Light Electric!
Photos courtesy of Artisan Woodworks, Ltd