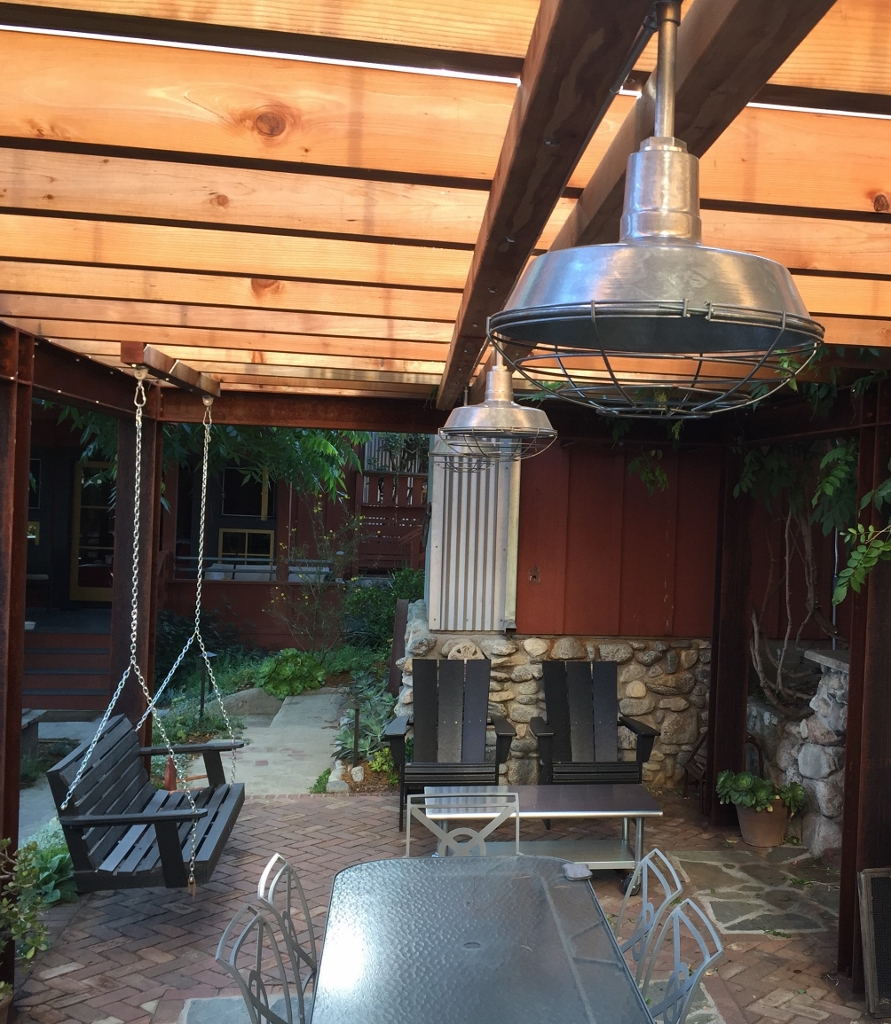 Galvanized Warehouse Shades a Go-To Lighting Solution for California Couple
When you've lived in your home for more than 30 years, renovation projects tend to be ongoing. For Chris and Joanne, husband-and-wife artists living in Eagle Rock, California, remodeling their Dutch Colonial bungalow, circa 1921, has been a labor of love.
"We designed a fairly large addition starting in 1991 then renovated again in 2014 to add things from our wish list and take care of some maintenance items," Joanne says. Renovations have included a new front porch, a complete color change, and re-roofing. They turned their attention most recently to the landscaping.
"Finally, after 34 years!" Joanne says. "We designed all of the outdoor hardscape including the rock work, paving, pool, and pergola." All of the work was completed by Lost West, a landscape contractor in Los Angeles.
During earlier renovations, Chris and Joanne added warehouse-style lighting and wanted to include more during their exterior remodel. They found Barn Light Electric back in 2012 while searching online for warehouse and industrial lighting.
"The Original™ is a good match to what we already have but much better!" Joanne notes. "We like that your fixtures are completely galvanized and that they are American made. We also love the different mounting options. No one else offers that."
For the new pergola, three Original™ Stem Mount Pendants provide plenty of downlighting on the entertaining space. These handspun pendants are customized with 14″ shades, a Galvanized finish, and wire cages.
"The cages are in the industrial vein and just cool looking," Joanne explains. "And they are very heavy duty." For the front porch, Original™ Flush Mount Pendants, also with 14″ shades and wire cages, provide illumination but allow plenty of head room. All of the lights operate on remote dimmers.
The shed, with its colorful palette of rust, yellow ochre, and charcoal, also boasts handcrafted barn lights. An All Weather Gooseneck Farm Light was one of the couple's first Barn Light purchases and flanks the sliding door.
But their favorite fixture is the Original™ Warehouse Gooseneck Light with its generous 18″ shade and rugged G36 gooseneck arm.
"By using that arm, we were able to get the fixture four feet out from the wall to perfectly illuminate our gas-station style, glass-and-metal door," Joanne notes. "Your lights are super heavy-duty and made to last. The Galvanized surface will just get better over time."
And as much as the couple love all of the lights they've purchased over the years, an added bonus came courtesy of our talented shipping department.
"You guys have the best packaging we've ever seen," Joanne says. "Each shade and all the extra bits have individual spacers, boxes, and protective plastic so everything arrives in great condition. The lights look great!"
Photos courtesy of the homeowner