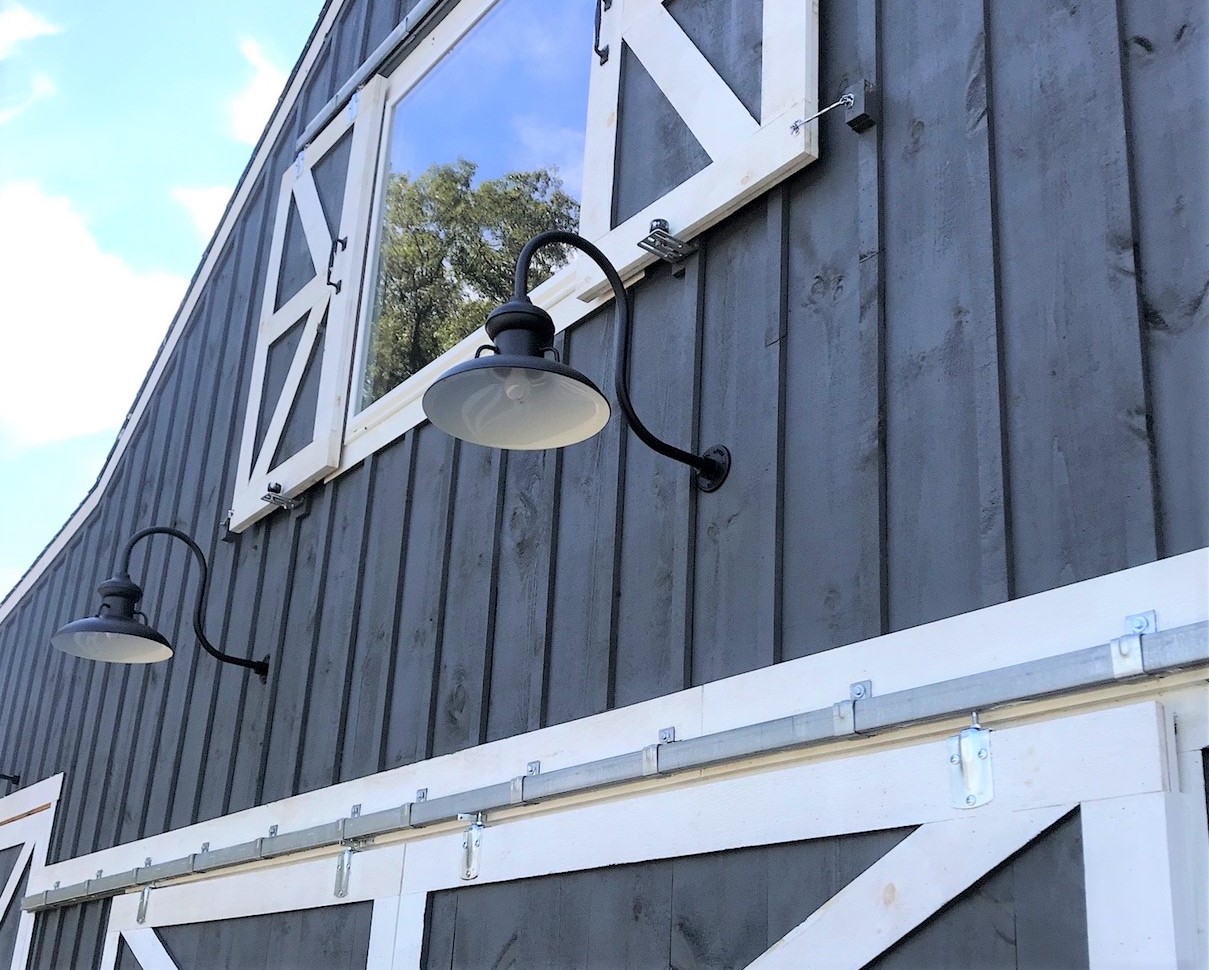 Easy-to-Customize Barn Lights Lend Classic Look with Subtle Modern Style
Nothing makes our hearts melt more than a beautiful barn decked out with classic gooseneck lights. So you can imagine the excitement when Barn Light Electric fixtures were chosen to accent a gorgeous, 3,000-square-foot barn in Virginia.
Isn't it stunning?! Designed by Molly Kay of MK Interiors and built by her husband, Thomas, who happens to be a custom home builder and master woodworker, the barn is home to Thomas's workshop, a variety of construction equipment, ATVs, and the family's 11 chickens.
"We live in a small Northern Virginia town where we bought several acres of land," Molly Kay says. "We moved in just over two years ago and built the barn a year after moving in." Molly Kay wanted the barn to match the house so they used the same dark blue color on the exterior.
"We did board-and-batten siding and, although it has a traditional, country-barn look, the dark blue gives it a slight contemporary look as well," she explains. "I wanted a dark exterior so I could pop it with bright white trim."
With a barn this size, Molly Kay knew the lighting would have to be scaled appropriately. She chose the Laramie Gooseneck Light after discovering Barn Light's line of American-made fixtures on Instagram.
"I definitely try to look for American-made products whenever possible," she notes. "I found myself looking at all of Barn Light's projects on Instagram and loving all of them!" Molly Kay customized her new outdoor lighting with 16″ shades, a Textured Black finish, and G32 gooseneck arms.
"I wanted a very large light that wouldn't be dwarfed by the large, sliding barn doors," she says. "The G32 arm is the perfect shape, and the Textured Black finish is so current but will continue to look good for years to come."
Molly Kay admits to spending a lot of time considering the lighting and looking at options.
"Ultimately, this light won me over with its size and that I could customize it completely to get the exact fixture I wanted," she says. "They have a timeless yet modern look and just complete the barn."
Photos courtesy of MK Interiors