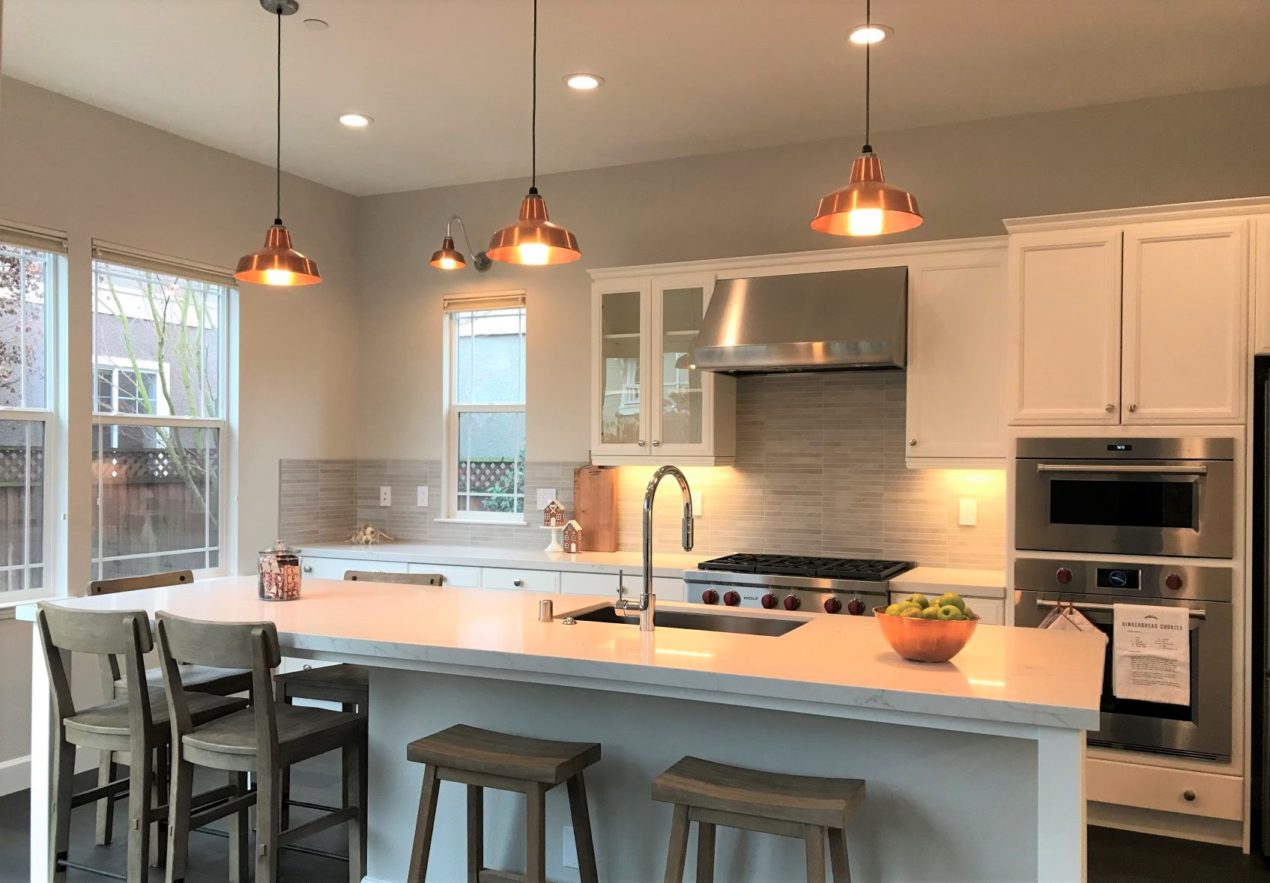 Elegant Copper Lighting Adds Wow Factor in Kitchen Remodel
When Gisella started planning for a major kitchen remodel last spring, three words kept coming to her mind — contemporary, industrial, and farmhouse. The remodel was extensive and, as is often the case, kept growing.
"We extended the island, added a modern backsplash, replaced tile counters with quartz, installed a new sink and dark hardwood floors, and added all new appliances," Gisella says. "Most of the cabinets are original, but we brought in a refinishing company to make them like new."
Gisella and her husband try to support local businesses as much as possible and seek out American-made products. Having purchased outdoor lighting from Barn Light Electric in the past, Gisella knew where to turn for easy-to-customize lighting for her latest project. Deciding which fixture would complete the massive renovation wasn't easy.
"It took me some time, but in the end, I chose the Avalon shade," Gisella says. "The fact that the lights are customizable is a huge plus. I wouldn't have found them ready-made like this."
Gisella chose the Avalon Gooseneck Light for over her window. She customized this wall light with an 8″ Raw Copper shade, and a G26 gooseneck arm in Brushed Aluminum.
"I didn't want anything too big over my small window," she notes. "I like the soft, simple, and clean lines of the Avalon." She chose the Brushed Aluminum finish for the arm because it ties in with the new stainless appliances and complements the farmhouse look.
For the enlarged island, Gisella chose the same Avalon shade but with a pendant mounting. She customized these fixtures with 12″ Raw Copper shades and gray cloth cords.
"I chose the raw copper because the kitchen is pretty neutral and I wanted the lights to add some POP!" Gisella explains. "The gray cording was my mom's idea and I love it. It's softer than black and is in keeping with the color scheme."
Gisella added dimmer switches to her new lighting to allow complete control over the ambiance in the often-used space.
"I like that they can get really bright! But they cast a warm glow when they're turned all the way down," she says. "I love the wow factor that the copper lights bring to the kitchen. They really are a focal point."
Photos courtesy of the homeowner