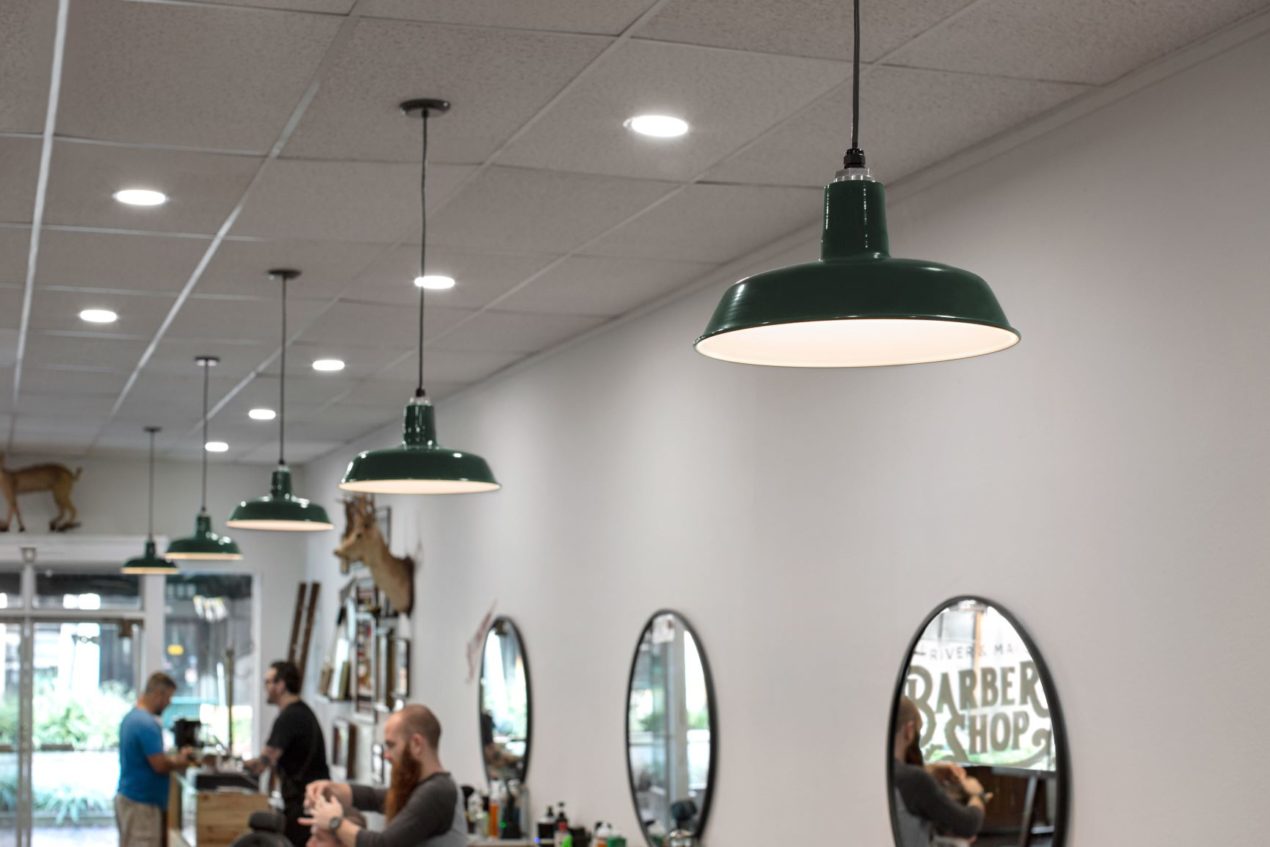 Handcrafted Quality Makes Barn Lighting a Natural Fit for Barber Shop
One of the biggest challenges in the service industry is not only providing excellent service, but also creating the right atmosphere for customers. Comfortable seating, lighting, and décor all add to the ambiance of a commercial space and, hopefully, offer a distinction from the competition.
Tyler Bray addressed this challenge head on when he opened River & Main Barber Shop in historic downtown Titusville, Florida. From the mounted deer head and other eclectic artwork to the original wood floors, River & Main offers customers a cozy and relaxed step back in time.
"Our design was a mid-century modern look," Tyler says. "We wanted to have a warm feel but with plenty of light to see the hair properly. We get warmth from the dark wood flooring and other wood accents."
With the need for plenty of downlighting on the chairs, Tyler tapped longtime friend and Barn Light Electric regional sales manager Cole Paulson for advice.
"Cole asked me what I envisioned for the shop," Tyler explains, "and he showed me multiple options to make sure the look was exactly what I wanted."
Tyler chose one of our most popular warehouse shade designs — The Original™ Warehouse Pendant — to highlight the chairs and check-in counter. He customized these with 16″ shades, a Dark Green powder coat finish, and standard black cords.
"We went with the Dark Green pendant to give us an industrial look that really ties everything in," Tyler notes. "Attention to detail is very important to us as we are experts in our craft. We chose Barn Light fixtures because of the craftsmanship that goes into their products."
The classic shape of the warehouse shade plus the white interior provides plenty of downlighting onto the chairs below while minimizing harsh glare. These rugged, American-made fixtures are handspun from commercial-grade materials and finished by hand to create a quality light that will last even in high-traffic areas such as this.
"I love everything about the lights," Tyler says. "The craftsmanship is top notch, and they look great in our location. We could not be happier with the design and the practicality of the lights."